YOU GUYS!! Summer is officially over and I'm kind of sad…even though I love fall, I feel like summer flew by and I didn't get to do anything summer-like.  Oh well – we have some fantastic things coming up and despite how short August felt, we did a lot of things.  Check it out!
Fun with our Blogger Besties – Swoony Boys Podcast!
You guys!! Please consider joining us for our YA trivia night!  We started this a few months ago and have been having so much fun with it!  Whadda Ya Know Wednesday will take place on the 3rd Wednesday of every month…(ok, sometimes it is the 4th one instead)!  We love interacting with all of you and we love talking books, book boys, and gushing over our favorite authors. We couldn't think of a better way to do all of that than by combining all of those things, throwing in some awesome prizes, and having a blast while doing it!  Please join us and make sure you're following @Fictionfare and @Swoonyboys to play along!
INSTAGRAM – SEPTEMBER BOOK CHALLENGE
We love putting together the monthly Instagram challenge and really hope you will join us for August!  We want to see all your posts so don't forget to use the hashtag #SwoonyFictionSeptember and feel free to tag @swoonyboys and @jaimearkin when you post your pictures!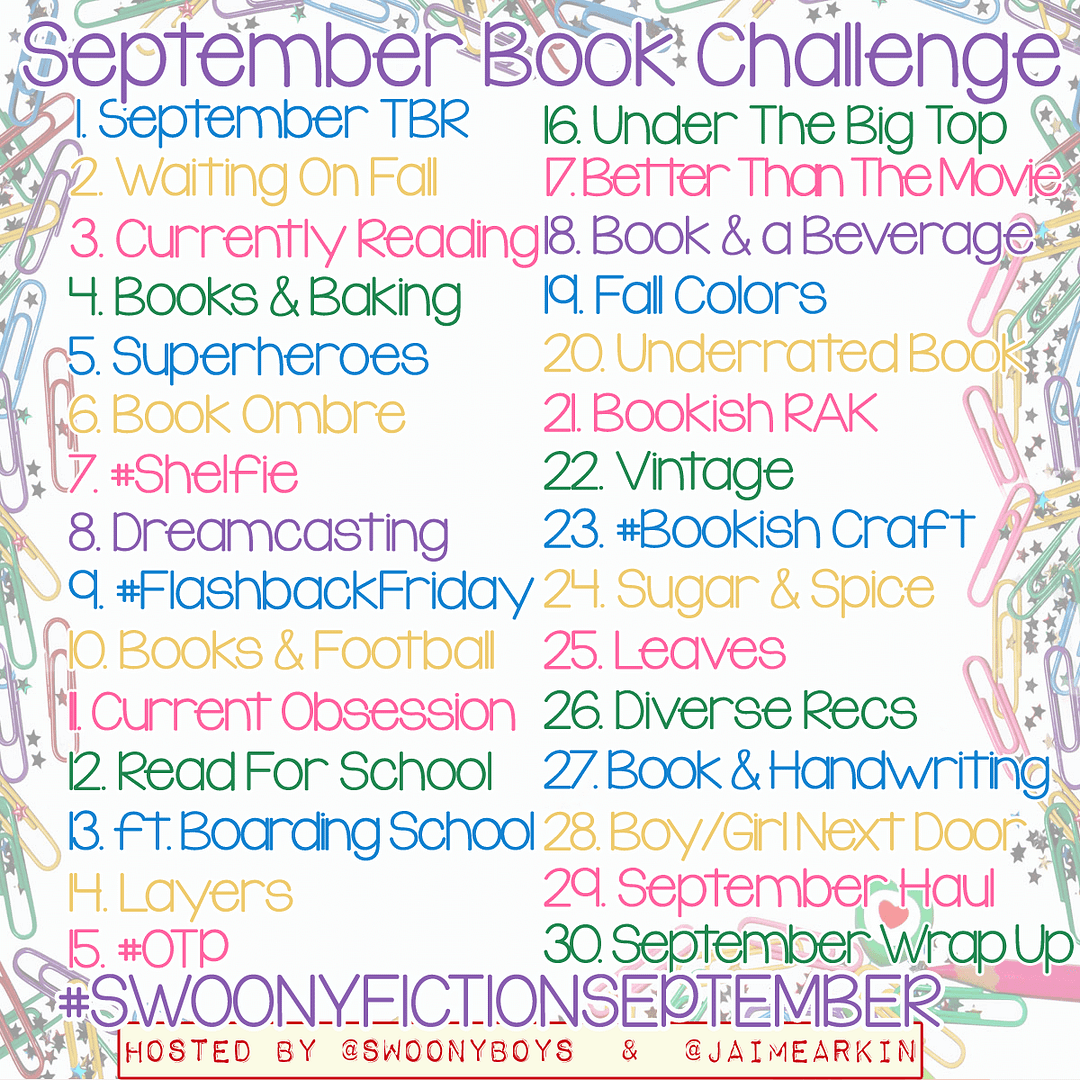 AUTHOR TALK
If you haven't seen this new feature on the blog (as well as Swoony Boys Podcast) go check them out!  We have had some great interviews with some amazing authors already posted and continue to schedule more.  If you want us to interview anyone specific, please let us know in the comments or reach out to us via social media.  We have so much fun with these and will continue to do them as often as we can!
EVENTS
Anderson's Bookshop had more events this month and since they happened to be on a Saturday/Sunday, we made the decision to make a weekend of it.  The first event on Saturday was for Colleen Hoover for the release of It Ends With Us.  I was super excited to go because we (surprisingly) have never met Colleen before.  It was a great event and I was able to get some books in my collection signed too!
Sunday was our Mary E. Pearson day.  To celebrate the release of The Beauty in Darkness, Mary visited Anderson's in Naperville and we always love getting to see her.  If you haven't had the opportunity yet, definitely go the next time she is in your area!
WHAT WE'VE BEEN READING:
Here are the books Jaime read this month:


Here are the books Erin read this month:

OUR WAITING ON WEDNESDAY PICKS WERE:
WE HAVE/HAD GIVEAWAYS FOR:
Make sure you visit the 
Giveaways 
page to enter the ones that are still open!
What have you been up to? Have you read any great books? What are you reading now? Tell us everything in the comments!
Related Posts