Top Ten Tuesday is hosted by the awesome and wonderful people over at The Broke and The Bookish
It's back to school time!! I've never been much of a classics reader and if you ask the lovely Meg, she will tell you that the reading of my youth is seriously lacking.  The only things I can remember reading in high school are The Scarlet Letter, Catcher In The Rye, and Lord of the Flies…. Let's just say those aren't the books that made me fall in love with writing!
I think these are the books that might have!
If you could read my mind, you wouldn't be smiling.
Samantha McAllister looks just like the rest of the popular girls in her junior class. But hidden beneath the straightened hair and expertly applied makeup is a secret that her friends would never understand: Sam has Purely-Obsessional OCD and is consumed by a stream of dark thoughts and worries that she can't turn off.
Second-guessing every move, thought, and word makes daily life a struggle, and it doesn't help that her lifelong friends will turn toxic at the first sign of a wrong outfit, wrong lunch, or wrong crush. Yet Sam knows she'd be truly crazy to leave the protection of the most popular girls in school. So when Sam meets Caroline, she has to keep her new friend with a refreshing sense of humor and no style a secret, right up there with Sam's weekly visits to her psychiatrist.
Caroline introduces Sam to Poet's Corner, a hidden room and a tight-knit group of misfits who have been ignored by the school at large. Sam is drawn to them immediately, especially a guitar-playing guy with a talent for verse, and starts to discover a whole new side of herself. Slowly, she begins to feel more "normal" than she ever has as part of the popular crowd . . . until she finds a new reason to question her sanity and all she holds dear.
Dill has had to wrestle with vipers his whole life—at home, as the only son of a Pentecostal minister who urges him to handle poisonous 

rattlesnakes, and at school, where he faces down bullies who target him for his father's extreme faith and very public fall from grace.
He and his fellow outcast friends must try to make it through their senior year of high school without letting the small-town culture destroy their creative spirits and sense of self. Graduation will lead to new beginnings for Lydia, whose edgy fashion blog is her ticket out of their rural Tennessee town. And Travis is content where he is thanks to his obsession with an epic book series and the fangirl turning his reality into real-life fantasy.
Their diverging paths could mean the end of their friendship. But not before Dill confronts his dark legacy to attempt to find a way into the light of a future worth living.
A powerful debut novel about the gray space between truth and perception.
Quinn's done the unthinkable: she kissed a guy who is not Carey, her boyfriend. And she got caught. Being branded a cheater would be bad enough, but Quinn is deemed a traitor, and shunned by all of her friends. Because Carey's not just any guy—he's serving in Afghanistan and revered by everyone in their small, military town.
Quinn could clear her name, but that would mean revealing secrets that she's vowed to keep—secrets that aren't hers to share. And when Carey goes MIA, Quinn must decide how far she'll go to protect her boyfriend…and her promise.
The first thing you're going to want to know about me is: Am I a boy, or am I a girl?
Riley Cavanaugh is many things: Punk rock. Snarky. Rebellious. And gender fluid. Some days Riley identifies as a boy, and others as a girl. The thing is…Riley isn't exactly out yet. And between starting a new school and having a congressman father running for reelection in uber-conservative Orange County, the pressure—media and otherwise—is building up in Riley's so-called "normal" life.
On the advice of a therapist, Riley starts an anonymous blog to vent those pent-up feelings and tell the truth of what it's REALLY like to be a gender fluid teenager. But just as Riley's starting to settle in at school—even developing feelings for a mysterious outcast—the blog goes viral, and an unnamed commenter discovers Riley's real identity, threatening exposure. Riley must make a choice: walk away from what the blog has created—a lifeline, new friends, a cause to believe in—or stand up, come out, and risk everything.
One HELLO can change a life. One HELLO can save a life.
Tricia: A girl struggling to find her way after her beloved grandma's death.
Emerson: A guy who lives his life to fulfill promises, real and hypothetical.
Angie: A girl with secrets she can only express through poetry.
Brenda: An actress and screenplay writer afraid to confront her past.
Brian: A potter who sets aside his life for Tricia, to the detriment of both.
Linked and transformed by one phone call, Hello? weaves together these five Wisconsin teens' stories into a compelling narrative of friendship and family, loss and love, heartbreak and healing, serendipity, and ultimately hope.
Jude and her twin brother, Noah, are incredibly close. At thirteen, isolated Noah draws constantly and is falling in love with the charismatic
boy next door, while daredevil Jude cliff-dives and wears red-red lipstick and does the talking for both of them. But three years later, Jude and Noah are barely speaking. Something has happened to wreck the twins in different and dramatic ways . . until Jude meets a cocky, broken, beautiful boy, as well as someone else—an even more unpredictable new force in her life. The early years are Noah's story to tell. The later years are Jude's. What the twins don't realize is that they each have only half the story, and if they could just find their way back to one another, they'd have a chance to remake their world.
This radiant novel from the acclaimed, award-winning author ofThe Sky Is Everywhere will leave you breathless and teary and laughing—often all at once.
Grace and Tippi. Tippi and Grace. Two sisters. Two hearts. Two dreams. Two lives. But one body.
Grace and Tippi are conjoined twins, joined at the waist, defying the odds of survival for sixteen years. They share everything, and they are everything to each other. They would never imagine being apart. For them, that would be the real tragedy.
But something is happening to them. Something they hoped would never happen. And Grace doesn't want to admit it. Not even to Tippi.
How long can they hide from the truth—how long before they must face the most impossible choice of their lives?
Sixteen-year-old and not-so-openly gay Simon Spier prefers to save his drama for the school musical. But when an email falls into the wrong
hands, his secret is at risk of being thrust into the spotlight. Now Simon is actually being blackmailed: if he doesn't play wingman for class clown Martin, his sexual identity will become everyone's business. Worse, the privacy of Blue, the pen name of the boy he's been emailing, will be compromised.
With some messy dynamics emerging in his once tight-knit group of friends, and his email correspondence with Blue growing more flirtatious every day, Simon's junior year has suddenly gotten all kinds of complicated. Now, change-averse Simon has to find a way to step out of his comfort zone before he's pushed out—without alienating his friends, compromising himself, or fumbling a shot at happiness with the most confusing, adorable guy he's never met.
After a cyber bullying incident turns her life upside down, a handsome wheelchair rugby player shows a former mean girl that everyone deserves a second chance.
The party was at her house. The photos were posted to her Facebook account. That's all the evidence anyone needed to condemn Nikki Baylor for a cyberbullying incident that humiliated a classmate and nearly resulted in the girl's suicide. Now Nikki's been expelled from her old school, her friends have abandoned her, and even her own parents can't look her in the eye. With her plans for the future all but destroyed, Nikki resigns herself to being the girl everyone hates – almost as much as she hates herself. But then Nikki meets Pax, a spirited wheelchair rugby player who knows what it's like when one mistake completely shatters your life. Refusing to judge her because of her past, he shows her that everyone deserves a second chance… and everyone deserves to be loved.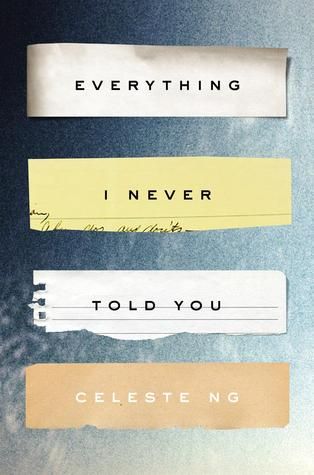 Lydia is dead. But they don't know this yet.
So begins this exquisite novel about a Chinese American family living in 1970s small-town Ohio. Lydia is the favorite child of Marilyn and James Lee, and her parents are determined that she will fulfill the dreams they were unable to pursue. But when Lydia's body is found in the local lake, the delicate balancing act that has been keeping the Lee family together is destroyed, tumbling them into chaos.
A profoundly moving story of family, secrets, and longing,Everything I Never Told You is both a gripping page-turner and a sensitive family portrait, uncovering the ways in which mothers and daughters, fathers and sons, and husbands and wives struggle, all their lives, to understand one another.
There you go… these are the books I wish I could make required reading in schools!  What books do you wish were required?  Let me know in the comments! 
Related Posts