Can you believe it – 2015 is over already!  As Jaime and I prepare to head to Boston for ALA, take a look at what we did in December.  
You guys!! We have been having so much fun with this over the last few months and really hope you will join us in January!  This is something we started a few months ago and have been having so much fun with it!  Whadda Ya Know Wednesday will take place on the 3rd Wednesday of every month!  We love interacting with all of you and we love talking books, book boys, and gushing over our favorite authors. We couldn't think of a better way to do all of that than by combining all of those things, throwing in some awesome prizes, and having a blast while doing it!  Please join us and make sure you're following @Fictionfare and @Swoonyboys to play along!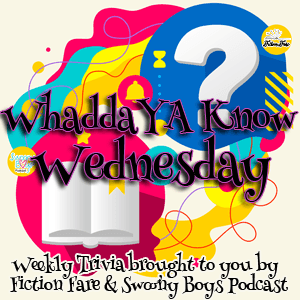 It is definitely with some sadness that we say goodbye to theReal Book Challenge.  We had so much fun doing this for the last two years but we saw a huge drop in participation and link ups over the course of this year and despite the fact that this is something we wanted to continue, we decided to retire it so we could focus on some other things we hope everyone will be excited about.  
WHAT'S COMING UP THIS MONTH
Check out our monthly post by clicking on the image below so you can add the books on our list to your TBR list…if they aren't there already!  We have a great giveaway linked to it. You know…if you'd like to try to win a free book!
WHAT WE'VE BEEN READING:
Here are the books Jaime read this month:
Here are the books Erin read this month:
OUR WAITING ON WEDNESDAY PICKS WERE:
Related Posts