We are very excited to be on the tour for THE WOMEN IN THE WALLS by Amy Lukavics!  We have a fun getting to know Amy post coming up, but first here's a bit about the book!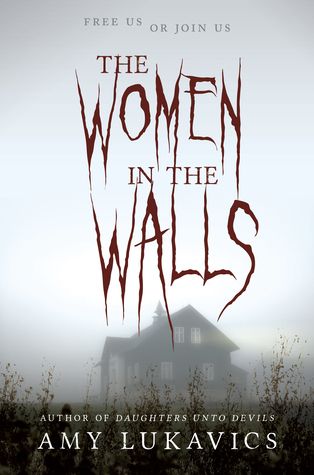 The Women in the Walls

by Amy Lukavics
(Website, Twitter, Goodreads)Published by Harlequin on October 1st 2016
Genres: Family, Horror, Young Adult Fiction
Pages: 304
Format: ARC

Lucy Acosta's mother died when she was three. Growing up in a Victorian mansion in the middle of the woods with her cold, distant father, she explored the dark hallways of the estate with her cousin, Margaret. They're inseparable—a family.

When her aunt Penelope, the only mother she's ever known, tragically disappears while walking in the woods surrounding their estate, Lucy finds herself devastated and alone. Margaret has been spending a lot of time in the attic. She claims she can hear her dead mother's voice whispering from the walls. Emotionally shut out by her father, Lucy watches helplessly as her cousin's sanity slowly unravels. But when she begins hearing voices herself, Lucy finds herself confronting an ancient and deadly legacy that has marked the women in her family for generations.
10 Things We Didn't Know About Amy
I am a huge WWE fan. Wrestlemania is to me what the Super Bowl is for football fans.
I didn't go to college. After high school , I enrolled in a program to learn dental assisting…only to promptly realize that I had no interest in becoming a dental assistant. My writing skills were developed from reading from a young age.
I am super in love with blue tongue skinks and absolutely plan on having my own one day for a pet.
I despise cheese with my entire being. Yes, that includes cream cheese/cheesecake!
I played both club and school volleyball for many years growing up.
In eighth grade, my orchestra teacher took back his promise on letting me have a solo at the end of the year concert. So I did what any level-headed kid would do….I ordered the sheet music for Phantom of the Opera online, practiced in secret, and then stood up and played it by myself in the middle of the concert. (My mother took video and everything.) Needless to say….I got in trouble. IT WAS SO WORTH IT THOUGH.
I have lots of tattoos and plan on getting more, and yet I am terrified of piercing needles!
My favorite video games of all time are Zelda: Ocarina of Time and Mass Effect 2.
I am a shameless fan of Keeping Up with the Kardashians.
I'm kind of obsessed with buffalo sauce.
Erin's Thoughts
The Women in the Walls by Amy Lukavics is a book I have been looking forward to since I saw the cover.  I LOVE creepy books and this one sounded and looked like it would be right up my alley.  Unfortunately this one didn't really grab me and when I turned the last page, I felt a little disappointed.
The characters in this book drove me crazy.  I wanted the main character to do something about her situation and she just….didn't.  Lucy Acosta is the primary character and Margaret is her cousin. They live in an old Victorian mansion that has been passed down to Lucy's family and things just haven't been right since her mother died.  After her mother's death, Lucy's Aunt Penelope and Cousin Margaret move into the house to help her father with the house and the requirements that come along with it.
When Penelope goes missing one day after heading out into the woods, things start to take a turn for the worse within the house and Lucy doesn't appear able to do anything to fix or change things.  She is definitely angry with her father and she doesn't really know what to do with Margaret so things start to get worse.  Ultimately something happens that turns everything upside down in the house and no…I can't say what it is because this was one of the parts I found super interesting and somewhat unexpected.
There were some things that I didn't really get.  The link between the house and the club wasn't fully explained and the pieces that were didn't really make sense.  Lucy's father was so obsessed with the club and making sure that he did everything to protect the Acosta name in relevance to the house and club that he didn't really take any action when Lucy came to him for help.  I found him to be completely irrelevant to the story other than to be someone to hate.  The new cook and her daughter…more characters that I had no idea what they were there for.
I loved the idea of this story but unfortunately it just didn't click for me.  I thought the ending showed some promise but there were so many missing pieces and random storylines that I found myself reading just to see what else would happen with this book.  Is it creepy?  Kind of.  Is it dark? Definitely. Did I love this one? No.  As I finished this book, I realized I had the same feelings regarding Lukavic's other book and I'm just not sure that her books are for me…it could quite possibly be me though so if you like dark and creepy books, check it out.
Thank you to the publisher for the review copy.
Follow The Full Tour Schedule:
Week 1:
Giveaway:
3 Finished Copies of THE WOMEN IN THE WALLS (US Only)
Related Posts