We're so excited to be a part of the Roald Dahl 100th Birthday Blog Tour!  I know I'm going to be yelled at for this (cough Meg, cough) but I honestly haven't read any of Roald Dahl's books.  I know, it's unacceptable, which is why I was so excited to be a part of this event!  I was doubly excited because I received Roald Dahl's Revolting Recipes in the mail to review!  I love baking, and I was excited to have Jake pick out a recipe for us to make together… admittedly he picked something I had to veto because it looked revolting, but I think the one we decided on was perfect! First here's a bit about the book: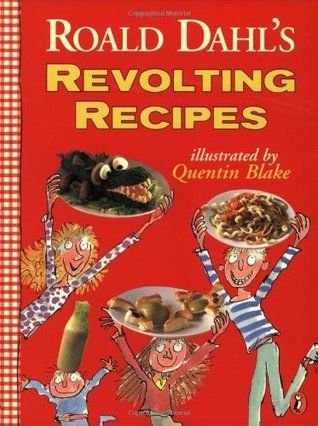 Roald Dahl's Revolting Recipes

by Roald Dahl
(Website, Twitter, Facebook, Goodreads)Published by Turtleback Books on 1997-01
Genres: Cooking & Food, General, Humor, Juvenile Nonfiction
Pages: 64

Who but Roald Dahl could think up such mouthwatering and deliciously disgusting foods as Lickable Wallpaper, Stink Bugs Eggs, and Eatable Pillows?Now theres a practical guide to making these and other delicacies featured in Charlie and the Chocolate Factory,James and the Giant Peach, and Dahl's other books, with easy, step-by-step recipes that range from the delectable to the truly revolting. Quentin Blake's illustrations combine with full-color photographs of the luscious results to perfectly capture Roald Dahls wicked sense of fun."Deliciously playful.Dahl, one suspects, would have been tickled." --Publishers WeeklyThe late Roald Dahl was one of the most beloved storytellers of all time. Quentin Blake has illustrated more than a dozen books by Roald Dahl.
Okay, so this book has some pretty interesting recipes inside it… admittedly a few that I would never consider, but surprisingly a few that I would definitely and did try!  I thought the best way to review this book was to try one of the recipes!
Jake and I decided on Toffee Apple Trees that were featured in Charlie and The Chocolate Factory!
They look pretty good right?  And something we'd actually eat in our house!

Here's the thing… caramel (toffee) is hard to work with in general, so I was a little leery, but we did our best and here's the finished product.
You can see that the caramel just didn't want to stick to my apples!  BUT it tasted wonderful so win I guess!
If you have kids and they love to cook are are just getting started in the kitchen, this is a fun book that you should pick up and drag your kids into the kitchen to mess around with!
Giveaway:
1 winner can pick 5 books from the Roald Dahl collection! US Only.
a Rafflecopter giveaway

Related Posts