Pushing the Limits by Katie McGarry
My rating: 4 of 5 stars
The worst type of crying wasn't the kind everyone could see-the wailing on street corners, the tearing at clothes. No, the worst kind happened when your soul wept and no matter what you did, there was no way to comfort it. A section withered and became a scar on the part of your soul that survived. For people like me and Echo, our souls contained more scar tissue than life.
I definitely needed a couple days to really think about what I wanted to say in this review. Pushing the Limits is so emotionally charged and heart wrenching at times that I almost feared for the end. I highlighted that quote up there because it was one of my favorite and I knew I wanted to share it in my review just as a glimpse of the lovely words in this book.
This is a story of a broken girl and a troubled boy who learn to trust again. Echo has gone through things you can't even begin to comprehend… and they seem to have hit her all at once. We first meet Echo when she can't remember the truth of what happened to her, only that she's no longer the popular girl with the popular boyfriend. She's become an outsider even to her 'friends' and her arms are covered with scars that she's embarrassed to reveal. Everyone close to her knows the details but they aren't sharing because they feel her mind needs to be ready to accept the truth of what happened…  but also her father bears a lot of guilt for what happened and I think was afraid of her knowing the truth.[ but also her father bears a lot of guilt for what happened and I think was afraid of her knowing the truth. (hide spoiler)]
Noah is the resident girl using, pot smoking, drinking, bad boy … but that's the easy explanation to him. He's obviously so much more once you start reading and he wasn't always this person… he used to be the successful student, talented athlete with a family that we get glimpses of as he reveals his past. His life changed forever when a fire left him orphaned and the only family he has left, his two younger brothers, he's afraid he's going to loose them to a system that failed him.
I ended up really really liking both Noah and Echo in this story. Neither are one dimensional characters and I think McGarry did a wonderful job of giving them both these layers that we peel back and learn just a smidge more about them as we read.
I'm pretty sure I spent the first half the book looking like this …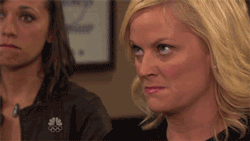 The things that these kids go through at the hands of adults that are supposed to be there to protect them… it just made me angry and sad and angry and sad. It makes sense that neither of them feel like they can trust anyone but themselves. Enter Ms. Collins, who I really ended up loving. She is the therapist that is working with both Noah and Echo who inadvertently is the one who gets them working together.
This book is told from alternating narratives – each having a different goal not really knowing each other, other than what they've seen or heard, but as the book progresses you can see how their lives begin to intertwine and there is a slow, gradual and realistic build to their relationship. Each meeting, or conversation brings you one step closer to that eventual romance and I truly loved the chemistry between them.
This book is about so much more than the eventual romance between the two characters though, it's an intense and emotional read about family, acceptance and learning to trust, but all that is wrapped inside moments of heartbreak and bittersweet humor.
I really enjoyed this book and thought it was a wonderful read – it had just the right amount of heartbreak and happy … sadness and sweet romance. Definitely give it a read!
Related Posts