THREATS OF SKY AND SEA (THREATS OF SKY AND SEA #1)
Publication Date: May 20, 2014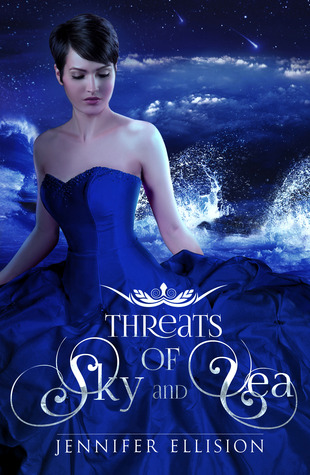 Sixteen year-old Breena Perdit has spent her life as a barmaid, innocent to her father's past and happily free from the Elemental gifts that would condemn her to a life in the Egrian King's army. Until the day that three Elemental soldiers recognize her father as a traitor to the throne and Bree's father is thrown in jail—along with the secrets from his last mission as the King's assassin. Secrets that could help the King win a war. Secrets he refuses to share.
Desperate to escape before the King's capricious whims prove her and her father's downfall, Bree bargains with him: information for their lives. It's a good trade. And she has faith she'll get them both out of the King's grasp with time.
But that was before the discovery that she's the weapon the King's been waiting for in his war.
Now, time is running out. To save her father's life and understand her own, Bree must unravel the knot of her father's past before the King takes his life– and uses her to bring a nation to its knees.
About Jennifer
Jennifer Ellision was born and raised in South Florida and lives in perpetual fear of temperatures below 60F. She spent a great deal of her childhood staying up past her bedtime with a book and a flashlight. When she couldn't find the stories she wanted to read, she started writing them. She has an OTP, loves character analysis, and is a master of the fangirl flail, with a particular soft spot for fanfiction. She frequently bursts into song (and they are often of a Disney persuasion). Sailor Moon is one of her favorite things on this planet.
Threats of Sky and Sea is her first novel.
She also blogs at The Bevy Bibliotheque, where she talks about books, TV, movies, and other things that she goes fangirl over.
Erin's Thoughts
Threats of Sky and Sea by Jennifer Ellision
My rating: 4 of 5 stars

Threats of Sky and Sea by Jennifer Ellision is the first book in a promising fantasy series that grabbed my interest from the very first chapter. There is a strong lead character, well developed secondary characters, mystery and a bit of romance….all things that make me happy. Plus, you all know how much I love my Fantasy books.

Bree is just a normal sixteen year old girl who lives with her normal dad in the countryside…or so we think. In a twist of fate, her whole world changes in the span of a day because she crosses paths with three of the King's Elemental Soldiers. When they find out who her father really is, Bree and her father are immediately hauled off to face the king where he is then thrown in jail for treason. While her father is faced with being a prisoner, Bree has to adapt to life at court as well as the constant scrutiny of the King and his spies.

I liked Bree – she is smart and loyal. She also isn't afraid to stand up for herself and do what she needs to in order to survive. She definitely has some surprises pop up throughout the story but none of them break her even though they are all very much life changing. As the story progresses, we see Bree struggle in a world with things she is not familiar with and situations she is not comfortable in but we also see her become more than just a barmaid.

As Bree begins to learn more about who her father is and what the king is after, she also begins to learn more about herself. At the same time that all of this is happening, we are introduced to some interesting secondary characters and I have to admit, I want to know more about all of them. Tregle, Aleta, and Caden are all well developed and each of them has separate relationships with Bree that become integral to the story. One of my favorite things was seeing the friendship develop between Aleta and Bree. They have every reason to not like each other and despite that, they do eventually forge a friendship and it becomes very clear that they will be relying on each other more in the future.

Of course, if you know me, you know that I like a bit of swoon/romance in my books and I have to say, I wanted a bit more here. Don't get me wrong, what is there is done well but it took super long to get to the kissing. Now…I have to say, this in no way took away from the story. I think I was Just in the mood for swoons from Caden and although I got them at the end, I'm hoping we get more in the future. Of course this leads me to talking about Caden. I loved how he was introduced and just how much he opposes everything his father stands for. There were times though that I wanted him to be more vocal about what he wanted…granted I see why he didn't considering how evil his father is but still, it might have been interesting to see what happened.

I do also hope we get to learn more about Tregle's background. He clearly knows things and I feel like his story and secrets will be helpful to Bree as she adapts to her life now and all the things going on. I am also SUPER curious about his and Aleta's story.

So I can't say much else here only because I don't want to give any of the secrets away. And trust me, there are a lot of things to find out. I will say that Ellision has created a world where people who possess Elemental gifts become servants of the king and Bree is definitely in danger along with her family and friends. Having only just begun to learn exactly what her father went through acting on behalf of the king, Bree knows she needs to do something quickly and as she plots her escape, she finds out even more about herself. I'm excited to see what happens in the next book and if you enjoy high fantasy, definitely check this one out. It has plenty of danger and action and while there are some things I wanted to learn more about (Elemental Gifts) I am thinking I will get it in the next book. Now….when does that come out?

Thank you to the author for the review copy!


Related Posts