ZODIAC (ZODIAC #1)
By: Romina Russell
Publication Date:  December 9, 2014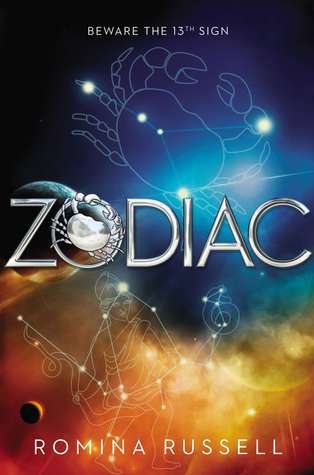 At the dawn of time, there were 13 Houses in the Zodiac Galaxy. Now only 12 remain….
Rhoma Grace is a 16-year-old student from House Cancer with an unusual way of reading the stars. While her classmates use measurements to make accurate astrological predictions, Rho can't solve for 'x' to save her life—so instead, she looks up at the night sky and makes up stories.
When a violent blast strikes the moons of Cancer, sending its ocean planet off-kilter and killing thousands of citizens—including its beloved Guardian—Rho is more surprised than anyone when she is named the House's new leader. But, a true Cancrian who loves her home fiercely and will protect her people no matter what, Rho accepts.
Then, when more Houses fall victim to freak weather catastrophes, Rho starts seeing a pattern in the stars. She suspects Ophiuchus—the exiled 13th Guardian of Zodiac legend—has returned to exact his revenge across the Galaxy. Now Rho—along with Hysan Dax, a young envoy from House Libra, and Mathias, her guide and a member of her Royal Guard—must travel through the Zodiac to warn the other Guardians.
But who will believe anything this young novice says? Whom can Rho trust in a universe defined by differences? And how can she convince twelve worlds to unite as one Zodiac?
ABOUT ROMINA
Romina Russell (aka Romina Garber) is a Los Angeles based author who originally hails from Buenos Aires, Argentina. As a teen, Romina landed her first writing gig—College She Wrote, a weekly Sunday column for the Miami Herald that was later picked up for national syndication—and she hasn't stopped writing since. When she's not working on ZODIAC, Romina can be found producing movie trailers, taking photographs, or daydreaming about buying a new drum set. She is a graduate of Harvard College and a Virgo to the core.
Erin's Thoughts
My rating: 4 of 5 stars

Zodiac by Romina Russell was a solid four stars for me. I found it full of action and the space travel and science fiction aspect only added to the story. I won't be saying a ton about the details of this book only because I don't want to give anything away – apologies but I don't want to spoil it!

Russell built the structure of the space system and the planets so that it was easy to create a picture in my mind of the world these characters live in. I loved the space travel and the differences between each of the twelve houses…and the mystery surrounding the mythical 13th house.

Rho is an interesting character and I liked her. I have to admit, I was frustrated with some of the decisions she made but she made those decisions with the right intentions…in most cases, I think. As she is thrown into a life she never imagined she jumps right in and embraces all aspects. The thing that stands out for me about Rho is the fact that she never changes her point of view on what is really going on regardless of what people are telling her. This is most evident when she is trying to figure out if she should hide her belief of Ophiuchus and the fact that he is the one attacking the houses.

I thought that both Mathias and Dysan were solid characters as well. They were almost complete opposites of each other but when it came to Rho, they both cared a lot about her and were willing to do whatever they could to keep her safe. I'm not going to say too much about these two as I don't want to give anything away but I will warn you, if it isn't clear, there is a bit of a love triangle. With that said, it doesn't take over the story but it does flow through the book and plays a part in some of the decisions made.

As Rho tries to navigate the politics of being Guardian of House Cancer as well as figuring out how to get everyone to see how much danger they are in, she is also faced with the potential loss of her family and has to figure out how to keep going without know where they are or if they are safe.

I can't really say too much about the rest of the story as I don't want to give anything away but I think the bigger mysteries still exist around Ophiuchus and Rho's mother. I felt like we – just like Rho – don't know what happened to her mother and I have a feeling there is still something to be revealed about her. As for Ophiuchus, there is more to come…I know it and I can't wait to see where Russell goes with that part of the story.

Russell created a wonderful story with a unique spin around the zodiac and as soon as I picked it up, I had a hard time putting it down. I'm absolutely looking forward to the next book in the series and if you are looking for a new Dystopian/Science Fiction series, definitely consider checking this one out.

Thank you to the publisher for the review copy.


Related Posts