Publication Date:  October 16, 2012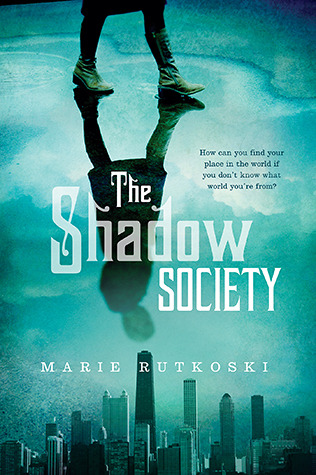 Summary
Darcy Jones doesn't remember anything before the day she was abandoned as a child outside a Chicago firehouse. She has never really belonged anywhere—but she couldn't have guessed that she comes from an alternate world where the Great Chicago Fire didn't happen and deadly creatures called Shades terrorize the human population.
Memories begin to haunt Darcy when a new boy arrives at her high school, and he makes her feel both desire and desired in a way she hadn't thought possible. But Conn's interest in her is confusing. It doesn't line up with the way he first looked at her.
As if she were his enemy.
When Conn betrays Darcy, she realizes that she can't rely on anything—not herself, not the laws of nature, and certainly not him. Darcy decides to infiltrate the Shadow Society and uncover the Shades' latest terrorist plot. What she finds out will change her world forever . . .
In this smart, compulsively readable novel, master storyteller Marie Rutkoski has crafted an utterly original world, characters you won't soon forget, and a tale full of intrigue and suspense. 
About Marie
Marie Rutkoski is the author of the YA novel The Shadow Society and the children's fantasy series The Kronos Chronicles, including The Cabinet of Wonders, The Celestial Globe and The Jewel of the Kalderash. Her next project is a YA trilogy that begins with The Winner's Curse, which is scheduled to be published in March 2014.
Marie grew up in Bolingbrook, Illinois (a suburb of Chicago), as the oldest of four children. She holds a BA from the University of Iowa and a PhD from Harvard University. Marie is currently a professor at Brooklyn College, where she teaches Renaissance Drama, children's literature and fiction writing. She lives in New York City with her husband and two sons.
Erin's Thoughts
My rating: 4 of 5 stars

I'm not going to lie, I picked up The Shadow Society by Marie Rutkoski because I loved The Winner's Curse so much and I wish I had picked it up sooner.

Darcy has been living in foster home after foster home ever since she was abandoned outside a Chicago Firehouse at the age of five. She's always wondered where she came from and what happened but now she is staying with Marsha and things are ok. As the prologue states, this book is about how Darcy met Conn, got arrested, and discovered the truth about herself.

As Darcy begins her junior year of high school, a few things happen. First, her memories begin to come back in flashes. For whatever reason, she has been having visions of an alternate world…similar to the Chicago she lives in yet different. Second, Conn McCrea starts at Lakewood and while Darcy is drawn to him, she knows something is off about him and tries to keep her distance. Unfortunately, he doesn't have the same plans.

Conn was an interesting character. It was clear from the start that he had an ulterior motive to getting to know Darcy but I just couldn't put my finger on it. As things change between these two, I definitely wanted things to be different between him and Darcy but while he recognized that Darcy was different from everything he knew, he also had to do what he felt was right. I loved getting to know more about him and his background and while there was one piece that I thought may have been a bit predictable (I can't say what because I don't want to give anything away), it didn't hurt the story at all.

As the story progresses, we find out there is, in fact, an alternate world where things are not the same. In this world, people called Shades exist and they are terrorizing the humans in that world. When Darcy is yanked into the alternate world, she is forced to join the Shadow Society to find out what they are plotting. Along the way, she finds out more about herself than she ever thought she would.

There were a number of things I loved in this story. The first thing was the banter between Conn and Darcy. They definitely didn't trust each other when they first met and both have enough sarcastic wit to make me enjoy the dialogue. They also have a number of moments when you really, really know their relationship is truly changing and I loved them all.

Another piece I loved was Darcy's friends. There is a section where Conn is telling Darcy what he thinks of her friends that I highlighted because it was a perfect description of their relationship.

"It is. They're like a fortress with a sign that says TOUCH DARCY JONES AND WE WILL DESTROY YOU. I find it surprisingly…touching, actually. I admire loyalty."

Raphael, Jims, and Lily were great secondary characters and added a layer to the story that allowed Conn to re-evaluate what he really knew about Darcy.

So there you have it, I can't say much more without ruining the story….so I won't. Definitely check this one out. There are some great characters, solid world building, and a fantastic story that drags you in from the moment you learn about Marsh's smashed fish tank.

View all Erin's reviews


Related Posts