THE FALL
By: Bethany Griffin
Publication Date: October 7, 2014
Madeline Usher is doomed.
She has spent her life fighting fate, and she thought she was succeeding. Until she woke up in a coffin.
Ushers die young. Ushers are cursed. Ushers can never leave their house, a house that haunts and is haunted, a house that almost seems to have a mind of its own. Madeline's life—revealed through short bursts of memory—has hinged around her desperate plan to escape, to save herself and her brother. Her only chance lies in destroying the house.
In the end, can Madeline keep her own sanity and bring the house down? The Fall is a literary psychological thriller, reimagining Edgar Allan Poe's classic The Fall of the House of Usher.
About Bethany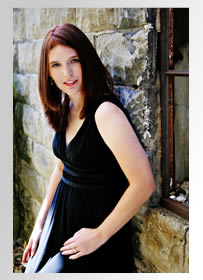 1. I didn't ever really give up on writing, I just went through a long period where all I wanted to do was READ. I'd write a paragraph, read a book or two, write another paragraph. And for a long time, all of my creativity was consumed by teaching.
2. At some point the creativity reasserted itself and I wrote Handcuffs. It was a book that I needed to write, and I still love it very much.
3. After Handcuffs I spent some time figuring out what I wanted to write, what I could add to the world of literature that was different and unique. After several learning manuscripts, I wrote my Masque of the Red Death.
4. It's actually quite bizarre to see myself listed as the author of Masque of the Red Death (Poe's story is The Masque of the Red Death).
Erin's Thoughts
The Fall by Bethany Griffin
My rating: 3 of 5 stars

The Fall by Bethany Griffin was one of those stories that hooked me with the description. I loved her previous books and when I read that this was a reimagining of The Fall of the House of Usher by Edgar Allan Poe, I was excited to dive in.

I will admit, the timeline of this story was a bit confusing as it begins when Madeline is eighteen and buried alive and from there jumps back and forth through her timeline from the age of nine up to the age of nineteen. As I started to get into the rhythm of the story from Madeline's point of view it began to come together.

Madeline carries the curse of the Usher family and is basically trapped in her house. When her twin brother leaves for school things get worse for Madeline. She no longer has Roderick to lean on and add to this the fact that her mother hates her and suffers from episodes that require her to have her doctors live in the house and her life is definitely odd. Her father also suffers from episodes and as the story unfolds, we find that the Usher history is tied directly to this evil house that appears to have control over everyone who enters.

Madeline is definitely an unreliable narrator and it is through her eyes that we see how tortured she is by the house and those around her. She is looking for a way out and every time she thinks she has found one, she is pulled back into the curse of the house.

Beyond the Usher family, Griffin introduces some interesting secondary characters. Dr. Winston, Emily, and Noah all add to the story and while not completely developed, they helped move things forward. I think that the addition of the pages from Lisbeth Usher's journal provided a bit of clarity to Madeline's roots but didn't really explain everything about the actual curse.

Overall I thought the story was interesting and while done in a unique way, I would have rather learned about Madeline's childhood in the early chapters and then spent the majority of the book in her later years as it felt choppy and I mostly wanted to know what was going on with her from age seventeen on as the earlier years didn't help in providing much clarity around the actual curse.

Thank you to Harper for the review copy.
Related Posts