THE BOOK OF IVY (THE BOOK OF IVY #1)
By: Amy Engel
Publication Date: November 11, 2014
After a brutal nuclear war, the United States was left decimated. A small group of survivors eventually banded together, but only after more conflict over which family would govern the new nation. The Westfalls lost. Fifty years later, peace and control are maintained by marrying the daughters of the losing side to the sons of the winning group in a yearly ritual. 
This year, it is my turn. 
My name is Ivy Westfall, and my mission is simple: to kill the president's son—my soon-to-be husband—and restore the Westfall family to power. 
But Bishop Lattimer is either a very skilled actor or he's not the cruel, heartless boy my family warned me to expect. He might even be the one person in this world who truly understands me. But there is no escape from my fate. I am the only one who can restore the Westfall legacy.
Because Bishop must die. And I must be the one to kill him… 
ABOUT AMY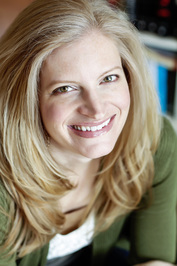 I was born in Kansas and after a childhood spent bouncing between countries (Iran, Taiwan) and states (Kansas, California, Missouri, Washington, D.C.), I settled in Kansas City, Missouri where I live with my husband and two kids. Before devoting myself full time to motherhood and writing, I was a criminal defense attorney, which is not quite as exciting as it looks on television. When I have a free moment, I can usually be found reading, running, or shoe shopping.
Erin's Thoughts

The Book of Ivy by Amy Engel
My rating: 4.5 of 5 stars
The Book of Ivy by Amy Engel is one of those books that once I read the summary, it immediately went on my to be read shelf and I couldn't wait to get my hands on it. Engel does a great job of creating the world these characters live in and developing the story.

Ivy is sixteen and it is her turn to be in the marriage ceremony. The day we meet her, is the day of the ceremony and we find out that she is part of the Westfall family and her mission is to kill the boy who will be her husband.

I liked Ivy as a character and at sixteen I can't even imagine what I would have done in her place. She was forced into a marriage that she didn't want and wasn't ready for but at the same time, she was still seeking the approval of her family (dad and sister) and went along with what they asked of her in order to gain it. With that said, after getting to know Bishop and what he believed in as well as who he was, I would have probably told him everything. He treated Ivy as an equal and gave her a voice and choice in the things she did where everyone else in her life used her to get what they wanted.

I admit, I really loved Bishop. He was the president's son but he didn't use that as an excuse or reason for who he was. He cared about his parents but he knew better than to just believe everything they told him and go along with everything they wanted him to do. He also didn't just believe that since he grew up in the better part of town and he was the husband that he could treat Ivy however he wanted. He let her decide what happened in their marriage and respected her decisions. He was smart, caring, and thought through his actions all with the goal of being a better person in mind.

I enjoyed seeing the relationship develop between Ivy and Bishop. I appreciated the fact that this wasn't a case of insta-love just because Bishop was gorgeous and Ivy was pretty. Yes, Bishop talks about how he came to decide Ivy was the right choice for him but Ivy took some time getting to a place where she realizes she cares about Bishop and along with that, she still struggled with whether she should care about him more than her sister and father, or not.

In this world, the Westfalls and the Lattimers are against each other and as a way to combine the two factions, it has been decided that the marriages would help bring the two groups together and potentially eliminate any future conflict. The Westfalls (Ivy's family) and their supporters believe in democracy and choice whereas the Lattimers (Bishop's family) and their supporters operate in a dictatorial approach. Neither Ivy nor Bishop believes that either side is 100% right but they also know that they have to keep up the appearance of supporting the "right" side.

As ivy learns more about Bishop and her family, she also learns more about the world outside of their fence and this has a huge impact on her. In the end, I thought Ivy made the only choice she could and it made sense that she did what she did. Apologies for making that sound super vague but I can't really say much about it without giving anything away.

I am hopeful that I can get my hands on the next book of this series as I really (really, really, really) would like to know what will happen next. This book was definitely one I couldn't put down and in a world filled with dystopian books; this is one I thoroughly enjoyed. Yes, at one point I told my sister I knew exactly what was going to happen (and I was right) but I didn't really care. The story was done so well that it didn't matter to me…I just wanted to read more. Definitely check this one out when you can!

Thank you to Netgalley & Entangled Publishing for the review copy!


Related Posts