My Life Next Door by Huntley Fitzpatrick
My rating: 5 of 5 stars
From the outside it looks like Samantha Reed has everything, a successful mother, excellent grades, a wonderful best friend and her days are busy with jobs she doesn't need. But Samantha spends her nights on her roof watching the loud, messy, loving and affectionate, ginormous family next door, never judging them like her mother does…wishing she could be a part of something like they have. Then one night Jase climbs her trellis and joins her.
Jase and Samantha's relationship builds easily and at seventeen both are more mature than a typical teen because they've had to grow up fast. Samantha because she's on her own a lot. Her mother is Senator Grace Reed and it's reelection year. Jase because he's the third oldest in a family of eight children.
Samantha isn't your typical blond haired, blue eyed rich girl. She seems to yearn for a family.. one that is messy and crazy and Jase's family claims her as their own.
They welcoming her with open arms, but for the first half of the book, her relationships with the messy, noisy neighbors next door remains a secret and I thought this was going to be a bigger problem than it was.
Jase.. or Jason if you want me to be all official, good lord I swooned hard for this boy. From their first conversation together to every single one after I swear I wanted to know this boy.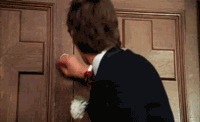 He was sweet, and lovely and he didn't hold back with her. There were a few instances where he questions what he is to her, and I don't blame him, I totally questioned her in my head too, but he is *sigh*, definitely not a "wrong side of the tracks" guy.
The story is told from Samantha's POV so we only really see what is happening in her world. Her issues with her mom and the new boyfriend Clay. The issues with her best friend Nan and her brother Tim, and her relationship with her sister are all things we learn about her, but I was most intrigued with her interactions with Jase's family. Seeing how she fit in with them was lovely, especially knowing where she came from. And of course her building relationship with Jase himself.
"I lie on top of him, skin to skin. He's tall,I'm not, but when we lie like this, we fit together. All the curves of my body relax into the strength of his."
There is sex in this book.. or at least the hints and insinuations of it… nothing graphic but it's lovely and beautifully done and what everyone's first time should ever be like.
"Um. So… are we going to study?"
Jase slides his thumbs behind my ears, rubbing the hollow at their base. He's only inches from my face, still looking into my eyes. "You bet. I'm studying you."
But then… Something happens that threatens everything Samantha has and knows. I was completely surprised by this by the way…
She has to make a decision that could ruin her life and the lives of those she loves. This book is about just what the summary says it's about … family, friendship, first romance and how to be true to one person you love without betraying another.
It's a perfect summer read and I can't recommend it enough – swoony boys, first love and some angst that pulls at your heartstrings. Run out and get it now!
I'm hoping that Ms. Fitzpatrick gives us another glimpse of these characters down the road – maybe a companion book with Tim and Alice? LOLZ I wouldn't be against this at all. I need more!!
Related Posts