SNOW LIKE ASHES (SNOW LIKE ASHES #1)
By: Sara Raasch
Publication Date: October 14, 2014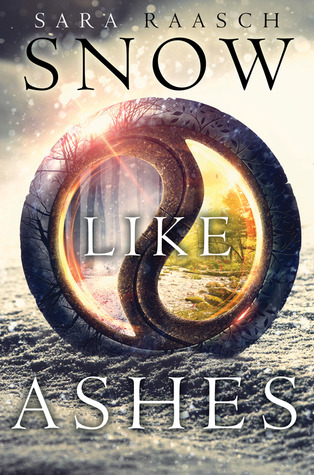 A heartbroken girl. A fierce warrior. A hero in the making.
Sixteen years ago the Kingdom of Winter was conquered and its citizens enslaved, leaving them without magic or a monarch. Now, the Winterians' only hope for freedom is the eight survivors who managed to escape, and who have been waiting for the opportunity to steal back Winter's magic and rebuild the kingdom ever since.
Orphaned as an infant during Winter's defeat, Meira has lived her whole life as a refugee, raised by the Winterians' general, Sir. Training to be a warrior—and desperately in love with her best friend, and future king, Mather — she would do anything to help her kingdom rise to power again.
So when scouts discover the location of the ancient locket that can restore Winter's magic, Meira decides to go after it herself. Finally, she's scaling towers, fighting enemy soldiers, and serving her kingdom just as she's always dreamed she would. But the mission doesn't go as planned, and Meira soon finds herself thrust into a world of evil magic and dangerous politics – and ultimately comes to realize that her destiny is not, never has been, her own.
About Sara
Sara Raasch has known she was destined for bookish things since the age of five, when her friends had a lemonade stand and she tagged along to sell her hand-drawn picture books too. Not much has changed since then — her friends still cock concerned eyebrows when she attempts to draw things and her enthusiasm for the written word still drives her to extreme measures. Her debut YA fantasy, SNOW LIKE ASHES, is coming out Fall 2014 from Balzer + Bray. It does not feature her hand-drawn pictures. She is represented by Charlotte Sheedy Literary.
Where did the idea for Snow Like Ashes come from?
This question will be the death of me.
I've gotten it a few times in interviews, and my answer is invariably the same lame thing: I don't remember. I was about twelve when I started writing the first draft of SLA (then called GIVING LIGHT), and all I remember is wanting to write a story where Winter was the "good guys," where they are often portrayed as the "bad guys."
I really should come up with a better response to this question. #authorfail
What is the weirdest thing you googled while researching for this series?
I had to check my Google search history…and found I never turned on my Google Web History. AGH. So this will all come from my extremely patchy memory…
(seriously, two questions in and I'm failing miserably at this interview. I PROMISE I'M INTERESTING.)
One thing I always try to do is google my character's names, to make sure there aren't any characters/people with the same names in existence. Paranoid uniqueness FTW!
What was your favorite scene to write and why?
In SNOW LIKE ASHES: Chapter Twenty-Six. It was inspired by the end sequence of Fable II (huge nerd right here) and writing it was so emotional and heartbreaking. One of the things I love most about SLA is the idea of what could have been—the lives of all of the Winterians have been completely derailed in the most inhumane way, and most of them try not to think about (because it hurts too much) what their lives would have been like if none of this had happened.  But since I enjoy inflicting pain on readers/characters, I love delving into the heartbreaking "maybe."
(Just kidding, I don't enjoy inflicting pain.)
Did any of your characters surprise you by doing something you didn't expect?
Angra, the villain. Especially as I've been working on Books 2/3, and his motivations have come more into the light, it's been surprising and fascinating to see why he's done the things he's done (and how events in Book 1 really affected him).
If you could introduce one of your characters to another character from another book, who would it be and why?
I think Meira would get along smashingly with Celaena from Throne of Glass. Two badass girls who understand extreme loss and how to not take shit from anyone—they'd be fast friends, I feel!
Do you have a dream cast for Snow Like Ashes because I would love to see this on the big screen!!
For Meira, the most recent actress that I saw and went "YOU. YES YOU." is Ksenia Solo. I saw her in Lost Girl, and DUDE. She has Meira's snark, her awesomeness, and her INSANE blue eyes. I have the biggest crush on Ksenia Solo.
For Sir, I always always always picture him as Mads Mikkelsen. Broody, intense, and just sexy enough to be confusing.
(Again, with white hair.)
For Mather—he's a tough one. I LOVE Aaron Taylor Johnson (HIS JAW), but I also just discovered David Guintoli. But they're both a bit too old to play Mather now…alas.
(The gloomy pose in Aaron Taylor Johnson's pic is totally Mather. With white hair though.)
For Theron, Justin Hartley nails it. I always pictured Theron having a longer face, and THOSE EYES. Perfect. Again, he's a little old now, but hey, a girl can dream.
(He has Theron's brown eyes and blonde hair. And his smile. That smile. Mmm.)
What is the one thing readers would be surprised to learn about you?
Most people are surprised to learn I started the first draft of this book when I was so young. To keep working at something for more than half my life…it's either persistence or insanity 😉
What authors have influenced you?
One of my biggest influences is Sharon Shinn. I ADORE her books and grew up reading the Twelve Houses series, Jenna Starborn, Summers at Castle Auburn, etc. She's fabulous!
What are you currently reading? What are some of your recent favorite reads?
At the moment, I'm rereading SNOW LIKE ASHES to annotate it for a contest, HA. But I also have ARCs of THE ORPHAN QUEEN by Jodi Meadows and RED QUEEN by Victoria Aveyard waiting for me!
Any advice for aspiring writers?
Keep moving forward (and watch Meet the Robinsons when you feel down). Persistence can be the deciding factor in publishing!
What's next for you? Are you working on anything right now that you can tell us about?
Right now, I'm editing Book 2 and drafting Book 3. All I'll say about it is I've taken to calling Book 2 "The Book Where Everyone Dies" because so many people end up kicking the bucket in it.
Okay. Maybe I do like inflicting pain.
Favorite Song (right now) –  Warriors by Imagine Dragons. Total SLA feels!
Favorite Book (right now)– I read EMBER IN THE ASHES by Sabaa Tahir a few weeks ago and I'm still thinking about it. Elias, my love…
Favorite TV Show/Movie (right now) – Lost Girl. The plot is fantastic, the characters are lovable, and Ksenia Solo.
Favorite Word  – Inordinate. No idea why.
Favorite Snack  – Just had sweet potato pie for the first time. DUDE.
Thanks so much for having me, Jaime!! This was fun 😀
Erin's Thoughts
Snow Like Ashes by Sara Raasch
My rating: 5 of 5 stars

Loved this one!

Snow Like Ashes is the first in a new fantasy series by Sara Raasch and I have to admit, I am looking forward to more from Raasch. I was approved to read this a little while ago and kept seeing others reading but made myself wait. Mostly because I knew that I would have to wait extra-long for the next book in this series if I read it super early. This book had everything I was hoping for – action, amazing world building, solid character building, and swoony bits! Now, please forgive me if my review gets a bit rambly as that tends to happen to me when I write about books I love. Be warned though, I am not going to spoil anything so apologies if anything sounds a bit vague.

Meira is from the Kingdom of Winter. When Winter was attacked sixteen years ago, she was protected by Sir and 24 other survivors. Their group is now down to eight and they continue to hunt down the magical conduit (a locket) that Queen Hannah lost when she lost her life.

I love Meira as a character. She is tough and really wants to add more to their cause than just hunting down food. She continues to train so that she can prove to Sir that she can handle herself in battle and when she gets the chance to go on a mission (Thanks to Mather) she comes face to face with Herod, the right hand man of Angra, the King of Spring. Things don't necessarily go perfectly but Meira happens to be pretty smart and figures a way out of the mess she is in and from there, things move forward.

It is hard to talk about this story without giving anything away. What I can say is that this book is full of action and danger…most of it surrounding Meira. We find out there are plenty of secrets and they are all pretty big ones. Don't hate me for that…seriously.



As for the other characters in this book – I really enjoyed them and thought they all added to the story. Mather is the King of Winter and will take the throne when they get the conduit back and can take back the Kingdom. He is also the boy that Meira has grown up with. We quickly find out that Meira has "more than friends" feelings toward Mather but she has also been warned by Sir that Mather is meant for bigger things – as a King he will need to marry and produce heirs…and not with someone who is not Royal. Mather also has feelings for Meira and he is determined to figure something out.

Sir is the father figure of the story and he does the best he can. He is also the character who appears to know everything and does his best to keep everyone safe.

Prince Theron is the son of Noam, the King of one of one of the Rhythm Kingdoms, Cordell. I loved Theron as he is in a situation where he fully understands what Meira is going through. He grew up being trained as a soldier which was not his choice and despite that, he continues to explore his love of art and writing. He is good for Meira because he helps her see that even though she is in the situation she is in, she can still be who she wants to be as well as what Winter needs. I freely admit that Theron is one of my favorite characters and the banter between him and Meira is wonderful. He definitely makes my favorite swoony boys list.



There are plenty of other characters in this book. The bad guys are definitely bad but I am looking forward to finding out more about Angra as I have feeling his motivation may be about more than just power. Yes, that appears to be what he wants the most but I have a feeling there is more to it than that.

As the story moves forward, so many things happen that I can't even go into it all. As I mentioned earlier, there is plenty of action and don't forget all the magic and secrets. I feel like I haven't even been able to tell you anything…mostly because I can't without giving anything away. Something I will tell you is that I love the world that Raasch created here and I can't wait to see what happens in the next book. I will be waiting for the next book in this series and encouraging everyone who likes high fantasy to check this one out. I can't wait to have this on my shelves and high five to Sara Raasch on the beginning of what I expect to be a great series.



Thank you to Edelweiss and Balzer + Bray for the review copy.
Related Posts