MIDNIGHT THIEF (MIDNIGHT THIEF, #1)
By: Livia Blackburne
Publication Date: July 8, 2014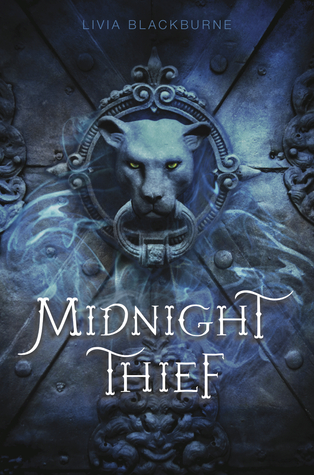 Summary:
Growing up on Forge's streets has taught Kyra how to stretch a coin. And when that's not enough, her uncanny ability to scale walls and bypass guards helps her take what she needs. 
But when the leader of the Assassins Guild offers Kyra a lucrative job, she hesitates. She knows how to get by on her own, and she's not sure she wants to play by his rules. But he's persistent—and darkly attractive—and Kyra can't quite resist his pull.
Tristam of Brancel is a young Palace knight on a mission. After his best friend is brutally murdered by Demon Riders, a clan of vicious warriors who ride bloodthirsty wildcats, Tristam vows to take them down. But as his investigation deepens, he finds his efforts thwarted by a talented thief, one who sneaks past Palace defenses with uncanny ease.
When a fateful raid throws Kyra and Tristam together, the two enemies realize that their best chance at survival—and vengeance—might be to join forces. And as their loyalties are tested to the breaking point, they learn a startling secret about Kyra's past that threatens to reshape both their lives.
About Livia
I write fantasy.  Most often YA fantasy, but sometimes I branch out.

I was born in Taiwan, raised in Albuqurque, and spent my twenties in Boston, where I studied biochemistry at Harvard and neuroscience at MIT.

I started my debut novel Midnight Thief in high school, because writing a novel was the only way I could get out of the mandatory camping requirement.  I finished about 60 pages.  They were 60 awful, awful pages.

I finished Midnight Thief 12 years later, because writing a novel was the only way I could keep my sanity while conducting my doctoral research.  This time, I got to 370 pages, and they were much less awful than the initial 60.

I write a blog about psychology and neuroscience for writers.  You can check it out here.

Like every good Asian kid, I played the piano as a child.  I don't do that as much anymore, but I still love to sing and dance.

I'm horrible at any sports that involve fast moving projectiles, and I dislike most sports that involve highly repetitive movements (running, swimming, biking, etc.).  This leaves basically dancing and martial arts.

When I wanted sweets as a child, my mother would give me one M&M.  I thought that was normal, and to this day, have very low tolerance for sweets.  One bite of chocolate bar, half a scoop of ice cream is about all I can take.

If I had to choose one author with the biggest influence on my reading and writing development, it would be Tamora Pierce.

Some of my favorite books:  Graceling by Kristen Cashore, The Hunger Games by Suzanne Collins, Plain Kate by Erin Bow, Code Name Verity by Elizabeth Wein, Daughter of Smoke and Bone by Laini Taylor, The Lies of Locke Lamora by Scott Lynch.
Erin's Thoughts
My rating: 4 of 5 stars

Midnight Thief is the first book in the series by the same name and I thought Livia Blackburne did a great job introducing the characters and getting me interested in the story. There is plenty of action, a strong heroine, and just a bit of romance all tied into this YA Fantasy and I enjoyed every bit of it. I'm going to do my best not to spoil anything here so don't hate me for being a bit vague at times. With that said, I am also going to spoiler tag this as well.


Kyra grew up on the streets of Forge and had the good fortune to meet Flick who eventually becomes her family. Kyra's ability to climb well (as well as the fact that she is small) has helped her in her profession as a thief as she can easily get in and out of areas that others may not necessarily be able to. When we meet her the first time, Kyra has been contracted by a mysterious man named James, to break into the palace and find a ruby. What we find out is that it was really a test to see what she can do and Kyra finds out that James is really the leader of the Assassin's Guild and he wants Kyra to work for him.
Kyra is an interesting character. She is strong and has been on her own for a long time but it hasn't made her hard. She helps care for the other children that are out living on the streets and especially cares for two little girls, Idalee and Lettie. I loved seeing her relationship with these two. As she tries to help them, it is clear she wants to do whatever she can to keep them safe. In addition to this, she has created a family out of the people around her. Flick, as I mentioned before, is someone she has come to rely on and in addition to him, Bella, who works at the Drunken Dog (where Kyra stays) has basically adopted her.
As the story moves forward, we learn a bit more about James and Kyra. James definitely knows how to manipulate Kyra and she seems to be blind to it until a certain time. By then it is too late and Kyra is regretting not listening to what Flick told her. James threw me a bit and I admit I definitely liked him…up to a point. I wanted to know more about his background and the little bit that Rand mentioned to Kyra has me intrigued and like Kyra, I want to know more about what happened to him.
Tristam is introduced as a page and his goal is to become a knight and like his brothers, be part of the road patrols. Because of the death of his good friend Jack at the hands of the barbarians, Tristam changes his mind and petitions to be placed under the Ministry of Defense where he would work directly with Malikel and protect the palace. Tristam is determined to avenge his friend's death and he is smart. As Kyra begins her work with the Assassin's Guild, Tristam is the one who ultimately puts the pieces together and eventually, thwarts their plans.
There is definitely a lot going on in this story that I'm not really mentioning here…mostly because I don't want to ruin anything. Just know that as Kyra begins working for the guild, she finds out more about them than she ever really wanted to know and none of it is really good. James has ulterior motives and is doing whatever he wants to in order to get the power he wants, no matter what the cost.
There is a bit of a mystical element with the barbarians and although I'm not going to say how, they play a big role in Kyra's story. I do want to know more about this clan and how things came to be as they were for Kyra.

Blackburne does a great job blending in the fantasy pieces with a bit of romance/swoon. Kyra is seventeen and as she begins to build relationships with the guys in this story, there is just enough romance to keep me interested but not take over the rest of the story. Definitely check this one out when you can, I found myself unable to put this one down until I finished.

View all Erin's reviews


Related Posts