After Hours by Cara McKenna
My rating: 4 of 5 stars

4.5 stars – Dear Cara McKenna… are you kidding me?

Erin Coffey is an LPN and has spent the last six years caring for her grandmother but that definitely didn't prepare her for Larkhaven Psychiatric Hospital. She's spent most of her 27/28 years caring for those around her, including her mom, her sister and her nephew. Taking this job, as scared as she might be of it, guarantees her a salary and insurance and it's close to her family.

Kelly is one tough motherfucker. That is all I can say. He's not your typical hero, he doesn't have gorgeous, floppy hair, or the perfect job, or a college degree, and he comes across a bit cold and calculating.

His head was shaved to brown stubble, and even from twenty feet away I could make out the scar running from beneath his ear down his neck. More inmate than a patient he seemed to me, fresh from a brawl in the exercise yard.

Picture 6 foot 4 and packed with muscles.



But he's survived his younger years and has spent the last 4 years at Larkhaven excelling.

Their attraction isn't immediate, in fact Erin is determined to stay away from the man who reminds her of all the men in her mom and sister's lives. But they are drawn to each other, and it turns out she can't resist Kelly's offer… 2 days, no strings, just pleasure. The catch is that she has to do what he says.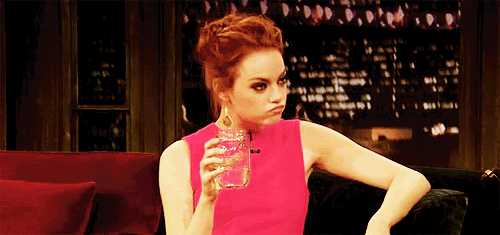 What I wanted from Kelly was base and pornographic, the clapping of flesh against flesh; ugly, thrilling moans and grunts; cuss words. Spit and sweat and scraping nails. I wanted his hands on my hips, fingers digging too hard into my skin.

I know, I know… let all your feminist ideas go, because while it sounds horrible, McKenna writes Kelly in a way that it isn't overbearing or eyerollingly obnoxious.

Kelly … the man doesn't hide much. He's straightforward with Erin and tells her exactly what he wants, what he expects…and holy crap the dirty talk…

"I'm gonna make you so wet."
The words alone were realizing his promise.
He fanned his fingers, thumbs tracing the uppermost creases of my thighs and the hems of my panties.
"I'm gonna make you want me so bad it'll hurt," Kelly whispered. "Make you want me so much, you'll come the second my cock sinks inside you."
But he is hiding something from his past. And ultimately there are a few hangups between both Erin and Kelly that intrude on what could be something wonderful. Erin, lacks the confidence in herself and Kelly deals with trust issues.
I will say that this book wasn't really on my radar until my lovely friend pointed it out to me. I struggle with bossy guys and while I've always liked McKenna's stories (what I've read) I haven't loved them. I think some of that super alpha male scares me a bit, and while Kelly at times came across as cold and hard, he had a gooey caramel center and when that man begged "Please." I was a goner. I couldn't even put it down while making dinner!
The ending was perfection… not rushed like I often run into with the romance genre so I was incredibly happy when I turned that last page.
Definitely check this one out if you're looking for a hot, naughty (FILTHY) read because Kelly… he will become everything you never thought you wanted.
View all jaime's reviews
Related Posts