I adore Karole Cozzo's books and was so excited to get my hands on an early copy of How To Keep Rolling After A Fall!  When I finished, I knew I had to talk to her more about the story and her writing and what she has coming!  But first, a bit about the book!
How to Keep Rolling After a Fall

by Karole Cozzo
(Website, Twitter, Facebook, Goodreads)Also by this author: How to Say I Love You Out Loud, The Truth About Happily Ever After
Published by Macmillan on August 2nd 2016
Genres: Bullying, Contemporary, Disabilities & Special Needs, Romance, Social Themes, Young Adult Fiction
Pages: 272
Format: ARC

After a cyber bullying incident turns her life upside down, a handsome wheelchair rugby player shows a former mean girl that everyone deserves a second chance.

The party was at her house. The photos were posted to her Facebook account. That's all the evidence anyone needed to condemn Nikki Baylor for a cyberbullying incident that humiliated a classmate and nearly resulted in the girl's suicide. Now Nikki's been expelled from her old school, her friends have abandoned her, and even her own parents can't look her in the eye. With her plans for the future all but destroyed, Nikki resigns herself to being the girl everyone hates - almost as much as she hates herself. But then Nikki meets Pax, a spirited wheelchair rugby player who knows what it's like when one mistake completely shatters your life. Refusing to judge her because of her past, he shows her that everyone deserves a second chance... and everyone deserves to be loved.
Describe HOW TO KEEP ROLLING AFTER A FALL in 5 words.
Its tagline does it pretty well! Everyone deserves a second chance.
How did HOW TO KEEP ROLLING AFTER A FALL come about, what was your inspiration? What made you think you had to write this story?
At my day job, I work as a school psychologist. At conferences and in professional publications, and on a daily basis within schools, topics such as cyberbullying and "mean girls" have received a lot of focus in recent years. It often seemed like a lot of the anti-bullying efforts centered around the idea of perpetrators and victims as these clearly defined terms. From experience, it always seemed to me that female relationships and friendships are so much more complex and complicated than that, and I was interested in exploring those dynamics. It was my goal to do so in a realistic and compelling way, with the hope of reaching young readers and inspiring some self-reflection about their own relationships and how they treat others in their daily lives.
What was the hardest scene for you to write in HOW TO KEEP ROLLING AFTER A FALL and why?
I think one of the hardest scenes to write was when my MC, Nikki, confronts Taylor, the girl she and her friends attacked online, with the hopes of apologizing. Obviously I felt protective of Nikki and proud of her growth throughout the story; however, I knew full well there was nothing she could really say or do that would change the impact of her behavior for Taylor or warrant full forgiveness. It was difficult to accept that at most Nikki might gain some inner peace without Taylor's forgiveness for having the courage and intent to offer a heartfelt apology. It's a pretty tense scene, and I felt tense writing it!
Can you share (without spoilers) a line or section of HOW TO KEEP ROLLING AFTER A FALL that is your favorite?
Definitely hard to pick a favorite, but this is ONE of my favorite sections…
"I'm really struggling with this," he repeats. "Because I barely know my daughter anymore, and I'm having a really hard time with some boy she's known for a few weeks showing up at my door and acting like he does. I knew her for seventeen years before I started feeling like I didn't, and you'll forgive me if I haven't quite recovered from that enough to be able to appreciate your perspective on her life."
There is a long pause. "With all due respect sir…" Pax begins quietly, maintaining eye contact all the while,"…did you love her because she was flawless, or did you love her because you loved her?"
My heart stops in my chest
He puts one hand out into the air in front of him. "Look. I've probably said too much. I really didn't want to come over here and make anything worse for Nikki. I just wanted to say I'm sorry for taking her out last night, because I really didn't give her much choice in the matter and I don't want her to be punished because of that." Pax turns his wheelchair so that he's angled toward the kitchen, and starts turning the wheels to go. He does a double take in the direction of the stairwell, and although he doesn't let on to my parents, I know he's spotted me.
He looks in my direction as he shares a final thought with my parents. "There's still so much good in her," he tells them. Then Pax looks back at my parents one final time before leaving my house. "And you know, it's a damn shame that some boy she's known for a few weeks gets to see it and appreciate it, when the people who created her don't."
I love how emotional your stories make me, and I'm not normally a crier… do you find that they affect you while writing too?
I don't get too emotional while writing, per say, but those few chapters that make me cry while writing them? That's when I know I've nailed it!
People often say that you should write what you know, did you do that with this story?
This is an adage I definitely hold near and dear. I completely believe that by writing what you know, you create a more authentic and believable story for readers. I think I subconsciously draw on my background in psychology a lot, particularly as far as my first two books are concerned. And more specifically, I did remember and draw upon some experiences from high school as far as girl dynamics were concerned. There are situations I remember being construed as "harmless fun" that make me cringe when I think back upon them. I appreciate that girls today as being raised with ideals about being kind to each other being highlighted. I hope these messages have an impact.
When you're not writing, what do you enjoy doing in your spare time?
Planning thematic parties for my kids. Drinking coffee. Perfecting my margarita recipe. Taking pictures. Training for an upcoming Disney princess half-marathon. Book club. Hanging out with my kids and husband. Anything Disney.
Any advice for aspiring writers?
I ended up in tears a million times over because I felt guilty for "wasting my time" with writing when nothing ever seemed to come out of it. I tried to make myself walk away a bunch of times to focus on productive or practical things. Every time, I felt like I was trying to shut off a part of myself. Don't ever feel guilty about time you spend pursuing your passion! Even if you don't reach your ultimate goal, it's a part of you that's important to keep alive, it's what keeps your fire burning. Don't give in to the temptation to extinguish it.
What's next for you? Are you working on anything right now that you can tell us about?
My third book, The Truth About Happily Ever After, will be out in May 2017 and I'm almost finished polishing this one up. I'm so excited about this book! It's less of an 'issues' book than my other two, and I think it will make for a great summer read. The main character is a princess at a popular theme park, and a lot of the scenes take place at the park with other characters. And her love interest is totally fantastic.
Tell us 3 random facts about you.
I'm a very organized and efficient person, but I've given up on hopes of ever having a clean car. Mine is a travesty.
On our first date, I told my husband that Coldplay was my favorite band when he asked because I was afraid he would judge me if he knew a Notorious B.I.G. CD was actually playing in my car at the time.
I'm a left-handed Scorpio.
Favorites
Favorite Song (right now): Sia, Cheap Thrills
Favorite Book (right now): The Love That Split the World
Favorite TV Show/Movie:  The Blacklist, hands down. This show has the best writers EVER!
Favorite Color:  Pink. I'm a girly girl.
Favorite Curse Word:  I tend to drop a lot of f-bombs.
Jaime's Thoughts
Karole Cozzo has officially made her way onto my auto buy list! I remember reading How To Say I Love You Outloud last year and absolutely loving it, so How To Keep Rolling After A Fall was very high on my list of books that I wanted to get my hands on!
Cozzo writes with such emotion and feeling and I find myself connecting with characters that I honestly think I wouldn't have if someone else had written them.
Take our MC Nikki Baylor for example. She used to be queen bee at her school, but an incident at a party turns her life upside down and she's lost all her friends and even her family is somewhat estranged from her. She finds herself going through the motions these days and not in any way that can be described as good or healthy.
The incident that happens falls in the cyber bullying category, and while she's not fully responsible, she's the only one who has to own up to what happened and she's the only one that there are repercussions for … and that's a hard pill to swallow, especially for us readers.
The story starts out in an incredibly harsh way, and you can't help but feel for Nikki and the situation she's in … and it's a harsh reality and part of me wants to cheer and say YES – she's getting what she deserves but the other part of me has a broken heart because of how this one incident has changed her life in so many ways she never could have seen coming. The thing that makes it hard is that you see the ways that Nikki feels bad for what happened… not in the sense that she had all these consequences, but she truly feels remorse for being involved and not stopping it.
Enter Pax… you guys I have all the feelings in the world for him. Pax is cute, funny, sweet, charming … and in a wheelchair, paralyzed due to some bad choices on his part. He too had it all … a full ride to college, more than enough girlfriends, and goals to make something of his life. But he's had to come to terms that some of what he wanted before just isn't possible anymore. His internal struggles revolve more around going from this very active athlete to someone who has limits and that's a hard pill to swallow for him some days, but he's coming to terms with it and accepting that he can't change the past.
I love that Pax is this amazing influence for Nikki… he finds out what her past holds and forgives her no questions asked. He moves on to what the future might hold for her instead. What starts as just a friendship (albeit with definite mixed messages) their relationship evolves and it's lovely to see Nikki start accepting the past as the past and trying to move forward. And their relationship is so lovely.
I struggled so much with her family relationships. You guys this is where the true heartbreak came for me. Nikki reflects a lot on the connection she had with her father before everything happened… and then you see what their relationship is now and it's so crushing to witness. These are the two people who should love you so unconditionally, that even when you truly mess up, they should be the two people you can count on for anything. It's so hard to see the lingering disappointment and how this one thing caused a rift so big that all of their lives were changed.
Obviously there has to be some drama to this story otherwise it wouldn't have gone anywhere… especially between Pax and Nikki. I thought it was the perfect amount… not overly done, and definitely realistic. Pax has limitations that he still hasn't accepted for himself and he tries to use those to make decisions for the important people in his life, but Nikki isn't going to let him get away with it.
I want to take one second to say something about the 'friends' that Nikki was involved with.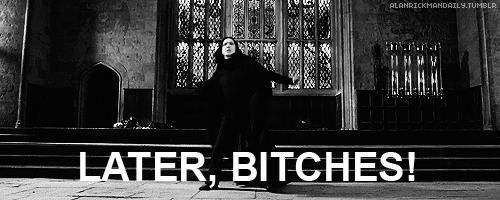 These are fictional girls and I honestly couldn't hate them anymore than I do. Their actions are a horrible indication of their true nature and while the whole incident is sad, I'm glad that Nikki found out who they really were, it's just sad that it had to happen this way.
Overall a wonderful story that never sugar coats the cyberbullying and really shows that there are consequences to our actions… but it's also a story of second chances and learning to forgive yourself and a sweet romance with complex and interesting characters that will have you completely invested in their story!
Thank you to SwoonReads for the early copy in exchange for my honest thoughts.
Related Posts