You all know how much I love Snow Like Ashes…right?  If not – go check out my review here.  This book has lots of action, swoony boys, magic, and secrets – everything I love in a book!! If you haven't checked out this book yet, read all about it below and then check out what Sara had to tell us about the holidays with these characters as well as the holidays at her house!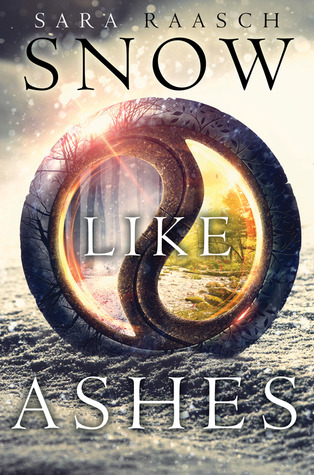 A heartbroken girl. A fierce warrior. A hero in the making.
Sixteen years ago the Kingdom of Winter was conquered and its citizens enslaved, leaving them without magic or a monarch. Now, the Winterians' only hope for freedom is the eight survivors who managed to escape, and who have been waiting for the opportunity to steal back Winter's magic and rebuild the kingdom ever since.
Orphaned as an infant during Winter's defeat, Meira has lived her whole life as a refugee, raised by the Winterians' general, Sir. Training to be a warrior—and desperately in love with her best friend, and future king, Mather — she would do anything to help her kingdom rise to power again.
So when scouts discover the location of the ancient locket that can restore Winter's magic, Meira decides to go after it herself. Finally, she's scaling towers, fighting enemy soldiers, and serving her kingdom just as she's always dreamed she would. But the mission doesn't go as planned, and Meira soon finds herself thrust into a world of evil magic and dangerous politics – and ultimately comes to realize that her destiny is not, never has been, her own.

ABOUT SARA
Sara Raasch has known she was destined for bookish things since the age of five, when her friends had a lemonade stand and she tagged along to sell her hand-drawn picture books too. Not much has changed since then — her friends still cock concerned eyebrows when she attempts to draw things and her enthusiasm for the written word still drives her to extreme measures. Her debut YA fantasy, SNOW LIKE ASHES, the first in a trilogy, comes out October 14, 2014 from Balzer + Bray. It does not feature her hand-drawn pictures.
What would Mather have on his Christmas list?
New weaponry. The Winterian refugees have been living on the run for sixteen years, so all of their equipment is quite old, beat up, or at the very least, cheap.
But if you were to ask him what non-item he'd have on his Christmas list, it'd definitely be safety. Particularly for Meira—one of his defining goals throughout the whole trilogy is a desire to keep her safe. A desire that, oftentimes, comes crashing down around him.
If Meira and Theron are spending New Year's Eve together what would they be doing?
The G-rated answer? Haha ;D
If there were no war, no immediate threats, and time to celebrate, they'd spend the holiday in Bithai. A traditional Cordellan party of that nature would include music, dancing, and lots of delicious food—lavender-chocolate tarts, coffee, spiced ale, and enough varieties of pastries to properly ring in the new year. And then at midnight, everyone would go out into the royal gardens and watch the moon move across the sky, the stars twinkling in the late night darkness, and absorb the stillness of the first minutes of the new year. Because it is in Cordell, a Rhythm, that time of year would be blanketed with wintry chill, so Meira and Theron (or, well, just Theron, because the chill wouldn't bother Meira) would be bundled up together. The whole thing would be fabulously romantic 🙂
What would Mather put under the tree for Meira this year?
Mather would spend an awful amount of time trying to figure out the perfect present. He'd spend hours wandering around markets, looking at gifts, and ultimately end up buying a plethora of wholly ridiculous things—bolts of silk, frilly hats, carved wooden statues. Things Meira wouldn't necessarily like—and he'd know that, he's just hopeless at buying gifts. But Meira would be delighted simply that he tried, and that alone would make her love whatever he picked out!
What is Angra doing this Christmas?
Angra, celebrate a holiday? Ha!
Now how about some questions for you!
When do you hang up your decorations?
After Thanksgiving. Any earlier is too early!
Colored lights or white lights?
What's on your holiday wishlist this year?
I am terrible at wanting things, haha. The only thing on my wishlist this year is yoga pants. Crazy wisher, I am 😉
What's your favorite holiday tradition?
Honestly, right now, I'm most excited about making new traditions with my husband. This is our second Christmas together as a married couple, and we're still figuring out our little family. That has been more fun than anything!
Do you open gifts on Christmas eve or Christmas day?
On Christmas Eve, my sister and I open gifts to each other, and on Christmas Day the family opens the rest of the gifts.
What's your favorite holiday movie?
Any of the old Claymation movies—Rudolph, Year Without a Santa Claus, Jack Frost, etc.
It's midnight on New Year's Eve – you can kiss any celebrity, living or dead.  Who do you pick?
Ha! Oh mean! Hmm…I'd have to go with Mads Mikkelsen. In my head, he's what Sir looks like. So that doesn't hurt 😉
Now tell us a little about what's on the horizon for you? Are you working on something new? Do you have something coming out soon?
Right now, I'm working on Book 3. Book 2 just went to copy edits. For the foreseeable future, my world is all about the SLA trilogy!
One lucky winner will win a hardcover of Snow Like Ashes – all you have to do is enter the giveaway below.  
US Only
** Must follow Fic Fare via Email **
Related Posts