Did you know that Jaime has a crush on Charlie Hanson?

I really really do.  This book was a surprise for me this year, but I couldn't help but fall in love with Charlie and everyone else in this lovely story.  If you're looking for a story with tons of heart and plenty of laughter then look no further because I think you're going to love this one as much as I did.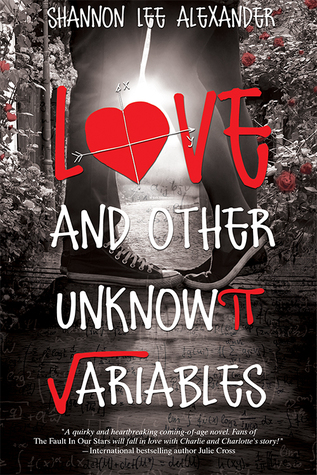 Charlie Hanson has a clear vision of his future. A senior at Brighton School of Mathematics and Science, he knows he'll graduate, go to MIT, and inevitably discover solutions to the universe's greatest unanswered questions. He's that smart. But Charlie's future blurs the moment he reaches out to touch the tattoo on a beautiful girl's neck.
The future has never seemed very kind to Charlotte Finch, so she's counting on the present. She's not impressed by the strange boy at the donut shop—until she learns he's a student at Brighton where her sister has just taken a job as the English teacher. With her encouragement, Charlie orchestrates the most effective prank campaign in Brighton history. But, in doing so, he puts his own future in jeopardy.
By the time he learns she's ill—and that the pranks were a way to distract Ms. Finch from Charlotte's illness—Charlotte's gravitational pull is too great to overcome. Soon he must choose between the familiar formulas he's always relied on or the girl he's falling for (at far more than 32 feet per second squared).
ABOUT SHANNON
Shannon Lee Alexander is a wife and mother (of two kids and one yellow terrier named Harriet Potter). She is passionate about coffee, books, and cancer research. Math makes her break out in a sweat. Love and Other Unknown Variables is her debut novel. She currently lives in Indianapolis with her family.
What would Charlie have on his Christmas list?
A kiss from a certain girl.
If Charlie, Greta and James are spending Christmas Eve together what would they be doing?
They would spend it at James's house. He'd have made dinner for his family, and afterward, they'd decorate cookies. Greta got him these cool pi cookie cutters last Christmas.
James's little sisters love to decorate cookies with Charlie because he lets them help him.

Charlie got James these science cookie cutters for Christmas this year. Charlotte and Becca helped him pick them out.
What would Charlotte have put in Charlie's stocking?
What's Becca asking for this Christmas?
This set of beautiful Harry Potter books.
Now how about some questions for you!
When do you hang up your decorations?
I usually put our family decorations out the first week of December. Although, now that I'm in the Midwest, I'm learning to put my exterior lights out whenever we get a warm weekend in the fall. I won't turn them on though until the tree is up. I love the idea of holiday decorations, but I usually have a few Grinch freak out moments every year. Those darn twinkly lights!!
What's your favorite holiday memory?
When I was little we'd hang four glass ball ornaments on the bottom of the tree. My dad, mom, sister and I would all lay down under the lit tree and make silly faces in the ornaments, which would reflect our faces back to us like funhouse mirrors. We'd giggle and my dad would sing along to Bing Crosby's Christmas album and I'd feel safe and really, truly blessed to have such a great family.
Today, I always hang the glass ball ornaments at the bottom of the tree so my kids and I can creep under there and have silly face contests. My daughter has a tendency to take herself too seriously, so I love seeing her be silly. And my son has the very best laugh in all the world. I love to make him laugh.
What's on your holiday wishlist this year?
Mistletoe grows all over the place in North Carolina, but not where I live in Indiana. We usually make a trip back to NC at Thanksgiving. Before we leave, I climb up a tree and grab some to bring back with us. But this year, we didn't travel, so I don't have any real mistletoe to hang up.
What's your favorite holiday tradition?
We have a cookie decorating party every year. It started when the kids were very little and has grown every year. Lots of friends, tons of sprinkles, pounds of icing, and gallons of hot chocolate make it great!
This picture is an oldie! They are 9 and 11 now, but they still love to decorate some cookies!
What's your favorite Christmas song?
Old standards like my dad used to sing when I was little.
What's your favorite holiday movie?
I'm cheating and giving you a top five because I can't pick one.
2. How the Grinch Stole Christmas
3. Charlie Brown Christmas Special
4. Miracle on 34th Street (the one with the adorable little girl who played Matilda in Matilda. I love her!)
5.5. National Lampoon's Christmas Vacation (double cheated because it turns out that I actually have a top six)
It's midnight on New Year's Eve – you can kiss any celebrity, living or dead.  Who do you pick?
I'm not really a celebrity fan (I make a few rare exceptions for gentlemen with adorable British accents who play literary characters I love. I'm looking at you Firth and Cumberbatch). But since I'm cheating like crazy on this interview, I'm going to keep cheating and pick a book boyfriend I'd like a New Year's Eve kiss from instead of a celebrity.
Thank you, Rainbow Rowell.
Now tell us a little about what's on the horizon for you? Are you working on something new? Do you have something coming out soon?
I'm working on finishing up a companion novel to Love and Other Unknown Variables. I'll be telling the story of what is happening in Becca Hanson's life as she begins her junior year of high school. Charlie has left for college and there have been so many changes in Becca's life that she's feeling lost. Even her favorite books aren't helping. She signs up to help on the technical crew for the production of Romeo and Juliet, but when she helps the adorable head techie, Max, set up the new mic system, she accidentally auditions for the lead in the play. 
One lucky winner will win a copy of Love and Other Unknown Variables!  All you have to do is enter the giveaway below.  
** Must follow Fic Fare via Email **
** International okay – please verify that The Book Depository delivers to you before entering!**
Related Posts