I know… I know… As if you don't have a million and one memes to follow! BUT we're hoping that you might want to participate in just one more!  
If you're like us, you read a lot… you add a ton to your 'to be read' lists and you sometimes forget about some amazing things because they get pushed down either your favorites list or that pile of books you need to read.  That doesn't mean those books are no less amazing!
This is a way for us to highlight books that are older that maybe don't get as much recognition now because they have been out for a while.  Books that we read and loved or books that have been on our To Be Read lists for ages, but we just haven't gotten around to them yet.  
On to the details – Pick a book… any book that meets the following criteria:  
1.  Must have been published at least 2 years ago or 
2.  Preferably is still in print or available to read
Grab our button or make your own then simply feature it on your blog… See the example below, and then come back here and link us up!! AND Spread the word!!
Jaime's Pick
ANNA DRESSED IN BLOOD
By: Kendare Blake
Publication Date:  October 17, 2011
I really loved this book – I think this falls in the horror genre, but it's also a wonderfully done boy pov. I found by the end of the book that I had a slight crush on Cas, and book 2 was just as wonderful!  If you haven't read this one yet get to it soon! 
Cas Lowood has inherited an unusual vocation: He kills the dead.
So did his father before him, until he was gruesomely murdered by a ghost he sought to kill. Now, armed with his father's mysterious and deadly athame, Cas travels the country with his kitchen-witch mother and their spirit-sniffing cat. They follow legends and local lore, destroy the murderous dead, and keep pesky things like the future and friends at bay.
Searching for a ghost the locals call Anna Dressed in Blood, Cas expects the usual: track, hunt, kill. What he finds instead is a girl entangled in curses and rage, a ghost like he's never faced before. She still wears the dress she wore on the day of her brutal murder in 1958: once white, now stained red and dripping with blood. Since her death, Anna has killed any and every person who has dared to step into the deserted Victorian she used to call home.
Yet she spares Cas's life.
ABOUT KENDARE
So, I write books. Anna Dressed in Blood and Girl of Nightmares are horror, The Goddess War books are mythology, and Sleepwalk Society is contemporary. Different genres, because the world don't move to the beat of just one drum. Love to read, too. Fiction, philosophy, good books, bad books, because you take the good you take the bad you take them both and there you have a stack of books and stuff. I mean, you've got to be adventurous. There's more to life that what you're living, so take a chance and face the wind. 
There's more coming soon like Slasher Girls and Monster Boys and Ungodly in 2015, so don't waste another minute on your cryin. We're nowhere near the end. 
My likes include animals, food, and nostalgia. I mean, whatever happened to predictability? The milkman, the paperboy, the evening TV? Used to be everywhere you look, there's a heart, a hand to hold on to.
Anyway, I love to hear from readers so drop me a line here or at my website and we'll talk about friends to know, and ways to grow, and great authors to be in charge of our days, and our nights.
We can also talk about all the sitcom theme songs in this bio. Sha la la la.
Erin's Pick
ULTRAVIOLET
By: R.J. Anderson
Publication Date: June 2, 2011

I ended up picking up this book out of the blue and absolutely loved it.  The main character has something called synesthesia, a neurological phenomenon that has her seeing sounds and tasting colors.  There is a mystery here and as the reader you have to figure out what happened to make Alison confess to murder…when no one knows what really happened.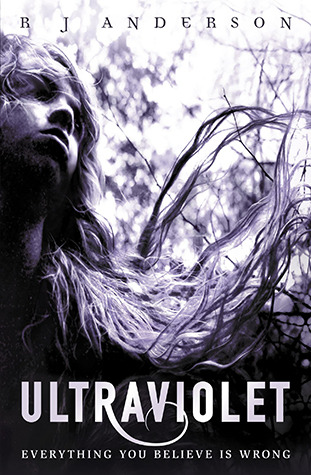 Once upon a time there was a girl who was special.
Unless you count the part where I killed her.
Sixteen-year-old Alison has been sectioned in a mental institute for teens, having murdered the most perfect and popular girl at school. But the case is a mystery: no body has been found, and Alison's condition is proving difficult to diagnose. Alison herself can't explain what happened: one minute she was fighting with Tori — the next she disintegrated. Into nothing. But that's impossible. Right?
ABOUT R.J.
R. J. (Rebecca Joan) Anderson was born in Uganda, raised in Ontario, went to school in New Jersey, and has spent much of her life dreaming of other worlds entirely.
As a child she immersed herself in fairy tales, mythology, and the works of C.S. Lewis, J.R.R. Tolkien and E. Nesbit; later she found inspiration in books by Ursula LeGuin, Patricia A. McKillip and Robin McKinley, and learned to take as much pleasure from their language as the stories they told.
Now married and a mother of three, Rebecca reads to her sons the classic works of fantasy and science fiction that enlivened her own childhood, and tries to bring a similar excitement and timeless wonder to the novels she writes for children and teens. She currently lives in the beautiful theatre town of Stratford, Ontario.
Related Posts