I know… I know… As if you don't have a million and one memes to follow! BUT we're hoping that you might want to participate in just one more!  
If you're like us, you read a lot… you add a ton to your 'to be read' lists and you sometimes forget about some amazing things because they get pushed down either your favorites list or that pile of books you need to read.  That doesn't mean those books are no less amazing!
This is a way for us to highlight books that are older that maybe don't get as much recognition now because they have been out for a while.  Books that we read and loved or books that have been on our To Be Read lists for ages, but we just haven't gotten around to them yet.  
On to the details – Pick a book… any book that meets the following criteria:  
1.  Must have been published at least 2 years ago or 
2.  Preferably is still in print or available to read
Grab our button or make your own then simply feature it on your blog… See the example below, and then come back here and link us up!! AND Spread the word!!
THE KNIFE OF NEVER LETTING GO
By: Patrick Ness
Publication Date:  May 5, 2008

I have had this series on my to read list forever and when we met Patrick Ness last year I swore I would start this series as soon as I could.  I haven't yet gotten to them but they are near the top of the "when I have time" pile…no question.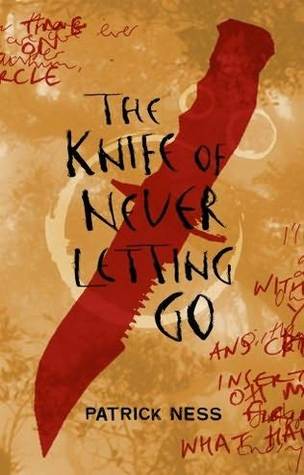 Prentisstown isn't like other towns. Everyone can hear everyone else's thoughts in an overwhelming, never-ending stream of Noise. Just a month away from the birthday that will make him a man, Todd and his dog, Manchee — whose thoughts Todd can hear too, whether he wants to or not — stumble upon an area of complete silence. They find that in a town where privacy is impossible, something terrible has been hidden — a secret so awful that Todd and Manchee must run for their lives.
But how do you escape when your pursuers can hear your every thought? 
ABOUT PATRICK
Patrick Ness, an award-winning novelist, has written for England's Radio 4 and Sunday Telegraph and is a literary critic for The Guardian. He has written many books, including the Chaos Walking Trilogy, The Crash of Hennington, Topics About Which I Know Nothing, and A Monster Calls.
He has won numerous awards, including the Guardian Children's Fiction Prize, the Booktrust Teenage Prize, and the Costa Children's Book Award. Born in Virginia, he currently lives in London.
Related Posts