I know… I know… As if you don't have a million and one memes to follow! BUT we're hoping that you might want to participate in just one more!  
If you're like us, you read a lot… you add a ton to your 'to be read' lists and you sometimes forget about some amazing things because they get pushed down either your favorites list or that pile of books you need to read.  That doesn't mean those books are no less amazing!
This is a way for us to highlight books that are older that maybe don't get as much recognition now because they have been out for a while.  Books that we read and loved or books that have been on our To Be Read lists for ages, but we just haven't gotten around to them yet.  
On to the details – Pick a book… any book that meets the following criteria:  
1.  Must have been published at least 2 years ago or 
2.  Preferably is still in print or available to read
Grab our button or make your own then simply feature it on your blog… See the example below, and then come back here and link us up!! AND Spread the word!!
Jaime's Pick
TIME BETWEEN US
By: Tamara Ireland Stone
Publication Date:  October 9, 2012

One of my absolute favorite contemporary YA books around.  The writing is spectacular, the story is lovely and the characters are even more so.  Definitely read this if you haven't yet! 
Anna and Bennett were never supposed to meet: she lives in 1995 Chicago and he lives in 2012 San Francisco. But Bennett has the unique ability to travel through time and space, which brings him into Anna's life, and with him a new world of adventure and possibility.
As their relationship deepens, the two face the reality that time may knock Bennett back to where he belongs, even as a devastating crisis throws everything they believe into question. Against a ticking clock, Anna and Bennett are forced to ask themselves how far they can push the bounds of fate, what consequences they can bear in order to stay together, and whether their love can stand the test of time.
ABOUT TAMARA
TAMARA IRELAND STONE is the author of Time After Time and Time Between Us, which has been published in over twenty countries to widespread acclaim, and hailed as "an exciting debut novel" by Booklist and "a warm, time bending romance" by Publishers Weekly. It has been optioned for film by CBS Films.
Her next novel, Every Last Word, is about a teen girl with OCD who's hiding part of herself from the world, until she discovers a secret poetry club that changes her in unexpected ways. Every Last Word releases on June 16, 2015.
A former Silicon Valley marketing executive, Tamara enjoys skiing, hiking, and spending time with her husband and two children. She lives just outside of San Francisco.
Erin's Pick
SHATTERED SOULS (SOULS, #1)
By: Mary Lyndsey
Publication Date: December 6, 2012

I enjoyed this book and although I haven't had an opportunity to read the last two books of this series, I will as soon as I can.  It has a great story and I can't wait to read more about these characters!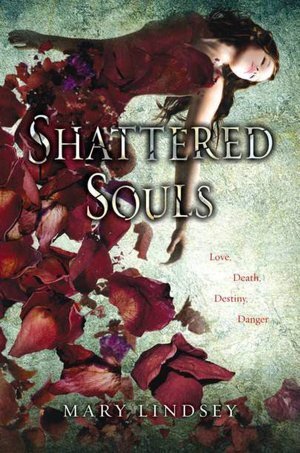 A thrilling debut story of death, love, destiny, and danger
Lenzi hears voices and has visions – gravestones, floods, a boy with steel gray eyes. Her boyfriend, Zak, can't help, and everything keeps getting louder and more intense. Then Lenzi meets Alden, the boy from her dreams, who reveals that she's a reincarnated Speaker – someone who can talk to and help lost souls – and that he has been her Protector for centuries.
Now Lenzi must choose between her life with Zak and the life she is destined to lead with Alden. But time is running out: a malevolent spirit is out to destroy Lenzi, and he will kill her if she doesn't make a decision soon.
ABOUT MARY
Mary's writing is a natural expression of her love of reading and a fascination with the flexibility of the human imagination. Books make the impossible possible.
Prior to attending University of Houston Law School, Mary received a B.A. in English Literature with a minor in Drama from the University of Houston. She has taught drama and playwriting in a large public high school and English in a private school.
She serves as Vice-President of Communications of the West Houston RWA Chapter, and is a founding member of Houston YA/MG Writers and the QueryTracker.net Blog. Mary is represented by Kevan Lyon of the Marsal Lyon Literary Agency.
Mary lives in Houston with her husband, three kids, two dogs, her daughter's pet rats, an Australian Bearded Dragon and dozens of Madagascar Hissing Cockroaches. (The roaches are long story—don't ask.)  Mary loves connecting with readers. She can be found on Facebbok, Twitter, and Goodreads.
Related Posts