By: Josephine Angelini
Publication Date: September 2, 2014
Love burns. Worlds collide. Magic reigns.
This world is trying to kill Lily Proctor. Her life-threatening allergies keep her from enjoying many of the experiences that other teenagers take for granted…which is why she is determined to enjoy her first (and perhaps only) high-school party. But Lily's life never goes according to plan, and after a humiliating incident in front of half her graduating class Lily wishes she could just disappear.
Suddenly Lily is in a different Salem – one overrun with horrifying creatures and ruled by powerful women called Crucibles. Strongest and cruellest of all the Crucibles is Lillian . . . Lily's identical other self in this alternate universe. This new version of her world is terrifyingly sensual, and Lily is soon overwhelmed by new experiences.
Lily realizes that what makes her weak at home is exactly what makes her extraordinary in New Salem. It also puts her life in danger. Thrown into a world she doesn't understand, Lily is torn between responsibilities she can't hope to shoulder alone, and a love she never expected.
But how can Lily be the saviour of this world when she is literally her own worst enemy?
About Josephine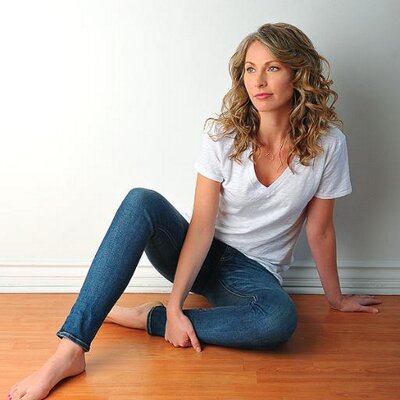 Josephine Angelini is a Massachusetts native and the youngest of eight siblings. She graduated from New York University's Tisch School of the Arts in theater, with a focus on the classics. She now lives in Los Angeles with her husband.
We got the chance to ask Josie a few questions and we're sharing the answers with you!!
Where did the idea for Trial By Fire come from?
The witchcraft aspect comes from my upbringing.  I grew in Massachusetts, surrounded by the history of the Salem Witch Trials.  I was always morbidly drawn to the hysteria behind a witch-hunt in the real world, and fascinated by lore and the ritual of witchcraft in the world of fantasy.  Both aspects appealed to me and I wanted to write a book that incorporated both aspects.  In my book, witchcraft is real (so I get the lore bit).  The witches are in power and they have instigated a "witch-hunt" for scientists (so I get the mass hysteria bit). 
The parallel universe aspect of the story comes from a thought that I obsessed over while going through a particularly nasty bout of insomnia.  I couldn't stop thinking that if I met myself in a parallel universe I would become by own worst enemy. 
What is the weirdest thing you googled while researching for this series?
Bee's knees.  It really matters which way you put the knee on an exoskeleton in terms of speed and mobility.  I know how a bee's knees actually work, which (oddly) matters for the second book.
What was your favorite scene to write and why?
I'd tell you, but it's a spoiler to identify it.  My favorite scenes to write are always the action sequences.  They fly out of me like I'm dictating exactly what I see projected onto a movie screen in my head.  The best part is that for me it's like watching a movie that no one else has seen yet.
Did any of your characters surprise you by doing something you didn't expect?
I get asked this a lot, but the truth is I'm very rigid when it comes to plotting and character development.  My characters don't surprise me, but I always seem to discover a sub-plot in the story that I hadn't expected—some underlying theme or concept that I want to highlight to add another layer of interest for the reader and for myself.  But my characters do what I tell them to do.  My books are not a democracy. 
Did you always know how book 1 would end or did things change as you wrote?
I know how the whole series ends!  I can't write without a compass, but that doesn't mean that I get bored.  Not at all, actually.  I always discover more layers of meaning or better opportunities for deeper emotional conflict while I write, but the major plot points are firm before I type Chapter One.
What are you currently reading? What are some of your recent favorite reads?
Right now I'm reading baby books!  My husband and I are expecting our first child at the end of September, and I'm absolutely obsessed with all things baby related.  I haven't read any fiction since I read an ARC of Storm Siren by Mary Weber—it was really good, btw. 
Any advice for aspiring writers?
Finish that first manuscript.  I know so many talented writers who hit a wall with their story and don't know how to get through the tough middle part, so they give up.  Or worse, sometimes writers decide to drastically change their book after they've written half of it and give up because they feel bogged down by too many options.  Don't give up in either case.  Every published writer I've ever met has one or two writing endeavors that they've abandoned and slid under the bed.  The only difference between a published writer and an unpublished one is that the published writer doesn't let that stop them.  They write another story, and then another if they have to. 
What's next for you? Are you working on anything right now that you can tell us about?
I'm working on the third book in the WorldWalker Trilogy.  SOOO sad right now!  I'm in that "she's lost everything and has to drag herself out of the pit even though she's got nothing to hope for" bit.  Always kills me when I do that to my characters.  But I have a feeling it'll end okay.  J
5 Favorites
Favorite Song (right now) – Bridges by Broods
Favorite Book (right now) –

The Pregnancy Bible
Favorite TV Show/Movie (right now) –

Adventure Time with Finn and Jake
Favorite Snack  – 

Peanut butter on a Carr's whole-wheat cracker and a frosty glass of milk.

 

Yumm-a-lummy!
Erin's Thoughts

Trial by Fire by Josephine Angelini
My rating: 4 of 5 stars

Trial by Fire by Josephine Angelini is book one of The Worldwalker Trilogy and sets the stage nicely for a great new paranormal, young adult, series. I am always a bit hesitant to start a series so far in advance but I honestly couldn't hold out anymore. First, that cover is ridiculously lovely and perfect and then the story…witches, magic, and alternate universes – I was sold! I will try to review without any spoilers…I promise!

Lily Procter is high school senior who lives in Salem, Massachusetts and she suffers from life threatening allergies. Despite her allergies, Lily is determined to try something normal for once – she is going to go to her first high school party with her best friend (and perhaps more) Tristan. When something happens at the party that causes her to have a major allergic reaction, and ultimately a seizure, Lily and Tristan end up fighting and saying some things they probably shouldn't have. As Lily thinks about what happened, she decides she could just disappear…which is when she decides to answer the voice inside of her and let it know that she is ready to leave.

You're probably wondering what that all means. Well, the voice in Lily's head is actually Lillian, another version of herself in an alternate version of Salem, Massachusetts. This Lillian happens to be a powerful witch who has been looking for a way to save her world and has given up quite a bit to do it. In her search, she found Lily and while she is weak and sick in her current world, Lillian knows that she will be strong and powerful in the new one.

As Lily jumps into this new world, she is faced with a number of people that look familiar but are not really known to her. Her sister Juliet is there as is Tristan but they are not the same. The one person who is new to her, Rowan, happens to know Lillian very well and at first, this is a problem. As I mentioned, Lillian gave up a lot to follow the path she is on and one of them is Rowan. She has done some horrible things to him and those he loves but according to her, it was worth it if she can save her world. Once Lily realizes exactly what happened and that she is no longer in a world she is familiar with, she runs and ends up with the one person who would prefer to see Lillian dead, Rowan.

As the story progresses, we learn that in this world, the witches control everything and make all of the rules. As the strongest witch, Lillian is the ruler. The group that Rowan, Tristan, and Caleb belong to are the Outlanders and they live outside the 13 cities. Outlanders also have no rights or citizenship and have been rebelling against Lillian's control so that they can have the things they need to survive. As Lily comes to realize just how dangerous this world can be she also learns a lot more about the magic. Where Lily suffered and was sick in her version of Salem, Rowan is able to explain her allergies and provide relief for the things she couldn't previously control. As a mechanic, it is Rowan's job to know what his witch needs and the makeup of her body. Because he used to serve in this role for Lillian, he knows exactly what Lily needs and when. Although it makes Lily uncomfortable at first, she quickly learns to trust Rowan despite the distrust he has for her.

The characters in this book were solidly built and I was definitely rooting for Lily. Even when she was sick, she wasn't really one to just sit back and let people dictate what she did. And when she was thrown into a situation where she had no control or understanding of what was going on, she wasn't afraid to jump in and figure out what to do.

As Lily's relationship grows and changes with Rowan, we learn more about who he is and why things are the way they are between Rowan and Lillian. I have to admit, with what happened between them, I am surprised he is able to get past his anger when he looks at Lily, but he does. Obviously he realizes she is a completely different person and they have some different personality traits…which allows him to begin to have feelings and care about Lily. Yes, there is romance in this book and I loved it. It didn't pull away from the overall story of what was going on with the rebellion and everything else and the way that Angelini weaved this part of the story in worked perfectly.

One thing I wish we would have learned more about was Carrick and ultimately what happened with him. I don't know if he will reappear in the next book or if he is gone for good but I thought his story was a bit unexplained and abrupt. Angelini alluded to something in his past that made him who he was but I feel like I need more to connect the dots. Also, since it is from Lily's point of view we have no idea what is going on at home with her friends and family and I really want to.

Overall I thought the pacing was well done but the ending felt a bit rushed. The focus stayed on the magic of the big fight scene but I wanted a bit more than that. Trust me, it didn't hurt the story at all, mostly because the focus should probably be on the magic, but I guess I wanted to have more than just a few sentences around what happened with Gideon and how the fight was going.

Another thing I enjoyed was how Angelini tied the science and witchcraft together. I'm no science expert but I have to say, the way things were explained, it was believable. The world that Angelini built out was intriguing as well. The idea that there could be other versions of a world where some things are similar but others are not is something I love to read about. The Woven, the way agriculture and farming is handled, and the idea that witches create all energy were only a few of the things described but definitely showed how much thought and development went into creating this world and the story.

If you like Science Fiction, Fantasy, or Dystopian (or all three together), I have a feeling you will enjoy this book. It is filled with action, world building, and magic which are all things that had me turning the pages to find out what was going to happen next. This is a series so there is definitely an ending here that leads into another book and although a lot happens, the ending left a whole lot up in the air in terms of what will happen next for all of the characters. I know I am looking forward to the next book in this series….my patience will be tested as I'm pretty sure I have about a year to wait, but I loved the story so it was worth jumping into this book early.

Thank you to Netgalley and Macmillan for the review copy.


Now I have to give special thanks to MacMillan – They're going to send one lucky winner a finished copy of Trial By Fire  – Make sure you get your entries in now!
Plus make sure you visit all the other stops on the tour HERE
US/CA ONLY
Please see our Giveaway Rules Page for all additional details
Related Posts