Top Ten Tuesday is hosted by the awesome and wonderful people over at The Broke and The Bookish

So does anyone else not read last books just to pretend they aren't finished?  I am notorious for doing this, and I need to just suck it up and finish them already. So this list of books… they're getting read this year.  Even if I'm horribly sad once I turn the last page because it will be over, it needs to be done. 
Jaime's Picks
Katy knows the world changed the night the Luxen came.
She can't believe Daemon welcomed his race or stood by as his kind threatened to obliterate every last human and hybrid on Earth. But the lines between good and bad have blurred, and love has become an emotion that could destroy her—could destroy them all.
Daemon will do anything to save those he loves, even if it means betrayal.
They must team with an unlikely enemy if there is any chance of surviving the invasion. But when it quickly becomes impossible to tell friend from foe, and the world is crumbling around them, they may lose everything— even what they cherish most—to ensure the survival of their friends…and mankind.
War has come to Earth. And no matter the outcome, the future will never be the same for those left standing.
Ruby can't look back. Fractured by an unbearable loss, she and the kids who survived the government's attack on Los Angeles travel north to regroup. With them is a prisoner: Clancy Gray, son of the president, and one of the few people Ruby has encountered with abilities like hers. Only Ruby has any power over him, and just one slip could lead to Clancy wreaking havoc on their minds.
They are armed only with a volatile secret: proof of a government conspiracy to cover up the real cause of IAAN, the disease that has killed most of America's children and left Ruby and others like her with powers the government will kill to keep contained. But internal strife may destroy their only chance to free the "rehabilitation camps" housing thousands of other Psi kids.
Meanwhile, reunited with Liam, the boy she would-and did-sacrifice everything for to keep alive, Ruby must face the painful repercussions of having tampered with his memories of her. She turns to Cole, his older brother, to provide the intense training she knows she will need to take down Gray and the government. But Cole has demons of his own, and one fatal mistake may be the spark that sets the world on fire.
A fever ravages New London, but with the Brotherhood sending suspected witches straight to the gallows, the Sisters are powerless against the disease. They can't help without revealing their powers—as Cate learns when a potent display of magic turns her into the most wanted witch in all of New England.
To make matters worse, Cate has been erased from the memory of her beloved Finn. While she's torn between protecting him from further attacks and encouraging him to fall for her all over again, she's certain she can never forgive Maura's betrayal. And now that Tess's visions have taken a deadly turn, the prophecy that one Cahill sister will murder another looms ever closer to its fulfillment.
Autonomous. Independent. Dangerous. They tried to control her. Now she'll destroy them.
Things have changed behind the walls of the Coventry and new threats lurk in its twisted corridors. When Adelice returns to Arras, she quickly learns that something rotten has taken hold of the world and Cormac Patton needs her to help him reestablish order. However, peace comes at a terrible price. As the Guild manipulates the citizens of Arras, Adelice discovers that she's not alone, and she must let go of her past to fight for mankind's future. She will have to choose between an unimaginable alliance and a deadly war that could destroy everyone she loves.
Everything hangs in the balance, and nothing is certain: Rachel has been kidnapped by enemy forces and is being taken to Rowansmark while Logan, imprisoned and awaiting trial, is unable to leave Lankenshire. Separated from each other and their Baalboden comrades, each must find a way to achieve what they desperately want: to rid their world once and for all of the Commander and the tech that controls the deadly Cursed One.
Fighting through her pain and embracing the warrior she's become, Rachel will do whatever it takes to escape her enemies' clutches and join Logan in his fight. But when she learns a secret that changes everything, she realizes that escaping Ian and his tracker friends is no longer an option if she wants to save the people she loves. Instead, she'll have to destroy Rowansmark from the inside out—if she can survive the journey through the Wasteland.
Logan needs allies if he wants to thwart Rowansmark's power grab and rescue Rachel. But securing allies will mean betraying his beliefs and enlisting the help of the man he hates more than anyone: Commander Jason Chase. Driven by his fierce love for Rachel and his determination to make their world safe, Logan may be just the weapon the city-states need to defeat the Cursed One.
But as Rowansmark bears down and uneasy alliances are tested, will Rachel and Logan's love for each other be enough to surmount the unbelievable odds against them?
By way of a staggering deception, Karou has taken control of the chimaera rebellion and is intent on 
steering its course away from dead-end vengeance. The future rests on her, if there can even be a future for the chimaera in war-ravaged Eretz.
Common enemy, common cause.
When Jael's brutal seraph army trespasses into the human world, the unthinkable becomes essential, and Karou and Akiva must ally their enemy armies against the threat. It is a twisted version of their long-ago dream, and they begin to hope that it might forge a way forward for their people.
And, perhaps, for themselves. Toward a new way of living, and maybe even love.
But there are bigger threats than Jael in the offing. A vicious queen is hunting Akiva, and, in the skies of Eretz … something is happening. Massive stains are spreading like bruises from horizon to horizon; the great winged stormhunters are gathering as if summoned, ceaselessly circling, and a deep sense of wrong pervades the world.
What power can bruise the sky?
From the streets of Rome to the caves of the Kirin and beyond, humans, chimaera and seraphim will fight, strive, love, and die in an epic theater that transcends good and evil, right and wrong, friend and enemy. 
At the very barriers of space and time, what do gods and monsters dream of? And does anything else matter?
Annith has watched her gifted sisters at the convent come and go, carrying out their dark dealings in the name of St. Mortain, patiently awaiting her own turn to serve Death. But her worst fears are realized when she discovers she is being groomed by the abbess as a Seeress, to be forever sequestered in the rock and stone womb of the convent. Feeling sorely betrayed, Annith decides to strike out on her own.
She has spent her whole life training to be an assassin. Just because the convent has changed its mind doesn't mean she has…
Erin's Picks
Following the cliffhanger ending of Phoenix, Natalie finds herself separated from Ash and unexpectedly reunited with her parents, including the father she thought was dead. But she can only think of Ash. She hasn't heard a word of him since she and Elijah were brought to the underground headquarters of the Sentry Rebellion. But she vows to find him.
Ash, meanwhile is back in Black City; it's the perfect place to hide from the Sentry government. But not for long. He won't give up on Natalie or bringing an end to the terrible reign of Purian Rose.
A pulse-racing end to an exciting series.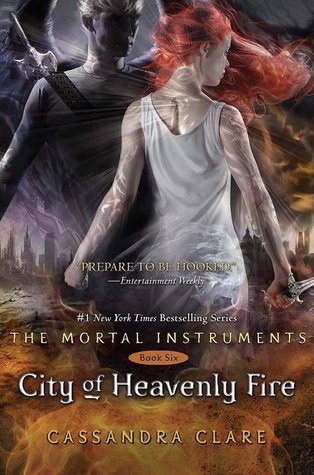 In this dazzling and long-awaited conclusion to the acclaimed Mortal Instruments series, Clary and her friends fight the greatest evil they have ever faced: Clary's own brother.
Sebastian Morgenstern is on the move, systematically turning Shadowhunter against Shadowhunter. Bearing the Infernal Cup, he transforms Shadowhunters into creatures out of nightmare, tearing apart families and lovers as the ranks of his Endarkened army swell.
The embattled Shadowhunters withdraw to Idris – but not even the famed demon towers of Alicante can keep Sebastian at bay. And with the Nephilim trapped in Idris, who will guard the world against demons?
When one of the greatest betrayals the Nephilim have ever known is revealed, Clary, Jace, Isabelle, Simon, and Alec must flee – even if their journey takes them deep into the demon realms, where no Shadowhunter has set foot before, and from which no human being has ever returned…
Love will be sacrificed and lives lost in the terrible battle for the fate of the word in the thrilling final installment of the classic urban fantasy series The Mortal Instruments!
To be able to distinguish the difference from fantasy and reality.
I used to think that my sanity was still intact.
That all of my marbles were still in the bag known as my mind.
That I would never—EVER—let Oakhill get the best of me.
Now, I'm not so sure. Now I'm not sure if I really am sane…
Or if I've lost my mind once and for all.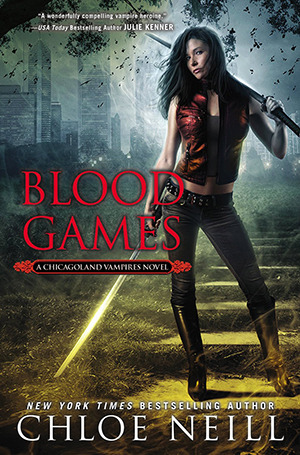 While Merit didn't choose to become a vampire or Sentinel of Cadogan House, she vowed to fight for her House and its Master, and she's managed to forge strong alliances with powerful supernaturals across Chicago. But even though Merit has had wild adventures, this may be her deadliest yet…
A killer is stalking Chicago, preying on humans and leaving his victims with magical souvenirs. The CPD hasn't been able to track the assailant, and as the body count rises, the city is running out of options. Vampires and humans aren't on great terms, but murder makes for strange bedfellows. Can Merit find the killer before she becomes a target?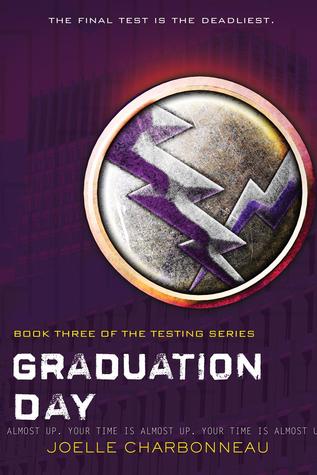 In a scarred and brutal future, The United Commonwealth teeters on the brink of all-out civil war. The rebel resistance plots against a government that rules with cruelty and cunning. Gifted student and Testing survivor Cia Vale vows to fight. But she can't do it alone. This is the chance to lead that Cia has trained for – but who will follow? Plunging through layers of danger and deception, Cia must risk the lives of those she loves – and gamble on the loyalty of her lethal classmates.
What completed series haven't you had a chance to finish? Tell us in the comments!
Related Posts