We're excited to have Melissa on the blog today talking about The Summer Before Forever, but before we share our interview, here's what it's about!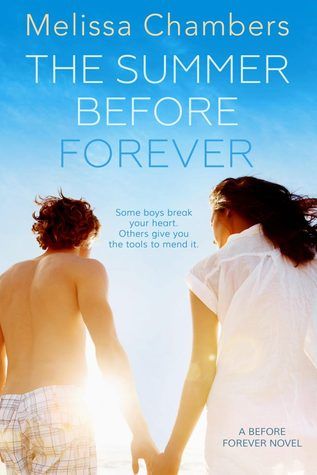 The Summer Before Forever

by Melissa Chambers
(Website, Twitter, Facebook, Goodreads)Published by Macmillan on August 22nd 2016
Genres: Contemporary, General, Love & Romance, Romance, Self-Esteem & Self-Reliance, Social Themes, Special Needs, Young Adult, Young Adult Fiction
Pages: 150
Format: eARC

Some boys break your heart. Others teach you how to heal it.

Chloe Stone's life is a hot mess. Determined to stop being so freaking skittish, she packs up her quasi-famous best friend and heads to Florida. The goal? Complete the summer bucket list to end all bucket lists. The problem? Her hot soon-to-be stepbrother, Landon Jacobs.

Landon's mom will throttle him if he even looks at his future stepsister the wrong way. Problem is, Chloe is everything he didn't know he wanted, and that's...inconvenient. Watching her tear it up on a karaoke stage, stand up to his asshole friend, and rock her first string bikini destroys his sanity.

But there's more than their future family on the line. Landon is hiding something—something he knows will change how she feels about him—and she's hiding something from him, too. And when the secrets come out, there's a good chance neither will look at the other the same way again...
Describe The Summer Before Forever in 5 words.
Becoming brave, falling in love.
How did The Summer Before Forever come about, what was your inspiration? What made you think you had to write this story?
This story was born out of a need to remind people that you don't have to settle in life or in love, and that all of us need to set our bars way up high!
What was the hardest scene for you to write in The Summer Before Forever and why?
Oh, I really don't want to say! I will say this. Writing a book that is aimed toward teens is a big responsibility. I recently learned in an online group I'm a part of that many people want authenticity in their YA. Many others don't. They want their YA clean. They want to escape from the "real" teen world where there is cursing, drinking, sex, etc. I understand both sides, but I don't see a way to please both. With this in mind, some scenes were tougher to write than others.
Can you share (without spoilers) a line or section of The Summer Before Forever that is your favorite?
There's a moment in the book where Chloe and Landon are figuring out their feelings for one another, and both are treading lightly, not knowing where the other stands. They are getting ready to be stepbrother and sister, and their parents would completely freak if they knew either was even considering the other as any more than that. Chloe's music is everything to her, and she shares it with Landon during this time. If you read the book, you'll know exactly where this moment happens, and you can know that the author grins like an idiot through that whole scene every time she reads it.
Since we're talking 2016 books, what upcoming 2016 release (besides your own) are you most excited to read and fangirl over?
I'll tell you who I'm totally fangirling over right now is Judy Blume. I read Summer Sisters ages ago. I'm listening to the audiobook now and remembering why Judy Blume's books are so uniquely special, and why she remains the master of YA.
But in 2016 books, I can't wait to get my hands on Kimberly McCreight's The Outliers. It came out in May, but I've been saving it for the fall. Something about the coming of Halloween has me reaching for Gillian Flynn, Kimberly McCreight, and anything else creepy and crawly I can find. I'm saving it for the first cool day in October.
When you're not writing, what do you enjoy doing in your spare time?
As soon as this heat subsides, you can find me on the tennis court. I also love to play cards, online or with friends. Spades, Hearts, and I recently just learned how to play something similar called Euchre! Wanna play?
Do you have any strange writing habits?
I have a fifteen-year-old miniature rat terrier who insists on sitting in my lap all the time, but she shifts and threatens to fall. So I finally figured out that if I zip her up in my hoodie, she settles down and snoozes away. So basically, as I write, I look like I'm pregnant with a small dog.
What are you currently reading?
Blood Divine by Greg Howard. It's a ghost story set in Georgetown, SC. Someone described it as Underworld meets Gone with the Wind. Spot on.
Any advice for aspiring writers?
Turn off the television and write! This is particularly hard when there are three episodes a week of Big Brother, but if you will get in the habit of sitting down in front of your computer instead of the television, you will find the entertainment is right there at your fingertips.
What's next for you? Are you working on anything right now that you can tell us about?
I am ALWAYS working on something! Book Two in the Before Forever series is next up for release. Jenna from book one can't wait to have her say!
Tell us 3 random facts about you.
My dad's initials are D.A.D.
If I had a dime for every time someone called me "Michelle" I would be retired on a Hawaiian beach.
I was always Team Jacob, even before the movies came out. I always root for the underdog. 🙂
Favorites
Favorite Song (right now): "Rebel Heart" by The Shelters
Favorite Book (right now): Simon vs. the Homo Sapiens Agenda by Becky Albertalli
Favorite TV Show/Movie: (currently) Stranger Things / The Way Way Back
Favorite Word: Moist. Kidding! It's dazzling. Has been since forever. But seriously, how has "moist" suddenly gotten such a bad rap?
Favorite Color: Cobalt Blue
Favorite Curse Word: Ha! Don't make me pick just one! If I have to, I'll go with horseshit. It's great when you really need to make an impact.
We WILL NOT talk about Team Jacob… nope we will not! LOL Thanks so much for sharing with us Melissa! 
Jaime's Thoughts
So admittedly I was a little leery when I requested this book because while it's not really a forbidden kind of romance, it's a bit weird when you say you're dating your step-brother… right?
Here's the thing. I think Chambers did this in the best way possible. First of all, Chloe isn't close with her father, but he's getting remarried so she is off (with her best friend) to spend the summer with him and get to know his soon to be wife and her son as well as rekindle the relationship with him. From the get go you can tell Landon and Chloe are interested in each other and both do a pretty good job of trying to hide it from the other. So point for making an effort. As they spend more time together though, it gets harder and harder to deny that they aren't interested.
But the relationship here isn't the only thing happening. While Chloe's a bit of an introvert and has been keeping something that happened at home right before her departure a secret, she's got her bff with her on this trip and they make up a list of things that Chloe needs to accomplish this summer. Jenna is a bit of a whirlwind and there were times that I absolutely enjoyed her, but there were times that I thought she was incredibly obnoxious and irritating. The two are complete opposites and it's almost strange that they are such amazing friends, but then again, opposites and all that. They complement each other well, and Chambers has created an amazing friendship between the two.
Now let's talk about Landon… I honestly don't know if I'd be able to deny myself either if he were my step-brother. Landon is off to college soon, to wrestle… even though football is his passion, there are too many things that could go wrong if he pursued what he really wanted. Landon is keeping a secret from Chloe, one that he thinks could ruin anything between them because he is insecure about it and though one might think the sweet, sexy, football playing guy might be cocky, he is the farthest thing from it. And despite the numerous warnings from his mother to stay away from Jenna and Chloe, he can't just watch Chloe from the side-lines.
The romance here is lovely… I really enjoyed seeing these characters getting to know each other before anything serious happens and I also really love that Chambers manages to weave in some serious topics in this story without it becoming overwhelmingly depressing, and seeing Chloe find the strength in herself when she needed it was really wonderful.
If you're looking for something a bit different in the YA romance genre then you should definitely give this one a try! The writing is solid and the story is definitely a fun read.
Thank you to the publisher for an early copy in exchange for my honest thoughts.
Related Posts