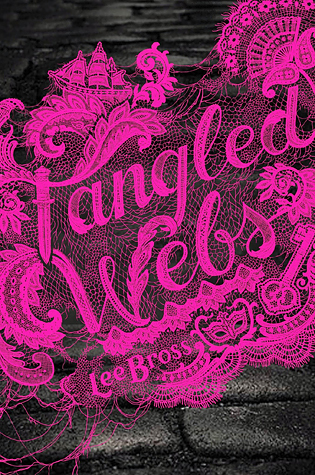 Tangled Webs

by Lee Bross
Published by Disney-Hyperion on June 23rd 2015
Genres: Action & Adventure, Historical, Young Adult
Pages: 304
Format: ARC

Lady A is the most notorious blackmailer in the city. With just a mask and a gown to disguise her, she sweeps into lavish balls and exclusive events collecting the most valuable currency in 1725 London-secrets.But leading a double life isn't easy. By day Lady A is just a seventeen-year-old girl named Arista who lives in fear of her abusive master,Bones, and passes herself off as a boy to move safely through the squalor of London's slums. When Bones attempts to dispose of his pawn forever, Arista is rescued by the last person she expects: Jonathan Wild, an infamous thief who moves seamlessly between the city's criminal underworld and its most elite circles. Arista partners with Wild on her own terms in order to save enough money to buy passage out of London.Everything changes when she meets Grae Sinclair, the son of a wealthy merchant. Grae has traveled the world, seen the exotic lands Arista has longed to escape to her whole life, and he loves Arista for who she is-not for what she can do for him. Being with Grae gives something Arista something precious that she swore off long ago: hope. He has promised to help Arista escape the life of crime that has claimed her since she was a child. But can you ever truly escape the past?
Tangled Webs by Lee Bross was a book I had my eye on and I knew that as soon as I had this book in my hands I would have to read it. I mean, it is historical (which I love), has a bit of swoon (which I love), and the underlying story has characters I find interesting (which I also love).
Bross starts this story by creating a world where the rich pay to keep their secrets hidden away…unless someone pays more for that secret. Mixed up in that world is Lady A and she is the face of an operation that certain individuals in society would love to see go down. But underneath her disguise, Lady A is really Arista who happens to work for a man named Bones. He is cruel and abusive and Arista doesn't see a way out of the life she fell into and now has no choice but continue living.
Two things happen that change things dramatically for Arista. First, she ends up going to a party that wasn't arranged by Bones and comes face to face with Jonathan Wild (a notorious thief), who offers her a deal she needs to think about. Second, Arista also meets Grae Sinclair, the son of a local merchant, and is immediately drawn to him and the life he has sailing around the world and experiencing things she has only ever dreamed about.
I liked Arista. She is willing to stand up for the people who are important to her. She has never had an easy life and as she struggles to survive working for Bones, she has to make a decision about her future but before she can, things get a bit out of control. When Arista is rescued from a fire by Wild, she agrees to work with him and is sent to live with a local merchant that owes a debt to Wild. I won't say anymore here but this is the catalyst to Arista learning more about what kind of deal she really made and what that might mean for her.
There were some swoony parts to this story and I enjoyed that piece but I also liked trying to figure out what Wild was really up to and how it all tied back to Lady A. I found that I didn't want to put this one down because I needed to know what was going to happen next and Bross does a great job of putting action into the right places.
If you like an interesting story that blends intrigue and deception combined with solid characters and a historical spin, definitely check this one out. I will be patiently waiting to get my hands on the next book of this series!
Related Posts