THE GIRL AT MIDNIGHT (THE GIRL AT MIDNIGHT #1)
Publication Date: April 28, 2015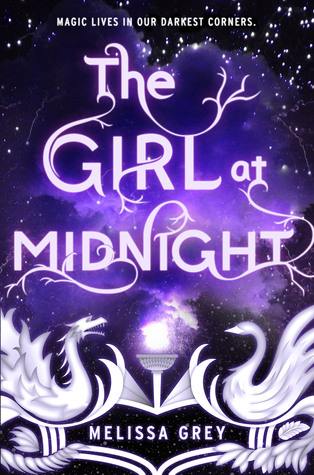 For readers of Cassandra Clare's City of Bones and Leigh Bardugo's Shadow and Bone, The Girl at Midnight is the story of a modern girl caught in an ancient war.
Beneath the streets of New York City live the Avicen, an ancient race of people with feathers for hair and magic running through their veins. Age-old enchantments keep them hidden from humans. All but one. Echo is a runaway pickpocket who survives by selling stolen treasures on the black market, and the Avicen are the only family she's ever known.
Echo is clever and daring, and at times she can be brash, but above all else she's fiercely loyal. So when a centuries-old war crests on the borders of her home, she decides it's time to act.
Legend has it that there is a way to end the conflict once and for all: find the Firebird, a mythical entity believed to possess power the likes of which the world has never seen. It will be no easy task, but if life as a thief has taught Echo anything, it's how to hunt down what she wants . . . and how to take it.
But some jobs aren't as straightforward as they seem. And this one might just set the world on fire.
ABOUT MELISSA
Melissa Grey penned her first short story at the age of twelve and hasn't stopped writing since. As an undergrad at Yale, she learned how ride a horse and shoot a bow and arrow at the same time, but hasn't had much use for that skill since graduating in 2008.
Her debut novel, THE GIRL AT MIDNIGHT, will be published by Delacorte/Random House in spring 2015.
To learn more about Melissa, visit melissa-grey.com and follow her on Twitter @meligrey.
Erin's Thoughts
My rating: 5 of 5 stars

Fantastic and everyone needs to read this book

I have had my eye on this book for a while and I admit that I may have done a little stalking at ALA so I could get my hands on it. Of course, when I did get it I forced myself to wait on reading it because it is a series and we all know I am super impatient and if I started it too soon, it would feel like forever before I could read the next book. Fast forward about a month and ahhhhh I loved this book!!

Echo is human and has been living in a world where magic exists and another race of people called the Avicen are her friends and family. Echo survives by stealing things and on the day we meet her, she is almost caught stealing a birthday gift for the Ala, the one person who she would do anything for. When she gives the gift to the Ala, they find a piece of paper in the music box that ultimately drags her into a centuries-old war between the Avicen and the Drakharin.

I loved Echo. She is a great character and I seriously want to be friends with her. She is loyal, daring, sarcastic, a smart ass, and funny. I could go on but that might be weird so trust me on this…she is great.



As Echo jumps into the task of finding the Firebird, she finds allies in some unexpected people. As she teams up with her friend Ivy, a fellow thief, Jasper, and some Drakharins who happen to help Echo and Ivy escape the Dragon Prince, Echo is pulled into something she never expected and forced to make some decisions that she never thought she would have to make. I loved the secondary characters that Grey created for this story and I can't wait to see where she goes with their stories. One of my favorite things was seeing the relationships change amongst the group. The way Echo and Caius change toward each other was great and I especially thought the changes in Dorian were done really well.

Grey has created a fantastic world and a story that made me fly through the pages so I could learn more about everything. I can't say much about the actual story because I don't want to ruin any of it for anyone but I don't think I am going out on a limb at all by saying if you like the Daughter of Smoke and Bone series, you will most likely enjoy this one. I will be re-reading this book in the next few months as I loved it all. There was plenty of action, magic, and there were even some swoony bits that had me falling in love with everyone. Absolutely check this book out when you can – if you love fantasy this is one I think you will want on your shelves!

Thank you to Random House and Netgalley for the review copy!
Related Posts