STORM SIREN (STORM SIREN #1)
By: Mary Weber
Publication Date: August 19, 2014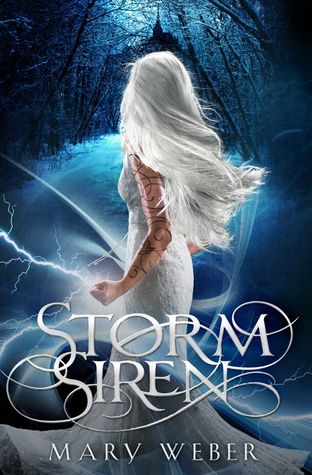 "I raise my chin as the buyers stare. Yes. Look. You don't want me. Because, eventually, accidentally, I will destroy you."
In a world at war, a slave girl's lethal curse could become one kingdom's weapon of salvation. If the curse—and the girl—can be controlled.
As a slave in the war-weary kingdom of Faelen, seventeen-year-old Nym isn't merely devoid of rights, her Elemental kind are only born male and always killed at birth — meaning, she shouldn't even exist.
Standing on the auction block beneath smoke-drenched mountains, Nym faces her fifteenth sell. But when her hood is removed and her storm-summoning killing curse revealed, Nym is snatched up by a court advisor and given a choice: be trained as the weapon Faelen needs to win the war, or be killed.
Choosing the former, Nym is unleashed into a world of politics, bizarre parties, and rumors of an evil more sinister than she's being prepared to fight . . . not to mention the handsome trainer whose dark secrets lie behind a mysterious ability to calm every lightning strike she summons.
But what if she doesn't want to be the weapon they've all been waiting for?
Set in a beautifully eclectic world of suspicion, super abilities, and monsters, Storm Siren is a story of power. And whoever controls that power will win.
ABOUT MARY
M. Christine Weber is a ridiculously uncoordinated girl plotting to take over make-believe worlds through books, handstands, and imaginary throwing knives. She lives on the breathtaking California coast with her three homeschooled children and an engineering husband who looks strikingly similar to Wolverine.
Her writing experience includes card copy for Hallmark, articles and short stories for newspapers and e-zines, and educational curriculum for a non-profit, although she can also type a mean grocery list when necessary. On her days off, you can find her penning book reviews or conducting silly interviews here at mchristineweber.com amid drinking lattes and instructing her kids on the finer aspects of world domination.
Erin's Thoughts
Storm Siren by Mary Weber
My rating: 4 of 5 stars

Storm Siren by Mary Weber was a title I came across while scanning Netgalley and I am glad I did. I was pleasantly surprised by this book and can't wait to get my hands on the next book.

The story opens with Nym on the slave auction block. We don't know much about her right out of the gate other than the fact that she is facing her fifteenth auction and has what she considers a curse. Very quickly we find out that Nym is an Elemental (or Uathuil) and shouldn't even exist. Not just because of her powers over the elements but because she is female. With no control whatsoever over these powers, whenever Nym faces a situation that upsets her, things happen and typically, people die.

I really liked Nym as a character. She clearly struggles with what she is capable of and while she wields a lot of power, she doesn't want to use it for destruction. Unfortunately for her, Nym lives in a world where once others find out about her, they absolutely will try to use her for their own gain. As the story progresses, we find out just how much destruction Nym has created…without intending to and I thought Weber did a wonderful job of building out who Nym is and why she is in her current situation.

After the auction, we find that Nym has been purchased by Adora who happens to be a High Council member and one of the King's most trusted advisors. Her plan is to use Nym (and Colin who we will talk about in a bit) to help the King fight the war. She does this by playing on Nym's feelings of guilt and by offering to train Nym to control her powers. She also happens to use a little coercion in letting Nym know that her offenses are punishable by death and the only way for her to avoid that outcome is to agree to be trained and then fight. Adora is pretty despicable as a character. She is clearly one of the "bad guys" of this story in that she uses her position to get what she wants.

As Nym agrees to be trained, we are introduced to some other important characters in this story. Breck is her blind maid who happens to be the sister of Colin, another Uathuil who happens to control the earth. I liked Breck and thought she was interesting. She played a pretty integral role in the story but I felt like we didn't get to know her as much as we did Colin and actually I thought we found out more about her through Colin.

As for Colin, I really liked him. Nothing seemed to bother him and everything he did was to help those around him, namely Breck. As the story moves forward and he and Nym work together more and more, they build a solid friendship. Colin is pretty flirty and friendly to everyone and Nym is no different and it was hard to figure out if he ever had real feelings for Nym or if he did consider her to be more of a friend, as Nym clearly felt. I have to admit that I thought for sure there may be the makings of a love triangle here but it never really happened.

The other character who plays a huge role in this story is Nym's trainer, Eogan. He has quite a few secrets and as he and Nym begin to train together, they start to become closer which creates some challenges for these two. Eogan helps Nym realize that she is in control of the power she has and while he reports to Adora, he knows he still has to get Nym to where Adora wants her to be so he pushes her while at the same time, tries to get her to realize he truly does care about what happens to her. I can't say much about the secrets Eogan has as I don't want to give anything away but trust me, they are pretty big.

As Nym's control increases, she is pushed further into a role she isn't excited to play. That is, a weapon for Faelen to win the war against Bron and she also realizes she can't really fight it. As things come to a head, Nym is put in a position where she needs to fight and of course she does. I'll be honest, things don't go perfectly and this leads me up to the fact that I NEED to get my hands on the next book. I have no idea where Weber is going to go with this story but I admit, I kind of like that.

I absolutely loved this story and found the world building as well as the character development to be well done. If you are looking for a young adult fantasy that has all of those things as well as a fantastic story and quite a bit of action, definitely check this one out when you can!

Thank you to HarperCollins and Netgalley for the review copy!


Related Posts