Hey, guys!  For a couple of months now we've been doing a fun YA Trivia night on twitter and we've been having a blast with it!!  Put it on your calendar so you don't miss out! We wanna test your YA knowledge and send you prizes!!
Ready to hear all the general details?
Here we go…
Who: You. Book Inhalers. YA Lovers. Reading Enthusiasts. And even Book Novices. Everyone is welcome!
What: WhaddaYA Know WednesdaysWhere: On twitter! Just follow @SwoonyBoys & @fictionfare to play along!
When: Wednesday, September 23rd at 9:00pm CST
Why: We love interacting with all of you. We love talking books, book boys, and gushing over our favorite authors. We couldn't think of a better way to do all of that than by combining all of those things, throwing in some awesome prizes, and having a blast while doing it!
How: The rules are simple. Follow both @SwoonyBoys and @fictionfare on twitter to play. Tune in on Wednesday and answer our questions. You will earn point for every correct answer, and sometimes for how quickly you respond. We will give away one grand prize each month, as well as some awesome swag throughout the game.  Pay attention to our twitter accounts because some month's will be based off of a specific theme or genre, other month's will be more free-style.
Questions? Comments? or Concerns? Send us an email at: fictionfare@gmail.com!
Each month we can't wait for WYAKW and hope that all of you will join us! I don't think we'll have a specific theme this month, instead we are just going to quiz you on some of our favorites books, most of which we are sure you've already read and fallen in love with too!
Join us for the fun, the prizes and of course, for the books.
RULES:
You must be a follower of both @swoonyboys & @fictionfare
All tweets must include the hashtag #WYAKW to win.
Once the winner of each round is announced the decision is final
We have the right to disqualify anyone at anytime.
Open to U.S. residents only, unless stated otherwise.
Winners must respond by the end of the game
We are not responsible for items lost in the mail.
Personal Information will never be shared.
Grab the graphic and share the fun!!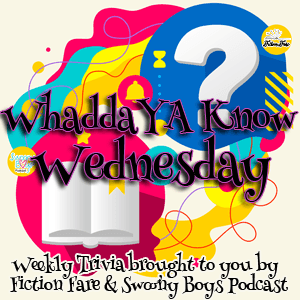 Related Posts