I know… I know… As if you don't have a million and one memes to follow! BUT we're hoping that you might want to participate in just one more!  
If you're like us, you read a lot… you add a ton to your 'to be read' lists and you sometimes forget about some amazing things because they get pushed down either your favorites list or that pile of books you need to read.  That doesn't mean those books are no less amazing!
This is a way for us to highlight books that are older that maybe don't get as much recognition now because they have been out for a while.  Books that we read and loved or books that have been on our To Be Read lists for ages, but we just haven't gotten around to them yet.  
On to the details – Pick a book… any book that meets the following criteria:  
1.  Must have been published at least 2 years ago or 
2.  Preferably is still in print or available to read
Grab our button or make your own then simply feature it on your blog… See the example below, and then come back here and link us up!! AND Spread the word!!
Jaime's Pick
SIMPLY IRRESISTIBLE
By: Jill Shalvis
Publication Date: October 1, 2010
The book that started all my Jill Shalvis love… if you're looking for swoons then look no further… each and every book in this series will have you simultaneously drooling and flailing and wondering just where you might be able to find this place called Lucky Harbor! 
Maddie Moore's whole life needs a makeover.
In one fell swoop, Maddie loses her boyfriend (her decision) and her job (so
not
 her decision). But rather than drowning her sorrows in bags of potato chips, Maddie leaves L.A. to claim the inheritance left by her free-spirited mother—a ramshackle inn nestled in the little coastal town of Lucky Harbor, Washington.
Starting over won't be easy. Yet Maddie sees the potential for a new home and a new career—if only she can convince her two half-sisters to join her in the adventure. But convincing Tara and Chloe will be difficult because the inn needs a big makeover too.
The contractor Maddie hires is a tall, dark-haired hottie whose eyes—and mouth—are making it hard for her to remember that she's sworn off men. Even harder will be Maddie's struggles to overcome the past, though she's about to discover that there's no better place to call home than Lucky Harbor.
ABOUT JILL
New York Times
 bestselling author Jill Shalvis lives in a small town in the Sierras with her family and far too many assorted quirky characters. Any resemblance to the quirky characters in her books is, um, mostly coincidental. 
Look for Jill's latest, ONE IN A MILLION, on shelves and e-readers now, and get all her bestselling, award-winning books wherever romances are sold. 
Visit Jill's website for a complete book list and daily blog detailing her city-girl-living-in-the-mountains adventures.
Erin's Pick
LEGEND (LEGEND, #1)
By: Marie Lu
Publication Date: November 29, 2011

You guys!  If you haven't read this series…get it now and read it! I am not kidding – It happens to be one of my favorite dystopian series out there and Marie Lu creates a world and characters that made me want more every time I finished each book.  This series is complete now so you can read all three back to back without all of the pain of waiting for the next one to come out…so get reading!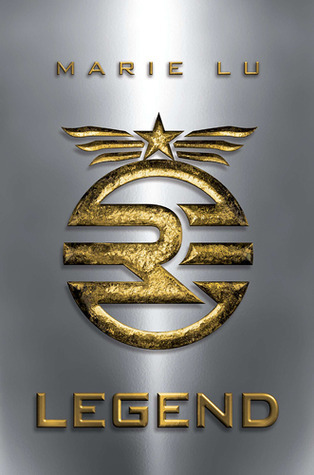 What was once the western United States is now home to the Republic, a nation perpetually at war with its neighbors. Born into an elite family in one of the Republic's wealthiest districts, fifteen-year-old June is a prodigy being groomed for success in the Republic's highest military circles. Born into the slums, fifteen-year-old Day is the country's most wanted criminal. But his motives may not be as malicious as they seem.
From very different worlds, June and Day have no reason to cross paths – until the day June's brother, Metias, is murdered and Day becomes the prime suspect. Caught in the ultimate game of cat and mouse, Day is in a race for his family's survival, while June seeks to avenge Metias's death. But in a shocking turn of events, the two uncover the truth of what has really brought them together, and the sinister lengths their country will go to keep its secrets.
ABOUT MARIE
I write young adult novels, and have a special love for dystopian books. Ironically, I was born in 1984. Before becoming a full-time writer, I was an Art Director at a video game company. Now I shuffle around at home and talk to myself a lot. 🙂
I graduated from the University of Southern California in '06 and currently live in LA, where I spend my time stuck on the freeways.
Related Posts