I know… I know… As if you don't have a million and one memes to follow! BUT we're hoping that you might want to participate in just one more!  
If you're like us, you read a lot… you add a ton to your 'to be read' lists and you sometimes forget about some amazing things because they get pushed down either your favorites list or that pile of books you need to read.  That doesn't mean those books are no less amazing!
This is a way for us to highlight books that are older that maybe don't get as much recognition now because they have been out for a while.  Books that we read and loved or books that have been on our To Be Read lists for ages, but we just haven't gotten around to them yet.  
On to the details – Pick a book… any book that meets the following criteria:  
1.  Must have been published at least 2 years ago or 
2.  Preferably is still in print or available to read
Grab our button or make your own then simply feature it on your blog… See the example below, and then come back here and link us up!! AND Spread the word!!
Jaime's Pick
RIDE WITH ME
By: Ruthie Knox
Publication Date:  February 13, 2012

This is probably my favorite Ruthie Knox contemporary romance book so far… If you love Contemporary you definitely need to pick this one up!  Scorching sexy times, a grumpy guy and bike riding… what could be better! 
When Lexie Marshall places an ad for a cycling companion, she hopes to find someone friendly and fun to cross the TransAmerica Trail with. Instead, she gets Tom Geiger—a lean, sexy loner whose bad attitude threatens to spoil the adventure she's spent years planning.
Roped into the cycling equivalent of a blind date by his sister, Tom doesn't want to ride with a chatty, go-by-the-map kind of woman, and he certainly doesn't want to want her. Too bad the sight of Lexie with a bike between her thighs really turns his crank.
Even Tom's stubborn determination to keep Lexie at a distance can't stop a kiss from leading to endless nights of hotter-than-hot sex. But when the wild ride ends, where will they go next?
ABOUT RUTHIE
USA Today bestselling author Ruthie Knox writes contemporary romance that's sexy, witty, and angsty—sometimes all three at once. Her debut novel, 
Ride with Me
, is probably the only existing cross-country bicycling love story. She followed it up with 
About Last Night
, a London-set romance whose hero has the unlikely name of Neville, and then 
Room at the Inn,
 a Christmas novella—both of which were finalists for the Romance Writers of America's RITA Award. Her four-book series about the Clark family of Camelot, Ohio, has won accolades for its fresh, funny portrayal of small-town Midwestern life. Ruthie also writes New Adult romance as 
RobinYork
. She moonlights as a mother, Tweets incessantly, and bakes a mean focaccia. She'd love to hear from you, so feel free to drop her a line.
Erin's Pick
HALF-BLOOD (COVENANT, #1)
By: Jennifer Armentrout
Publication Date: October 18, 2011

I love this series and I admit…It has one of my most favorite boys in paranormal YA.  If you haven't read this book/series yet, you need to go get this now and pick it up immediately!  This series is complete (trust me, you will be happy that you won't have to wait between books like I had to) so you can dive right into book one and go all the way through book 5!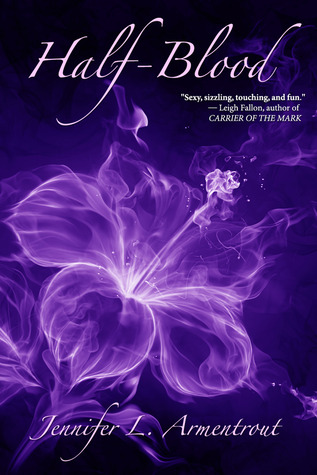 The Hematoi descend from the unions of gods and mortals, and the children of two Hematoi pure bloods have godlike powers. Children of Hematoi and mortals–well, not so much. Half-bloods only have two options: become trained Sentinels who hunt and kill daimons or become servants in the homes of the pures. Seventeen-year-old Alexandria would rather risk her life fighting than waste it scrubbing toilets, but she may end up slumming it anyway. There are several rules that students at the Covenant must follow. Alex has problems with them all, but especially rule #1:Relationships between pures and halfs are forbidden. Unfortunately, she's crushing hard on the totally hot pure-blood Aiden. But falling for Aiden isn't her biggest problem–staying alive long enough to graduate the Covenant and become a Sentinel is. If she fails in her duty, she faces a future worse than death or slavery: being turned into a daimon, and being hunted by Aiden. And that would kind of suck.
ABOUT JENNIFER
# 1 New York Times and International Bestselling author Jennifer lives in Martinsburg, West Virginia. All the rumors you've heard about her state aren't true. When she's not hard at work writing. she spends her time reading, watching really bad zombie movies, pretending to write, and hanging out with her husband and her Jack Russell Loki.
Her dreams of becoming an author started in algebra class, where she spent most of her time writing short stories….which explains her dismal grades in math. Jennifer writes young adult paranormal, science fiction, fantasy, and contemporary romance. She is published with Spencer Hill Press, Entangled Teen and Brazen, Disney/Hyperion and Harlequin Teen. Her book Obsidian has been optioned for a major motion picture and her Covenant Series has been optioned for TV. Her young adult romantic suspense novel DON'T LOOK BACK was a 2014 nominated Best in Young Adult Fiction by YALSA.
She also writes Adult and New Adult contemporary and paranormal romance under the name J. Lynn. She is published by Entangled Brazen and HarperCollins.
Related Posts