I know… I know… As if you don't have a million and one memes to follow! BUT we're hoping that you might want to participate in just one more!  
If you're like us, you read a lot… you add a ton to your 'to be read' lists and you sometimes forget about some amazing things because they get pushed down either your favorites list or that pile of books you need to read.  That doesn't mean those books are no less amazing!
This is a way for us to highlight books that are older that maybe don't get as much recognition now because they have been out for a while.  Books that we read and loved or books that have been on our To Be Read lists for ages, but we just haven't gotten around to them yet.  
On to the details – Pick a book… any book that meets the following criteria:  
1.  Must have been published at least 2 years ago or 
2.  Preferably is still in print or available to read
Grab our button or make your own then simply feature it on your blog… See the example below, and then come back here and link us up!! AND Spread the word!!
SCARLET (SCARLET #1)
By: A.C. Gaughen
Publication Date:  February 14, 2012

I have been seeing a lot of posts about how awesome this series is and I know that since the last book is coming out in a few months I am safe to start it soon.  I admit, I have put it off mostly because it is a series and I am super impatient but the fact that this is a story with Robin Hood has me moving this book to the top of my TBR pile.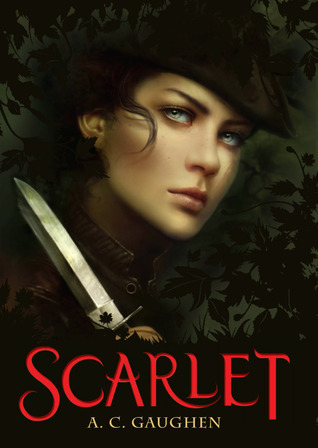 Many readers know the tale of Robin Hood, but they will be swept away by this new version full of action, secrets, and romance.
Posing as one of Robin Hood's thieves to avoid the wrath of the evil Thief Taker Lord Gisbourne, Scarlet has kept her identity secret from all of Nottinghamshire. Only the Hood and his band know the truth: the agile thief posing as a whip of a boy is actually a fearless young woman with a secret past. Helping the people of Nottingham outwit the corrupt Sheriff of Nottingham could cost Scarlet her life as Gisbourne closes in.
It's only her fierce loyalty to Robin—whose quick smiles and sharp temper have the rare power to unsettle her—that keeps Scarlet going and makes this fight worth dying for.
ABOUT A.C.
I am shamelessly addicted to staying up far too late (it feels like stealing time), diet coke (it burns so good), Scotland (stupid country stole my heart and won't give it back. Interpol has been ineffective for prosecution) and thieves (so I guess I'm not that mad at Scotland).
Related Posts