I know… I know… As if you don't have a million and one memes to follow! BUT we're hoping that you might want to participate in just one more!  
If you're like us, you read a lot… you add a ton to your 'to be read' lists and you sometimes forget about some amazing things because they get pushed down either your favorites list or that pile of books you need to read.  That doesn't mean those books are no less amazing!
This is a way for us to highlight books that are older that maybe don't get as much recognition now because they have been out for a while.  Books that we read and loved or books that have been on our To Be Read lists for ages, but we just haven't gotten around to them yet.  
On to the details – Pick a book… any book that meets the following criteria:  
1.  Must have been published at least 2 years ago or 
2.  Preferably is still in print or available to read
Grab our button or make your own then simply feature it on your blog… See the example below, and then come back here and link us up!! AND Spread the word!!
Jaime's Pick
A LITTLE WANTING SONG
By: Cath Crowley
Publication Date: June 8, 2010

I need to read this book! Graffiti Moon is one of my all-time favorite books that I continually go back to read passages in.  I'm positive I'm going to love this one, I just haven't found the time to get to it and that makes me sad.  I'm going to make time this year though.  Have you read this? Tell me all about your feelings!!  
When it comes to relationships, Remy doesn't mess around. After all, she's learned all there is to know from her mother, who's currently working on husband number five. But there's something about Dexter that seems to defy all of Remy's rules. He certainly doesn't seem like Mr. Right. For some reason, however, Remy just can't seem to shake him. Could it be that Remy's starting to understand what those love songs are all about?
ABOUT CATH
I love listening to The Lucksmiths, The Lemonheads, Zoe Keating, Radiolab and This American Life
Three of my favourite artists are Mark Rothko, Sam Leach and Ghostpatrol
I find it hard to make a decision
I write best at four in the morning
One of my favourite films is Eternal Sunshine of the Spotless Mind
My favourite storytellers are Charlie Kaufman, Ira Glass, Helen Garner, Daniel Kitson, Karen Russell and John Green

Erin's Pick
NIGHTSHADE (NIGHTSHADE, #1)
By: Andrea Cremer
Publication Date: October 19, 2010

I was late to the party with this series but I have to admit I blew through this series once I started.  I love the wolves, I love the strong characters, and I'm pretty sure Ren may be one of my favorites overall in this book.  If you like the paranormal genre and haven't read this series yet, definitely check it out.  You can also get a bit more about the story prior to this series via Cremer's Nightshade prequels Rift and Rise.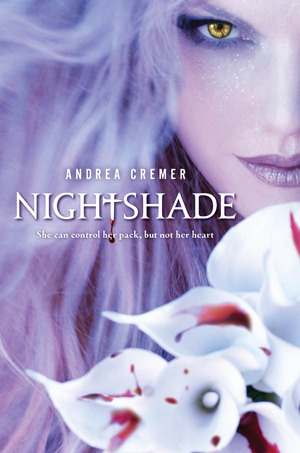 Calla Tor has always known her destiny: After graduating from the Mountain School, she'll be the mate of sexy alpha wolf Ren Laroche and fight with him, side by side, ruling their pack and guarding sacred sites for the Keepers. But when she violates her masters' laws by saving a beautiful human boy out for a hike, Calla begins to question her fate, her existence, and the very essence of the world she has known. By following her heart, she might lose everything- including her own life. Is forbidden love worth the ultimate sacrifice?
ABOUT ANDREA
Andrea Cremer is the author of the internationally bestselling Nightshade series. She spent her childhood daydreaming and roaming the forests and lakeshores of Northern Wisconsin.
Andrea has always loved writing and has never stopped writing, but she only recently plunged into the deep end of the pool that is professional writing. Before she wrote her first novel, Andrea was a history professor at Macalester College in St. Paul, Minnesota. In her books, she strives to bring together her two passions: history and fantasy. Andrea now lives in New York and writes full time.
Related Posts