THE INFINITE (GATES OF THREAD AND STONE #2)
Publication Date: March 10, 2015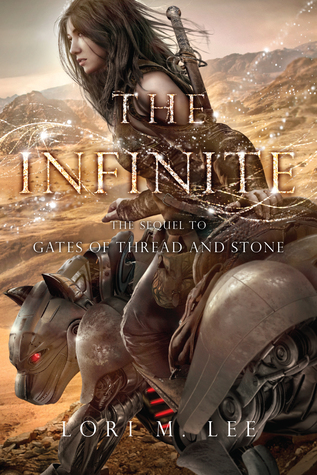 The walls of Ninurta keep its citizens safe.
Kai always believed the only danger to the city came from within. Now, with a rebel force threatening the fragile government, the walls have become more of a prison than ever.
To make matters worse, as Avan explores his new identity as an Infinite, Kai struggles to remind him what it means to be human. And she fears her brother, Reev, is involved with the rebels. With the two people she cares about most on opposite sides of a brewing war, Kai will do whatever it takes to bring peace. But she's lost her power to manipulate the threads of time, and she learns that a civil war might be the beginning of something far worse that will crumble not only Ninurta's walls but also the entire city.
In this thrilling sequel to Gates of Thread and Stone, Kai must decide how much of her humanity she's willing to lose to protect the only family she's ever known.
Lori is an avid writer, reader, artist, and lover of unicorns. She should probably spend less time on the internet (but she won't). She has a borderline obsessive fascination with unicorns, is fond of talking in capslock, and loves to write about magic, manipulation, and family. She lives in Wisconsin with her husband, kids, and a friendly pitbull.
Lori was awesome enough to want do a guest post for the tour so we asked her:  
If you were stuck in a dystopian world, what 10 characters would you want with you and why?
Ten people are a lot to have in a dystopian world. (Warning: I basically brought half the Fellowship 😛 )
1. Katniss Everdeen (The Hunger Games) – 
She's great in a fight, but she'd also be perfect for hunting and gathering food.
2. Hermione Granger (Harry Potter) – 
She's the only reason Ron and Harry survived in the wilderness for those months they were searching for the horcruxes. She's also probably the only reason they found the rest of the horcruxes at all. (If she'd been the Chosen One, she would have gotten shit done a lot faster, let's be real.) Also, she's the brightest witch of her age. Also, magic.
3. Gandalf (The Lord of the Rings) – 
Because what would you do without a wizard if you encountered any Balrogs? (Answer: You would not pass.) (Okay, sorry, that was an awful joke.)
4. Legolas Greenleaf (The Lord of the Rings) – 
All elves are assets, IMO. I wonder if he and Katniss would get along?! Plus, if we're going by the films, he's pretty to look at, and I never said I wasn't shallow (as long as he serves a purpose other than Pretty To Look At).
5. Penryn (Angelfall) – 
She survived the apocalypse. Also, she's a badass.
6. Aragorn (The Lord of the Rings) – 
Because he's intelligent, a natural-born leader, an expert swordsman, and a top notch ranger who can survive in the wilds.
7. Samwise Gamgee (The Lord of the Rings) – 
What? We need a cook. Also, he's loyal and optimistic.
8. Sakura (Naruto) – 
She's a ninja medic. Kicks butt and heals wounds. Also an optimist.
9. Claire Fraser (Outlander) – 
She knows her plants and what to do with them. Also, she's tenacious and a survivor.
10. Lizzie Seagrave (Avalon) – 
We've got our leaders, hunters, fighters, healers, magical people, and chef. Lizzie is a tech genius, and you just never know when that might come in handy in a dystopian setting.
Now – check out what I thought about The Infinite and make sure you add this series (if it isn't there already) to your TBR list soon!  Also – the giveaway is at the bottom of the page!!
Erin's Thoughts

The Infinite by Lori M. Lee
My rating: 5 of 5 stars

The Infinite by Lori Lee is the second book in the Gates of Thread and Stone series and I will get to the story in a minute but I have to admit, these books have some of my favorite covers. I thought the first one was lovely but after reading, I thought this one captured Kai and the story perfectly. Plus it is sooo pretty!! Warning: If you have not read Gates of Thread and Stone, stop here as there may be spoilers to that book below.

To say Kai has a lot going on in this book would be a pretty big understatement. At the start of this book, she is living at the palace and trying to figure out what she really wants to do and what is most important to her. As Avan attempts to figure out what it means to be Infinite, Kai is struggling with the fact that she can't feel the threads of time any longer and that Avan isn't the same person he was before he died…no matter how much she wishes he were.

While that is going on there are many governmental issues as well. A rebellion continues to threaten the government of Ninurta and there is a new threat that is located outside the walls of the city. Both are dangerous because one is being led by someone within and the other is being manipulated by someone very dangerous. As Kai is pulled into both situations, she finds that her denial of her power over the threads is the only thing that will save her which causes her to face some facts.

I loved the world building that Lee did in this book. We got to see what was located outside the walls of Ninurta because of the additional storyline of the group in Lanathrill. The idea of a city built inside of a mountain came to life through Lee's descriptions.

As the story progresses, we learn that despite the fact that Ninu is gone; his creations are still creating problems for the world. The arrival of a messenger from Lanathrill is what takes Kai's story away from Ninurta and we begin to learn more about her gift, what the leaders of Lanathrill are up to, and where her relationships with Reev and Avan will take her.

I can't say much about what really happens here but know that there is plenty of action to keep you turning the pages. Blended in with the action is also the mystery of what really is going on. Kai knows that the Infinite can't be trusted and her gut tells her that the Council of Vethe (the leaders of Lanathrill) are up to something but she can't quite put her finger on it. As she begins to figure it out, things take a definite turn for the worse for Kai and those who traveled with her.

The secondary characters are great in this installment. Of course there is Avan and Reev but Kai's friendship with Mason is just as important and plays a part in some of the decisions she makes in the story. The addition of Emryn and Cassia were great and created another layer to the story I wasn't really expecting.

Lee spends a bit of time developing the backstory of the Avan's and Kai's relationship and also adds to it because in reality, the old Avan doesn't really exist anymore so even though they had built the foundation of their relationship in book one, Avan doesn't remember any of it. We also got to see a different view of Kai's friendship with Mason as well as a change in Kai's relationship with her brother.

Overall I really enjoyed this book. I thought the story progressed well and we saw some growth in all of the characters. I have to say I am excited to read more about Kai and her powers as well as see what happens to the other characters involved. If you enjoy action, great world building, and a fantastic story that includes magic and wonderful characters, definitely check this series out.

Thank you to Amazon Children's Publishing for the review copy!
Related Posts