We are very excited to have an interview with Jessica Cluess about her upcoming A Shadow Bright & Burning, but before that how about we tell you a bit about the book!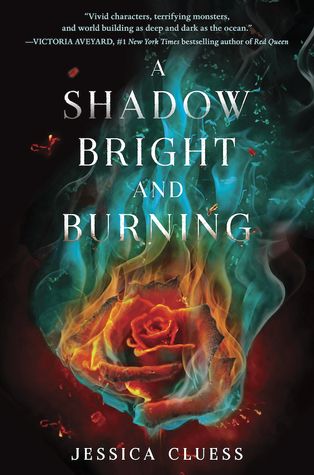 Kingdom on Fire 01. A Shadow Bright and Burning

by Jessica Cluess
(Website, Twitter, Goodreads)Also by this author: A Sorrow Fierce and Falling (Kingdom on Fire, Book Three)
Published by Random House LCC US on September 20th 2016
Pages: 416
Format: ARC

I am Henrietta Howel. The first female sorcerer. The prophesied one. Or am I?

Henrietta Howel can burst into flames. When she's brought to London to train with Her Majesty's sorcerers, she meets her fellow sorcerer trainees, young men eager to test her powers and her heart. One will challenge her. One will fight for her. One will betray her. As Henrietta discovers the secrets hiding behind the glamour of sorcerer life, she begins to doubt that she's the true prophesied one. With battle looming, how much will she risk to save the city—and the one she loves?
Describe A Shadow Bright & Burning in 5 words.
Fiery girl battles Victorian monsters
How did A Shadow Bright & Burning come about, what was your inspiration? What made you think you had to write this story?
My initial inspiration was Nicholas Nickleby by Charles Dickens, specifically the scene where Nicholas saves a helpless boy from abuse. I wondered how a girl in that time period might have fought back, and then I had this image of a girl in Victorian dress with fire shooting out of her hands. It was hard not to write the story after that first moment of inspiration.
What was the hardest scene for you to write in A Shadow Bright & Burning and why?
Emotionally, there's a scene towards the end with a certain revelation that was difficult, because it was so devastating to Henrietta. She's my POV character, so I had to try to put myself in that moment. It was difficult! As you can tell, it's pretty spoiler-y, so I can't talk about it in too much detail.
Can you share (without spoilers) a line or section of A Shadow Bright & Burning that is your favorite?
Pretty much anything that the magician Hargrove says is my favorite. "The brighter knowledge burns, the more it devours," is a quote of his I like. Then again, any moment he's insulting people was a lot of fun to write. And he insults many people.
Since we're talking 2016 books, what upcoming 2016 release (besides your own) are you most excited to read and fangirl over?
Oof, I'm going to do three. I hope that's okay! Timekeeper by Tara Sim, The Reader by Traci Chee, and Of Fire and Stars by Audrey Coulthurst. I've read all three, and they're all utterly different, totally addictive fantasies. I can't wait for people to read them.
When you're not writing, what do you enjoy doing in your spare time?
I just moved, so unpacking boxes has become my new hobby. I really need a new one.
What are you currently reading?
The Winner's Crime by Marie Rutkoski. I'm just now getting into the Winner's trilogy, and I'm in love with it.
Any advice for aspiring writers?
Back up your stuff. Seriously. One time my motherboard crashed while I was in the middle of a book, and it was among the most heart stopping moments of my life. Thankfully, I had it all on a zip drive.
What's next for you? Are you working on anything right now that you can tell us about?
Yes, the sequel to A Shadow Bright and Burning! I can't tell what the title is yet, but I'm in the middle of revisions and enjoying it.
If I weren't a writer I would be…
Even weirder than I already am.
Tell us 3 random facts about you.
I once spent three months traveling the country performing four shows of Cinderella a day. I was the fairy godmother and the evil stepmother.
I can't roll my R's.
I can do the entire 'It had nothing to do with business' speech from Godfather II on command.
Favorites
Favorite Song (right now): Lola by the Kinks. I heard it again this summer, and it's been on repeat a lot.
Favorite Book (right now): Jonathan Strange & Mr. Norrell
Favorite TV Show/Movie: Game of Thrones/Lawrence of Arabia
Favorite Word: Kerfuffle
Favorite Color: Red
Favorite Curse Word: Whatever Samuel L Jackson says
Erin's Thoughts
A Shadow Bright and Burning by Jessica Cluess is the first book in her Kingdom on Fire series and I have to admit, I loved every minute of this story.  As soon as I picked it up, I didn't want to put it down until I finished.
Henrietta Howel has been keeping a secret from everyone but her best friend – she can control flames.  As a teacher at the Brimthorn School for Girls, she struggles to hide the part of her that would expose her for a witch and get her executed but when a sorcerer visits the school after hearing that there have been unexpected and sometimes uncontrollable fires, something happens that forces her to reveal herself.  When she finds out she is the one the order has been looking for because of a prophecy, and that she isn't really a witch but a sorcerer, things quickly change for Henrietta.
I really liked Henrietta as a main character.  She is smart and she sometimes did things that put her in danger but she tended to do them for all the right reasons.  When Henrietta actually learns why she is so valuable to the sorcerers she actually jumps right into learning more about herself and those around her.  What she finds out is something she wasn't really anticipating and it was great to see her navigate her way through the challenges she faced.  I thought as a character, Henrietta had quite a bit of growth throughout this book and I look forward to seeing what's in store for her next.
I thought the world building in this book was really well done.  Yes, London is the setting but the London this group of characters live in is at war with a group of Ancients that routinely attack the people in the in the city and it is filled with magicians who are hiding, sorcerers who have pledged themselves to serve the Queen, and even a hobgoblin as a doctor.  Add to this the history of the Ancients and what they are doing and it all came together really well.
Outside of Henrietta, there are a number of characters in this book that help to move the story forward.  First, the sorcerer who finds her at the school is Master Agrippa.  As an orphan, Henrietta eventually came to view him as somewhat of a father figure and I can't blame her.  Once she knew he wasn't going to kill her because of her ability, she began to trust him and he was always there to help her.  Agrippa took her into his home and began to train her to control her power.  He gave her a life she never expected and the fact that he allowed Rook, her best friend to stay with her, only encouraged her to think of him that way.
Rook is Henrietta's best friend although I hesitate to describe him as that.  Yes, he is her friend but it is clear they both care for each other as more than that and they are both willing to do whatever they can to keep each other safe.  Rook grew up an orphan with Henrietta at the school but because of what he is (an Unclean), he had a very different role at the school.  An Unclean is someone who has been attacked by an Ancient.  Rook was attacked and survived but has scars that cause him great pain.  The scars are also a direct link to the Ancient who attacked him and this is important because as the attacks from the Ancients continue, Rook plays a critical role in the story.
There are also a number of boys within the Order and they are all solid characters.  There are two that stand out more than the others – Blackwood and Magnus.  I'm not going to say much about these two but I am excited to see where Cluess takes Henrietta's relationships with these two in the next book.  Where Magnus almost immediately embraces Henrietta into the group, Blackwood holds back.  They both have their reasons and while things change drastically for all of these characters by the end of the book, I loved seeing not only the building of the friendships and the trust throughout the book but also the growth both Magnus and Blackwood had because of everything that happens.
There are some other characters that have critical roles in the story.  Hargrove is the magician that Henrietta meets and ultimately becomes interested in learning more from…for many reasons that I can't share.  She actually meets him her first day in London and when he reveals some secrets, Henrietta is pulled into something she never expected to be.  Plus…he pretty much says whatever he wants to and I loved everything about that.  There is also another member of the order that is just looking for a reason to discredit Henrietta but you will have to read the book to find out more about that.
Overall I really enjoyed this book.  If you like magic, danger, intrigue, great characters, and a fantastic story, you should definitely consider checking this book out.  As a first book in the series, the pacing was well done and the story had me turning the pages to see what would happen next.  I can't wait to get my hands on the next book to see where the story goes next.  Go get this one my friends, I don't think you will be disappointed.
Thank you to the publisher for the review copy!
Related Posts