We Were On a Break

by Lindsey Kelk
(Website, Twitter, Facebook, Goodreads)Published by HarperCollins UK on January 3rd 2017
Genres: Contemporary, Contemporary Women, Fiction, General, Holidays, Humorous, Romance, Romantic Comedy
Pages: 416
Format: eARC

Is it a break? Or is it a blip? 'You've just had a holiday,' I pointed out, trying not to yawn. 'Wasn't that enough of a break?' 'I don't mean that kind of break.' There's nothing worse than the last day of holiday. Oh wait, there is. When what should have been a proposal turns into a break, Liv and Adam find themselves on opposite sides of the life they had mapped out. Friends and family all think they're crazy; Liv throws herself into work - animals are so much simpler than humans - and Adam tries to get himself out of the hole he's dug. But as the short break becomes a chasm, can they find a way back to each other? Most importantly, do they want to?
The minute I read this title, I knew I had to read it! Admit it, you thought of Friends too when you saw it!
Liv and Adam have been dating for a few years now, and she's watched her best friend marry Adam's brother and have a baby, and logically she assumes that her proposal is coming. When her best friend tells her that Adam has confided in his brother that he's going to ask her on their vacation, well, Liv can't seem to think of anything else.
Then the last day of their vacation arrives and while it seems like it might happen, absolutely everything seems to be going wrong and they end up leaving Mexico, not engaged and for some reason angry with each other and when Adam drops Liv at her door, and tells her he needs a break, she isn't quite sure what to think about anything anymore.
She throws herself back into her work as a veterinarian, animals after all, are so much easier than people and Adam focuses on the new bar project he has, but both are now struggling to make sense of what happened and where that leaves them now. Are they happier apart, were they simply together because it was comfortable?
Liv and Adam on the outside really worked, but when there was the smallest bump in the road, everything went to hell. I really loved that Liv didn't just sit on the sidelines while Adam figured his crap out, and she didn't just let his apology make everything okay again. They both have some major soul searching to do and I love that the author lets them do it.
And yes… things happen while they are taking a break.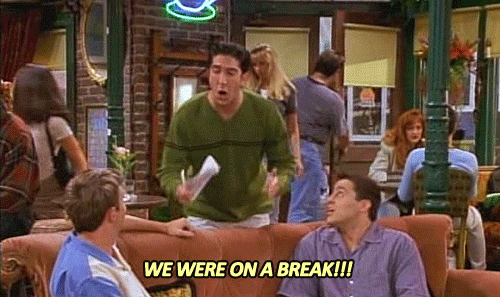 It's honest and realistic and ultimately it helps these characters find who they are what they see for themselves in the future in ways that I don't think there was any way to do it.
This story isn't all drama though, there are some definite fun and light-hearted moments that really worked for me. I loved Liv and her friends and the things they got into, and I really enjoyed the family rumor mill that caused most of the problems in the first place.
If you're a fan of women's fiction (or adult fiction as I like to call it) this is definitely going to be a read you'll want to try! It's fun, it's funny, it's sad and it's frustrating, and I think "we were on a break" is probably one of the most hated phrases in Friends history but I love it!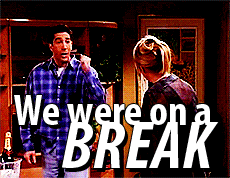 Thank you to the publisher for an early copy in exchange for my honest thoughts.
Related Posts