Top Ten Tuesday is hosted by the awesome and wonderful people over at The Broke and The Bookish
Today we're talking debut authors we're excited for in 2015! There are a lot of them… so don't blame me if we're slightly over 10…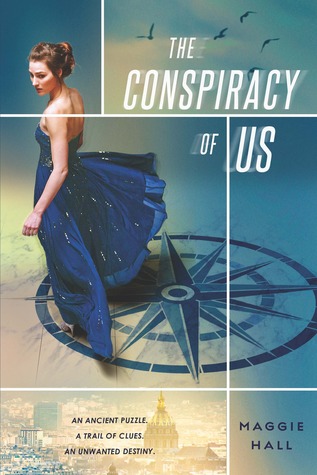 To fight her destiny as the missing heir to a powerful and dangerous secret society, sixteen-year-old Avery West must solve an ancient puzzle in a deadly race across Europe. Forbidden love and code-breaking, masked balls and explosions, destiny and dark secrets collide in this romantic thriller, in the vein of a YA DaVinci Code.
Avery West's newfound family can shut down Prada at the Champs-Elysees when they want to shop in peace, and can just as easily order a bombing when they want to start a war.
They are part of a powerful and dangerous secret society called the Circle of Twelve, and Avery is their missing heir. If they discover who she is, some of them will want to use her as a pawn. Some will want her dead.
To thwart their plans, Avery must follow a trail of clues from the landmarks of Paris to the back alleys of Istanbul and through a web of ancient legends and lies. And unless she can stay one step ahead of beautiful, volatile Stellan, who knows she's more than she seems, and can decide whether to trust mysterious, magnetic Jack, she may be doomed after all.
Seventeen-year-old Twylla lives in the castle. But although she's engaged to the prince, Twylla isn't exactly a member of the court.
As the Goddess embodied, Twylla instantly kills anyone she touches. Each month she's taken to the prison and forced to lay her hands on those accused of treason. No one will ever love a girl with murder in her veins. Even the prince, whose royal blood supposedly makes him immune to Twylla's fatal touch, avoids her company.
But then a new guard arrives, a boy whose easy smile belies his deadly swordsmanship. And unlike the others, he's able to look past Twylla's executioner robes and see the girl, not the Goddess. Yet Twylla's been promised to the prince, and knows what happens to people who cross the queen.
However, a treasonous secret is the least of Twylla's problems. The queen has a plan to destroy her enemies, a plan that requires a stomach-churning, unthinkable sacrifice. Will Twylla do what it takes to protect her kingdom? Or will she abandon her duty in favor of a doomed love?
LAIA is a Scholar living under the iron-fisted rule of the Martial Empire. When her brother is arrested for treason, Laia goes undercover as a slave at the empire's greatest military academy in exchange for assistance from rebel Scholars who claim that they will help to save her brother from execution.
ELIAS is the academy's finest soldier—and secretly, its most unwilling. Elias is considering deserting the military, but before he can, he's ordered to participate in a ruthless contest to choose the next Martial emperor.
When Laia and Elias's paths cross at the academy, they find that their destinies are more intertwined than either could have imagined and that their choices will change the future of the empire itself. 
It's been nearly two decades since the Red Allies first attacked New York, and Manhattan is now a prisoner-of-war camp, ruled by Warden Rolladin and her brutal, impulsive warlords. For 17-year-old Skyler Miller, Manhattan is a cage that keeps her from the world beyond the city's borders. But for Sky's 16-year-old sister, Phee, the P.O.W. camp is a dangerous playground of possibility, and the only home she'd ever want.
When Sky and Phee discover their mom's hidden journal from the outbreak of the war, they both realize there's more to Manhattan—and their mother—than either of them had ever imagined. And after a group of strangers arrives at the annual P.O.W. census, the girls begin to uncover the island's long-kept secrets. The strangers hail from England, a country supposedly destroyed by the Red Allies, and Rolladin's lies about Manhattan's captivity begin to unravel.
Hungry for the truth, the sisters set a series of events in motion that ends in the death of one of Rolladin's guards. Now they're outlaws, forced to join the strange Englishmen on an escape mission through Manhattan. Their flight takes them into subways haunted by cannibals, into the arms of a sadistic cult in the city's Meatpacking District, and, through the pages of their mom's old journal, into the island's dark and shocking past. Sky and Phee are dependent on each other, and their ragged posse, for survival, but as their feelings grow toward the handsome English boy Ryder, love and jealousy threaten to break them apart.
While primarily a thriller, City of Savages is also a story about the many meanings of sisterhood, told across two generations of New York women—those who survived a terrible tragedy, and those who were raised to live in its aftermath. 
Sixteen-year-old physics nerd Aysel is obsessed with plotting her own death. With a mother who can barely look at her without wincing, classmates who whisper behind her back, and a father whose violent crime rocked her small town, Aysel is ready to turn her potential energy into nothingness.

There's only one problem: she's not sure she has the courage to do it alone. But once she discovers a website with a section called Suicide Partners, Aysel's convinced she's found her solution: a teen boy with the username FrozenRobot (aka Roman) who's haunted by a family tragedy is looking for a partner. 

Even though Aysel and Roman have nothing in common, they slowly start to fill in each other's broken lives. But as their suicide pact becomes more concrete, Aysel begins to question whether she really wants to go through with it. Ultimately, she must choose between wanting to die or trying to convince Roman to live so they can discover the potential of their energy together. Except that Roman may not be so easy to convince.



First rule of dealing with hot vampire bodyguards? Don't fall in love.

After losing both her parents before age seventeen, aspiring designer Caitlin Holte feels like her whole world has been turned upside down, and that was before the terrifying encounter with a supernatural force. Then, she learns that her hot bad-boy neighbor, Adrian—who might have just saved her life—is actually a half-demon vampire.

Suddenly Caitlin is stuck with a vampire bodyguard who feels that the best way to protect her is to become her pretend boyfriend. Trouble is, Caitlin is starting to fall in love for real, while Adrian can never love a human. Caitlin trusts Adrian to keep her safe from his demon father, but will he be able to protect her heart?


Now Stella is seventeen, and she's over it. She's the lucky one who survived, and sure, the case is still cloaked in mystery—and it's her small town's ugly legacy—but Stella is focused on the coming summer. She's got a great best friend, a hookup with an irresistibly crooked smile, and two months of beach days stretching out before her.

Then along comes a corpse, a little girl who washes up in an ancient cemetery after a mudslide, and who has red hair just like Jeanie did. Suddenly memories of that haunting day begin to return, and when Stella discovers that other red-headed girls have gone missing as well, she begins to suspect that something sinister is at work.

And before the summer ends, Stella will learn the hard way that if you hunt for monsters, you will find them.
Related Posts