It's not often that Jaime says…let's do something around Historical Fiction so of course the second the words were out, I practically shouted YES and said, I've got this.  If you have never thought about reading this genre, I hope you reconsider after checking out the books below because these are some of my favorites and I want everyone to read them.  There also may be more than ten (who am I kidding…there are definitely more than ten) but I blame the fact that some of these books are series books that I just couldn't split up.  
Don't be intimidated by the size of these books.  Yes, they are long but I have to tell you, I flew through The Bronze Horseman and if nothing else…read that one and work up to the rest.  This is truly an epic just by the length of time that  is covered in all three but I would hand you this book just so you can experience Alexander.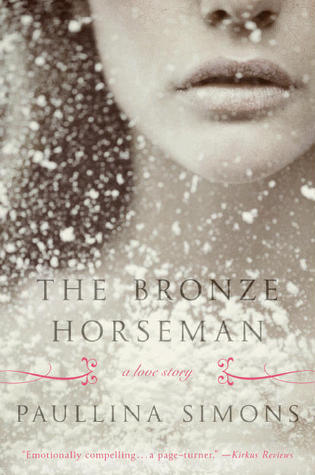 The family routine is shattered on 22 June 1941 when Hitler invades Russia. For the Metanovs, for Leningrad and for Tatiana, life will never be the same again. On the fateful day, Tatiana meets a brash young officer named Alexander.
Tatiana and her family suffer as Hitler's army advances on Leningrad, and the Russian winter closes in. With bombs falling and the city under siege, Tatiana and Alexander are drawn to each other in an impossible love. It is a love that could tear Tatiana's family apart, a love that carries a secret that could mean death for anyone who hears it.
Confronted on the one hand by Hitler's unstoppable war machine, and on the other by a Soviet system determined to crush the human spirit, Tatiana and Alexander are pitted against the very tide of history, at a turning point in the century that made the modern world.
Mesmerizing from the very first page to the final, breathtaking end, The Bronze Horseman brings alive the story of two indomitable, heroic spirits and their great love that triumphs over the devastation of a country at war.
A Mad, Wicked Folly was one of those stories that I wasn't expecting.  I really liked the way Sharon Biggs Waller created this story about a girl who wants more out of life than is expected and she did a wonderful job of conveying the societal expectations of the 1900's.  So – you can learn a bit about women's suffrage while still enjoying a great story that of course, has a swoony boy too. 
Welcome to the world of the fabulously wealthy in London, 1909, where dresses and houses are overwhelmingly opulent, social class means everything, and women are taught to be nothing more than wives and mothers. Into this world comes seventeen-year-old Victoria Darling, who wants only to be an artist—a nearly impossible dream for a girl.
After Vicky poses nude for her illicit art class, she is expelled from her French finishing school. Shamed and scandalized, her parents try to marry her off to the wealthy Edmund Carrick-Humphrey. But Vicky has other things on her mind: her clandestine application to the Royal College of Art; her participation in the suffragette movement; and her growing attraction to a working-class boy who may be her muse—or may be the love of her life. As the world of debutante balls, corsets, and high society obligations closes in around her, Vicky must figure out: just how much is she willing to sacrifice to pursue her dreams?
What would have happened if Anne Boleyn and Henry VIII had a son…this is the story explored by Laura Andersen.  I absolutely ADORE these books and if you read my reviews you will know that I fangirl over Dom.  This series grabbed me from book one because I love the Tudors but it kept me turning the pages and reading the next books because of the relationships between Will, Elizabeth, Minuette, and Dom.  There is love, romance, friendship, and danger…and I loved every minute of this series.
Re-imagining history in sumptuous detail, Laura Andersen takes readers back to the deadly intrigue, turbulent affairs, and treacherous passions of Tudor England – and answers the compelling question What if Anne Boleyn had given Henry VIII the son he so desperately wanted?
Nuns as assassins…do I have to say more?  Seriously, check this series out.  I have only included the first book because I haven't had a chance to read book two yet (which I am told is better than book one) but this is another book that once you pick it up, you won't be able to put it down.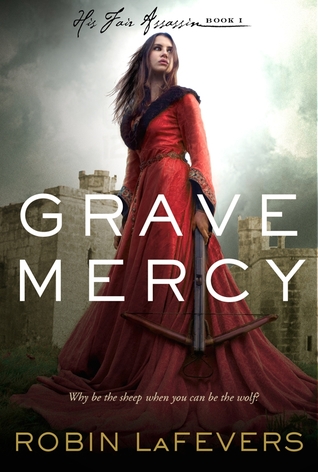 Why be the sheep, when you can be the wolf?
Seventeen-year-old Ismae escapes from the brutality of an arranged marriage into the sanctuary of the convent of St. Mortain, where the sisters still serve the gods of old. Here she learns that the god of Death Himself has blessed her with dangerous gifts—and a violent destiny. If she chooses to stay at the convent, she will be trained as an assassin and serve as a handmaiden to Death. To claim her new life, she must destroy the lives of others.
Ismae's most important assignment takes her straight into the high court of Brittany—where she finds herself woefully under prepared—not only for the deadly games of intrigue and treason, but for the impossible choices she must make. For how can she deliver Death's vengeance upon a target who, against her will, has stolen her heart?
The Tudor Witch Trilogy is one of those books that was an unexpected surprise for me. Victoria Lamb creates a story around the idea of what might have occurred if Princess Elizabeth had a witch for a maid alongside the intrigue that exists in the royal family.  Blended with the feelings people had toward witchcraft as a whole, and the story was one I couldn't put down.
Meg Lytton has always known of her dark and powerful gift. Raised a student of the old magick by her Aunt Jane, casting the circle to see visions of the future and concocting spells from herbs and bones has always been as natural to Meg as breathing. But there has never been a more dangerous time to practise the craft, for it is 1554, and the sentence for any woman branded a witch is hanging, or burning at the stake.
Sent to the ruined, isolated palace of Woodstock to serve the disgraced Elizabeth, daughter of Henry VIII and half-sister of Queen Mary, Meg discovers her skills are of interest to the outcast princess, who is desperate to know if she will ever claim the throne. But Meg's existence becomes more dangerous every day, with the constant threat of exposure by the ruthless witchfinder Marcus Dent, and the arrival of a young Spanish priest, Alejandro de Castillo, to whom Meg is irresistibly drawn – despite their very different attitudes to her secret.
This story begins in 1628 and the main character is 384 years old.  Knowing these two things alone you can guess that the story covers quite a bit of history –  The Plague, Jack the Ripper, WWI…all while keeping me interested in Bess' story and why she is revealing her past to Tegan.  As a reader, you are pulled into how Bess ended up where she is but you also get all of the historical events of the past that shaped who she has become.  
My name is Elizabeth Anne Hawksmith, and my age is three hundred and eighty-four years. Each new settlement asks for a new journal, and so this Book of Shadows begins.
In the spring of 1628, the Witchfinder of Wessex finds himself a true Witch. As Bess Hawksmith watches her mother swing from the Hanging Tree she knows that only one man can save her from the same fate at the hands of the panicked mob: the Warlock Gideon Masters, and his Book of Shadows. Secluded at his cottage in the woods, Gideon instructs Bess in the Craft, awakening formidable powers she didn't know she had and making her immortal. She couldn't have foreseen that even now, centuries later, he would be hunting her across time, determined to claim payment for saving her life.
In present-day England, Elizabeth has built a quiet life for herself, tending her garden and selling herbs and oils at the local farmers' market. But her solitude abruptly ends when a teenage girl called Tegan starts hanging around. Against her better judgment, Elizabeth begins teaching Tegan the ways of the Hedge Witch, in the process awakening memories–and demons—long thought forgotten.
Part historical romance, part modern fantasy, The Witch's Daughter is a fresh, compelling take on the magical, yet dangerous world of Witches.Readers will long remember the fiercely independent heroine who survives plagues, wars, and the heartbreak that comes with immortality to remain true to herself, and protect the protégé she comes to love.
Longshore always does amazing things with her books.  She creates this stories that include all of the historical fact she can find but then she fills in the blanks with what she thinks happened or would have wanted to happen.  You will notice the next three books are all by Katherine Longshore and if you have never read any of her books and you don't know where to start, begin with Gilt and then read the next two…you won't be disappointed.  
I
n the court of King Henry VIII, nothing is free–
and love comes at the highest price of all.
When Kitty Tylney's best friend, Catherine Howard, worms her way into King Henry VIII's heart and brings Kitty to court, she's thrust into a world filled with fabulous gowns, sparkling jewels, and elegant parties. No longer stuck in Cat's shadow, Kitty's now caught between two men–the object of her affection and the object of her desire. But court is also full of secrets, lies, and sordid affairs, and as Kitty witnesses Cat's meteoric rise and fall as queen, she must figure out how to keep being a good friend when the price of telling the truth could literally be her head.
Anne Boleyn is the odd girl out. Newly arrived to the court of King Henry VIII, everything about her seems wrong, from her clothes to her manners to her witty but sharp tongue. So when the dashing poet Thomas Wyatt offers to coach her on how to shine at court—and to convince the whole court they're lovers—she accepts. Before long, Anne's popularity has soared, and even the charismatic and irresistible king takes notice. More than popularity, Anne wants a voice—but she also wants love. What began as a game becomes high stakes as Anne finds herself forced to make an impossible choice between her heart's desire and the chance to make history.
Mary Howard has always lived in the shadow of her powerful family. But when she's married off to Henry Fitzroy, King Henry VIII's illegitimate son, she rockets into the Tudor court's inner circle. Mary and "Fitz" join a tight clique of rebels who test the boundaries of court's strict rules with their games, dares, and flirtations. The more Mary gets to know Fitz, the harder she falls for him, but is forbidden from seeing him alone. The rules of court were made to be pushed…but pushing them too far means certain death. Is true love worth dying for?
There you have it!  I hope you are interested!! Which books sound the most interesting to you and do you think you will add any to your To Read list? Let me know in the comments? 
Related Posts