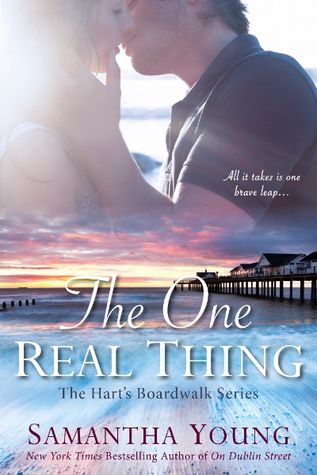 The One Real Thing

by Samantha Young
(Website, Twitter, Goodreads)Also by this author: Hero, Every Little Thing, The Impossible Vastness of Us
Published by Penguin on September 6th 2016
Genres: Contemporary, Contemporary Women, Family Life, Fiction, Romance
Pages: 384

Welcome to Hartwell, a quiet seaside escape where uncovering old secrets could lead one woman to discover the meaning of a love that lasts…

While Doctor Jessica Huntington engages with the inmates at the women's correctional facility where she works, she's always careful to avoid emotional attachments in her personal life. Loss and betrayal taught her that lesson long ago. But when she comes across a set of old love letters in the prison's library and visits the picturesque town of Hartwell to deliver them to their intended recipient, she finds herself unable to resist the town's charm—and her attraction to the sexy owner of a local bar proves equally hard to deny.

Since his divorce from his unfaithful ex-wife, Cooper Lawson has focused on what really matters: his family and the boardwalk pub they've owned for generations. But the first time Jessica steps into his bar, Cooper is beyond tempted to risk his heart on her. Yet as their attraction grows hotter and Jessica remains stubbornly closed off, he begins to realize it will take more than just passion to convince her there's only one real thing in life worth fighting for….
I'm obsessed with small town love stories… and I was incredibly excited when I read the summary of this story because I was hoping to find a new series to fall in love with… and I absolutely did!
Doctor Jessica Huntington has spent her life trying to make amends for her past and she just happens to be doing it in a women's correctional facility. She's a talented doctor but she's been feeling incredibly unfulfilled lately.  She happens upon letters that a former inmate had written to her long lost love and after reading she can't seem to get them out of her head, so she decides to use her upcoming three weeks of vacation to head to the seaside town of Hartwell and give the letters to the rightful owner.  She never expects to fall in love with both the town and its occupants.
Cooper Lawson hasn't had an easy time of it lately… he's putting his cheating ex and his ex-best-friend behind him and focusing on the things that are important.  His bar… his family… and his friends.  Then a mysterious blonde shows up in front of his bar in the pouring rain and he can't seem to get her out of his head.
As Cooper and Jessica get to know each other, their feelings can't be denied and as Cooper opens up more and more, Jess keeps her secrets until she has no choice but to either tell Cooper everything or give him and the new life she has always desired, up for good.
So I just have to say this up front… Samantha Young can write steam and chemistry.  Jessica and Cooper had it in spades and I was so excited to completely fall for these two as a couple!
I mention above that Jessica seems to be trying to outrun her past, and make up for something in her past, and Young has wondering and trying to figure out what it is that tore her away from her family leaving her with only the one friend who she can lean on for anything.  And let me just say that you will get no clues until she's good and ready to spill either… so in a way it's incredibly frustrating because you see the effect that it has had on her life.  She's isolated herself and while she had relationships they were all very superficial.  Even the ones she makes in Hartwell, because despite the deep connections she's making, she refuses to share everything about herself with them.  And that grates on Cooper more than anything because of his history with his ex-wife Dana.
Young has created some pretty amazing characters here… from Bailey, the inn keeper to Vaughn who owns the fancy boardwalk hotel to Emery and Dahlia, and yes… even Jack Devlin.  I can't wait to learn more about each and every one of them.  But our main characters in this story are Cooper and Jessica and I completely fell for them both.  Cooper…. My lord you guys.  He's sexy. He's a bar owner & bartender.  He's determined to make whatever is brewing between him and Jessica work and I absolutely fell for him and his strong, silent demeanor.
"I'm in this for the long haul, Doc. I was before you walked into my bar tonight, but now, after the best fucking sex of my life, after how wild that was, there's no way I'm letting you walk out of here without me."
Jessica on the other hand is a bit harder to feel out, mostly because you know she's keeping this secret and you have no clue what it might be, but by the end I can safely say that I was very happy that things worked out as they had.  Now you're probably wondering why I only gave this four stars if I loved it as much as I did.  I think I was a bit disappointed that Jessica let things go as far as she did without thinking she would ever have to tell Cooper what had happened.  I honestly don't know what she thought was going to happen and I also don't know why she thought he would blame her… yes he had a certain reaction to something early on, but even when I heard the story the only thing I could think was "that's it?"  Anyway, a minor issue for me in an otherwise totally enjoyable read that I couldn't put down.
I can honestly say that fans of Jill Shalvis and her contemporary romances are going to absolutely love this series as well!  I honestly can't wait for book two to arrive.  I've got some guesses as to who is going to be hooking up with who, but I'm excited to read the stories!
Thank you to the publisher for an early copy in exchange for my honest thoughts.
Get Your Copy Today
GIVEAWAY
Related Posts