The Boyfriend App 
By: Katie Sise 
Publication Date: April 30, 2013
You guys, I had the wonderful opportunity to chat with Katie Sise, author of The Boyfriend App and I'm incredibly excited to share an interview with you all!  First, my review!
The Review
The Boyfriend App by Katie Sise
My rating: 4 of 5 stars

4.5 stars! I really really enjoyed this book! I hate to use the word cute to describe it, but it's the word that keeps coming to mind when I think of it! This was everything I hoped a young adult novel could be.

Audrey McCarthy can't wait to graduate. The once popular girl who had lots of admirers and friends isn't quite the same after her father's death and the loss of her one time best friend Blake… the resident mean girl. She now sits at a table filled with some of the lowest on the high school totem pole and watches her mom struggle to make ends meet while working in the high school cafeteria.

Audrey may have found the answer to her problems though. A contest is announced that will provide the winner with 200k to use to attend the college of their choice. Audrey needs to win.

And so… The Boyfriend App is created.

What teenage girl (or any girl for that matter) wouldn't want to find their perfect guy by simply filling out a questionnaire and having your phone tell you when you are within 100 feet of them? None… that's the answer. Her app is a success … but things don't go as smoothly as she had hoped.

What did I love? I adored Audrey. She's absolutely someone I would have hung out with in high school. She loves programming *cough hacking cough* … mostly because it's something she did with her dad, but also because she's good at it.

I loved Audrey's friends! Mindy, Nigit, Lindsay and Aiden were just the perfect mix and a wonderful inclusion to a great story.

The Boyfriend App provides a perfect mix flails, funny, and romance and I adored every second of it.

I will say that there is a lot of computer speak in this … I mean it's unavoidable because computers and hacking and programming are the base of this story and so at times it was kind of over my head, but I think Sise does an incredible job of explaining the nerd speak when it was necessary.

Did I mention Aiden yet… yes… well let me mention him again. I adored him. Everytime he said "Auds" I totally melted inside.

Also… I hated Blake. Like Hated Hated.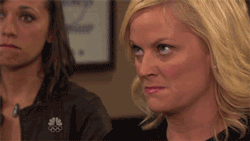 She takes the definition of mean girl to a whole new level and that up there was my face every single time she appeared.

If you're looking for a wonderfully written YA that's engaging and sweet and a little bit awesomely nerdy, you MUST check out The Boyfriend App. I promise you won't be able to put it down once you start!

Thank you to Edelweiss and HarperTeen for the advance copy in exchange for an honest review.
The Interview

What made you dive in and start writing?
The moment I understood Audrey was when the writing really started coming. It took me about about a week of writing pages from her POV until I felt like I really understood her. So what made me dive in was wanting to know where the story would go, and what would happen to her. One of my favorite things about writing fiction (versus nonfiction) is that feeling of not being able to wait to sit down at the computer and find out what's going to happen to your characters.
When did you write your first book and what was the title?

 
My first book was a nonfiction career guide called CREATIVE GIRL: THE ULTIMATE GUIDE FOR TURNING TALENT AND CREATIVITY INTO A REAL CAREER.
THE BOYFRIEND APP is my first novel.
Describe yourself in three words!
Energetic. Sensitive. Kind.
Did it take a long time to get The Boyfriend App published?
I was very lucky with The Boyfriend App. We submitted the book exclusively to Alessandra Balzer at HarperCollins, and she bought it within a week. I know firsthand it doesn't always go like that. This writing project felt very serendipitous from the beginning, and because I'd worked on other novels, I knew not to take that for granted! I feel very fortunate to be working with HarperCollins and with Alessandra. She's an incredible editor, and I can't imagine a more supportive group of people than the team at Harper.
How would you introduce Audrey to someone?
I'd say: This is Audrey. She's smart, determined, true to herself, and a loyal friend and daughter.
How would you introduce Aiden to someone?
I'd say: Aidan Bailey is a great combination of kind and strong. (And hot, but I'd wait until he wasn't listening for that part. It would embarrass him.)
If you could introduce one of your characters to another character from any other book, who would it be and why?
I love this question! Let's see. I'd introduce Lindsay to Andrea Sachs in the Devil Wears Prada. I want to see Lindsay conquer the fashion world in New York while keeping her sweetness intact.
My friend Caren and I were wondering how much research you had to do for the 'nerd/computer speak' or did you already know it?

 
I knew nothing! I had to do so much research! I found experts who coached me through it. There were two programmers who helped with the app building. Then, for coding, hacking and general computer speak, I  worked with a programmer named Jason Scalia, who—after many sessions of explanation—made me feel like I myself was a hacker! He explained in such clear detail how to program and hack and build code. It was awesome.
I think you hit upon one already—that I'm not a computer whiz. There was a lot that went with understanding Audrey and her friends that I had to research (like War of the Worlds for Nigit), so I could really understand them. I wanted these characters to be as real on the page as they felt to me. It's amazing just how real your characters become when you write. I studied acting in college, and a lot of writing and acting involves a similar process of really understanding someone else. When you're inside of a character, you know how they'll react to anything, or what they'll believe, even if it's very different than what you would.
My close friend Anna Carey (The Eve Trilogy) always reads my books and offers the best insights. She was the one who said to me: "Blake and Audrey should be former best friends, so that there's a lot of pain there between them that the reader can feel."


What authors do you fangirl over?
Sarah Mlynowski. Sara Shepard and Rainbow Rowell. I met Rainbow at a book signing recently, and I was so nervous!
I fangirled over Anna Carey, too, and then we became good friends. Now I don't even even bother picking up the house when she comes over.

J
Definite fangirl over James Dashner. I met him at BEA (I stood in line to talk to him) and I was so nervous, you'd think I was talking to Leonardo DiCaprio.


Do you have any current or future projects you can tell us about?

 
Right now I'm working on the companion book to The Boyfriend App. I'm just starting it, so I don't have too many juicy details yet, but I can keep you updated! 
Thank you so much Katie, for taking the time to answer our questions!! 
The Giveaway!
To celebrate the release of The Boyfriend App, I'll be giving away one finished copy! Make sure you enter!
Rules: International as long as TBD delivers to you! 
Must be 13 years old to enter
Winner has 48 hours to respond or a new winner is chosen
(please make sure you do the required tasks, I do verify!)
Related Posts