Me Before You by Jojo Moyes.
Jaime has raved about this book forever and I know that the second I open this book there will be tears in my future so I have put this one off.  I think I would want to read this as a book club read because it would not only force me to just read it, but I feel like there would be some great discussion around the story.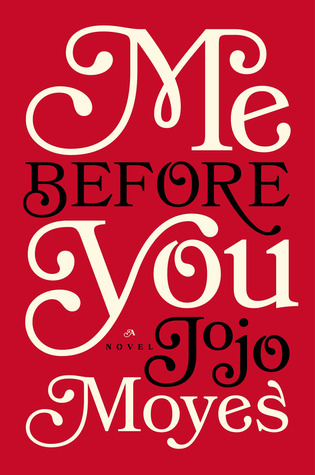 Lou Clark knows lots of things. She knows how many footsteps there are between the bus stop and home. She knows she likes working in The Buttered Bun tea shop and she knows she might not love her boyfriend Patrick.
What Lou doesn't know is she's about to lose her job or that knowing what's coming is what keeps her sane.
Will Traynor knows his motorcycle accident took away his desire to live. He knows everything feels very small and rather joyless now and he knows exactly how he's going to put a stop to that.
What Will doesn't know is that Lou is about to burst into his world in a riot of colour. And neither of them knows they're going to change the other for all time.
Code Name Verity by Elizabeth Wein.  I started this book a while ago and had to put it down for some reason. With that said, I know I would love this book and I am fairly certain that this story would generate some great conversation!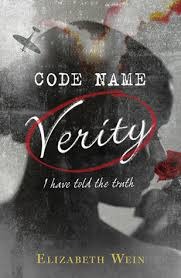 Oct. 11th, 1943-A British spy plane crashes in Nazi-occupied France. Its pilot and passenger are best friends. One of the girls has a chance at survival. The other has lost the game before it's barely begun.
When "Verity" is arrested by the Gestapo, she's sure she doesn't stand a chance. As a secret agent captured in enemy territory, she's living a spy's worst nightmare. Her Nazi interrogators give her a simple choice: reveal her mission or face a grisly execution.
As she intricately weaves her confession, Verity uncovers her past, how she became friends with the pilot Maddie, and why she left Maddie in the wrecked fuselage of their plane. On each new scrap of paper, Verity battles for her life, confronting her views on courage, failure and her desperate hope to make it home. But will trading her secrets be enough to save her from the enemy?
A Michael L. Printz Award Honor book that was called "a fiendishly-plotted mind game of a novel" in The New York Times, Code Name Verity is a visceral read of danger, resolve, and survival that shows just how far true friends will go to save each other.
Wolf Hall by Hilary Mantel.

 I have a friend who has been telling me I need to read this book followed by a warning that it moves a bit slowly. I have been hesitating on picking this up only because of that warning.  I think this would be an excellent book club pick mostly because it would force me to dive in – I already know I would like it since it is historical and I'm sure quite a bit of conversation could be had about this one.
Tudor England. Henry VIII is on the throne, but has no heir. Cardinal Wolsey is charged with securing his divorce. Into this atmosphere of distrust comes Thomas Cromwell – a man as ruthlessly ambitious in his wider politics as he is for himself. His reforming agenda is carried out in the grip of a self-interested parliament and a king who fluctuates between romantic passions and murderous rages.
This book has been on my list for ages, and everytime I read the summary I want to pick it up and start it. I think this would be an amazing book club read though! 
Hig somehow survived the flu pandemic that killed everyone he knows. Now his wife is gone, his friends are dead, and he lives in the hangar of a small abandoned airport with his dog, Jasper, and a mercurial, gun-toting misanthrope named Bangley.
But when a random transmission beams through the radio of his 1956 Cessna, the voice ignites a hope deep inside him that a better life exists outside their tightly controlled perimeter. Risking everything, he flies past his point of no return and follows its static-broken trail, only to find something that is both better and worse than anything he could ever hope for.
I've heard amazing things about Liane Moriarty – I even have a signed copy of her book from BEA and I'm totally intrigued by this title of hers. I think there is a lot of potential for discussion on this one ! 
At the heart of The Husband's Secret is a letter that's not meant to be read

My darling Cecilia, if you're reading this, then I've died…
Imagine that your husband wrote you a letter, to be opened after his death. Imagine, too, that the letter contains his deepest, darkest secret—something with the potential to destroy not just the life you built together, but the lives of others as well. Imagine, then, that you stumble across that letter while your husband is still very much alive. . . .
Cecilia Fitzpatrick has achieved it all—she's an incredibly successful businesswoman, a pillar of her small community, and a devoted wife and mother. Her life is as orderly and spotless as her home. But that letter is about to change everything, and not just for her: Rachel and Tess barely know Cecilia—or each other—but they too are about to feel the earth-shattering repercussions of her husband's secret.
Acclaimed author Liane Moriarty has written a gripping, thought-provoking novel about how well it is really possible to know our spouses—and, ultimately, ourselves.
Erin really loves this book and I really do want to read it, I'm just afraid of all the feelings it is going to make me feel but I think I could definitely do it with the support of my book club! 
It happened like this. I was stolen from an airport. Taken from everything I knew, everything I was used to. Taken to sand and heat, dirt and danger. And he expected me to love him.

This is my story.

A letter from nowhere. 
Sixteen year old Gemma is kidnapped from Bangkok airport and taken to the Australian Outback. This wild and desolate landscape becomes almost a character in the book, so vividly is it described. Ty, her captor, is no stereotype. He is young, fit and completely gorgeous. This new life in the wilderness has been years in the planning. He loves only her, wants only her. Under the hot glare of the Australian sun, cut off from the world outside, can the force of his love make Gemma love him back? 
The story takes the form of a letter, written by Gemma to Ty, reflecting on those strange and disturbing months in the outback. Months when the lines between love and obsession, and love and dependency, blur until they don't exist – almost.
I'm so fascinated by this book and it's on my bookshelf! I feel like this would be a wonderful book club read … Most of us have a "one that got away" and i think there is some great discussion potential in this one.
What happens when the one that got away comes back?
Rachel and Ben. Ben and Rachel. It was them against the world. Until it all fell apart.
It's been a decade since they last spoke, but when Rachel bumps into Ben one rainy day, the years melt away.
From the moment they met they'd been a gang of two; partners in crime and the best of friends. But life has moved on. Ben is married. Rachel is definitely not. In fact, the men in her life make her want to take holy orders…
Yet in that split second, Rachel feels the old friendship return. And along with it, the broken heart she's never been able to mend.
If you love David Nicholls and Lisa Jewell then this is the book for you. Hilarious, heartbreaking and everything in between, you'll be hooked from their first 'hello'.
I don't even know how to sell this one to a bookclub but I think that the uniqe topic and the fact that it's considered a psychological thriller would add some diversity to our potential list of reads! 
No one really knows who Andrew Winston Winters is. Least of all himself. He is part Win, a lonely teenager exiled to a remote boarding school in the wake of a family tragedy. The guy who shuts the whole world out, no matter the cost, because his darkest fear is of himself …of the wolfish predator within. But he's also part Drew, the angry boy with violent impulses that control him. The boy who, one fateful summer, was part of something so terrible it came close to destroying him. A deftly woven, elegant, unnerving psychological thriller about a boy at war with himself. Charm and Strange is a masterful exploration of one of the greatest taboos.
I have wanted to read this one for ages!  I think it was two BEA's ago that I first saw it … and didn't get my hands on it… but I've heard amazing things about it and I think it would make a perfect group read! 
Don Tillman, professor of genetics, has never been on a second date. He is a man who can count all his friends on the fingers of one hand, whose lifelong difficulty with social rituals has convinced him that he is simply not wired for romance. So when an acquaintance informs him that he would make a "wonderful" husband, his first reaction is shock. Yet he must concede to the statistical probability that there is someone for everyone, and he embarks upon The Wife Project. In the orderly, evidence-based manner with which he approaches all things, Don sets out to find the perfect partner. She will be punctual and logical—most definitely not a barmaid, a smoker, a drinker, or a late-arriver.
Yet Rosie Jarman is all these things. She is also beguiling, fiery, intelligent—and on a quest of her own. She is looking for her biological father, a search that a certain DNA expert might be able to help her with. Don's Wife Project takes a back burner to the Father Project and an unlikely relationship blooms, forcing the scientifically minded geneticist to confront the spontaneous whirlwind that is Rosie—and the realization that love is not always what looks good on paper.
So… a Maggie Stiefvater book that I haven't read… but have heard amazing things about.  I even own a signed copy with a hand drawn unicorn in it. I think I need  to just sit down and read it and what better way to enjoy it than with my book loving friends! 
It happens at the start of every November: the Scorpio Races. Riders attempt to keep hold of their water horses long enough to make it to the finish line. Some riders live. Others die.
At age nineteen, Sean Kendrick is the returning champion. He is a young man of few words, and if he has any fears, he keeps them buried deep, where no one else can see them.
Puck Connolly is different. She never meant to ride in the Scorpio Races. But fate hasn't given her much of a chance. So she enters the competition — the first girl ever to do so. She is in no way prepared for what is going to happen.
I love and adore Elizabeth Fama!! I own two copies of this book because for serious, the covers are gorgeous and I think that I would love to read Beth's amazing writing with a group of my friends! 


Fierce, seductive mermaid Syrenka falls in love with Ezra, a young naturalist. When she abandons her life underwater for a chance at happiness on land, she is unaware that this decision comes with horrific and deadly consequences.

Almost one hundred forty years later, seventeen-year-old Hester meets a mysterious stranger named Ezra and feels overwhelmingly, inexplicably drawn to him. For generations, love has resulted in death for the women in her family. Is it an undiagnosed genetic defect . . . or a curse? With Ezra's help, Hester investigates her family's strange, sad history. The answers she seeks are waiting in the graveyard, the crypt, and at the bottom of the ocean—but powerful forces will do anything to keep her from uncovering her connection to Syrenka and to the tragedy of so long ago.
What books would you like to read with a bookclub? Wanna join ours? Tell us in the comments!
Related Posts