TAKE ME ON (PUSHING THE LIMITS #4)
Publication Date: May 27, 2014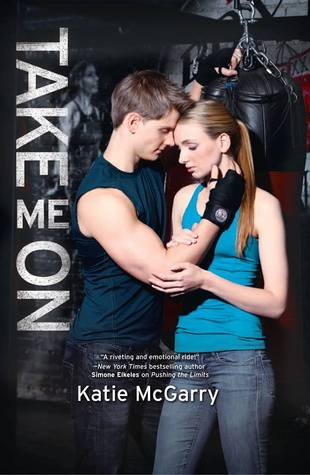 Acclaimed author Katie McGarry returns with the knockout new story of two high school seniors who are about to learn what winning really means.
Champion kickboxer Haley swore she'd never set foot in the ring again after one tragic night. But then the guy she can't stop thinking about accepts a mixed martial arts fight in her honor. Suddenly, Haley has to train West Young. All attitude, West is everything Haley promised herself she'd stay away from. Yet he won't last five seconds in the ring without her help.
West is keeping a big secret from Haley. About who he really is. But helping her-fighting for her-is a shot at redemption. Especially since it's his fault his family is falling apart. He can't change the past, but maybe he can change Haley's future.
Hayley and West have agreed to keep their relationship strictly in the ring. But as an unexpected bond forms between them and attraction mocks their best intentions, they'll face their darkest fears and discover love is worth fighting for.
About Katie
KATIE MCGARRY was a teenager during the age of grunge and boy bands and remembers those years as the best and worst of her life. She is a lover of music, happy endings, and reality television, and is a secret University of Kentucky basketball fan.
Katie would love to hear from her readers. Contact her via her website, katielmcgarry.com, follow her on Twitter @KatieMcGarry, or become a fan on Facebook and Goodreads.
Erin's Thoughts
My rating: 4 of 5 stars

I am never disappointed by Katie McGarry's books and Take Me On was no exception. I really loved this story and characters and could not put this one down until I found out what happened to everyone.

I will begin with the fact that I loved Haley. She is tough and loyal but it is very clear she is struggling. She and her family have hit a rough time and she is trying to put on a good face and just get through but things just seem to be getting worse. I think one of the things that frustrated me the most about Haley was her unwillingness to ask for help. Her family wanted to be there for her but she refused to ask for it. With that said, I completely understood her reasoning and what she was doing.

One night as she was on her way home, she is almost run over by West. Let me interject here that I did not read book 3 (don't judge me about it) so while some of you may already have some feelings about him, I went into this one with no predetermined feelings about him. I don't know if this is good or bad but when I mentioned him to my sister, she immediately said…"Oh, I didn't like him." Whereas I was all "I love him!!" Anyway, I did really love him. While I found out what happened with him in book 3, I thought not knowing, gave me a bit of a different view than others may have of him. Mostly because when I was introduced to him, it was clear he was struggling with what he was going to do as well as the role he played in his sister's accident. He truly loves his family but he doesn't really know how he fits in.

As punishment for getting expelled for fighting, West's dad enrolls him in the public school and this is where West and Haley start to build a friendship and then find that they both want more than that. Along the way, they find out more about themselves and each other and they also find themselves in a situation where Haley is training West to fight her ex-boyfriend's little brother in order to protect Haley's brother and cousin.

I really liked the secondary characters in this story and have high hopes that we will see a few of them again in some of the upcoming books. Jax was one of my favorites and I also love Abby. McGarry always does such a wonderful job of creating these fascinating characters (main or secondary) and although I know neither of them would accept it, I would just like to give them both hugs.

Definitely consider reading these books if you haven't done so yet. I can't give everything about this story away but know that there is plenty of angst, swoon, and action to keep you engrossed in this story. I always find myself pulled into the lives of these complex characters and stories. Ultimately, that is what makes me unable to put the book down until I reach the end. If you like the other books in this series, I have a feeling you will definitely enjoy this one as well.

Thank you to Netgalley & Harlequin Teen for the review copy.
Related Posts