REMEMBER ME (FIND ME, #2)
By: Romily Bernard
Publication Date: September 23, 2014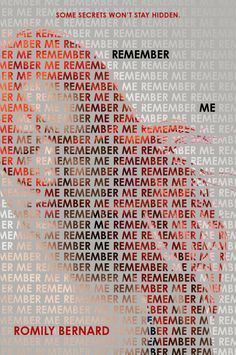 In the sequel to Find Me, Wick Tate, sarcastic teen hacker, is back and once again dealing with criminals and corrupt cops…and a brooding new love interest. Will Wick persevere when some secrets refuse to stay hidden?
Wick had thought her troubles were over.
But she should've known better.
Not only is she embroiled in a new murder case, which starts with a body with "Remember Me" carved into it and doesn't stop there, but she also discovers new evidence surrounding her mother's suicide…which leads her right back to her imprisoned deadbeat dad. And she has to deal with her flirty new hacker friend, Milo, sniffing around—which her boyfriend, Griff, isn't too happy about.
The pressure might be too much as secrets—including Wick's own—climb to the surface.
About Romily
I graduated from Georgia State University with a Literature degree. Since then, I've worked as a riding instructor, cell phone salesgirl, personal assistant, groom, exercise rider, accounting assistant, and, during a very dark time, customer service rep.
So don't let anyone tell you a BA degree will keep you unemployed.
Erin's Thoughts
My rating: 5 of 5 stars

How long do I have to wait for the next book?

Remember Me is book two in the Find Me series and to say that I have been looking forward to this one since I finished Find Me is probably an understatement. I loved that book mostly because of the characters (don't get me wrong, the story was great) and I was excited to see them return in this second book. I will do my best to not include any spoilers here but don't get mad at me if you see something you didn't want to know.

Wick is still her usual sarcastic, computer nerd self and I love her. She is one of those characters that, if I knew her in real life, I would want to be friends with her. Her inner dialogue is awesome and I literally laughed out loud by page 13 (when you read it, you will know) and my sister looked at me like I was a bit crazy. Regardless, she happens to be on my list of favorite characters and not only because of her wit. She is also smart, loyal, and is willing to do anything for the people she loves.

Griff is also back and super swoony and he makes me want to crawl into this book and hug him. Every time he calls her Wicked…*sigh*. Also, with Griff, Wick can be honest and show him what she is really going through. She even calls out how out of the blue he will say something that is completely unexpected and it makes her "melty." I love that he can do that to her and she has accepted it for what it is…Griff being Griff. He is also willing to do anything to protect Wick even if he doesn't really agree with what she is doing and, trust me, there is a lot she is doing in this book that he isn't on board with. I can't lie, a lot of my tags in the book are the swoony parts with Griff.

This book picks up with Wick being pulled into another mystery. Because of her past, Detective Carson is able to blackmail Wick into helping him close out cases…and she isn't necessarily providing him information that she obtains legally. When he tells her he wants her to track someone she knows from her past, at first she tries to get out of it but when he starts to threaten her sister, Bren, and Griff, she knows she needs to do what he wants. What she agrees to is getting a tracking device on a guy named Baines and to do it, she has to go to a party with Bren for Judge Bay. Eventually she gets pulled into a murder investigation (by Carson) because the judge's assistant is found murdered at the party.

While digging into this new case, a lot of other things are going on. One of the bigger items (to Wick at least) is she begins to find out more about her mother's suicide and what really happened the night she died. Wick starts receiving videos of her mother's interviews with the police from a while ago with some odd messages attached to them. As she digs deeper, she realizes that her mother isn't just being questioned…there is more to it than that and the more she finds out about it, the more she realizes that it all ties back to her father and his "colleagues."

As Wick begins to dig into things, she realizes she needs new equipment. You may be thinking…so what Erin, why is this important? WELL – it is important because this is where Griff introduces Wick to his computer guy – Milo. Let me be the first to say here that I don't have a problem with Milo. As a character, he adds another layer to this story and I am very interested in learning more about him. With that said, I am not a huge fan of some things that happen. Now, don't hate me here but I can't say much around this because I don't want to give all the things away.

As the story moves along, Wick finds out that some people aren't exactly who she thought they were and she can't control everything. Those around her also realize that they can't change who Wick is and I have to say, things aren't all sunshine and unicorns in this book. If you are looking for a story that will take you through a number of emotions, contains quite a bit of action, sarcasm, and swoony bits, definitely check this one out. And if you haven't started this series, you should go now. Book one was great and I have to say that after reading this book, the next one (Trust Me) has been put onto my "Can't Frickin' Wait" shelf.

I am sure I rambled a bit here but don't hold it against me…just know that when I do that it usually means I really enjoyed the book – which I did.


Related Posts