MORTAL DANGER (IMMORTAL GAME #1)
By: Ann Aguirre
Publication Date:  August 5, 2014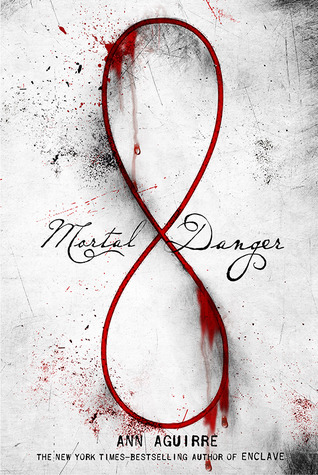 Summary
Revenge is a dish best served cold.
Edie Kramer has a score to settle with the beautiful people at Blackbriar Academy. Their cruelty drove her to the brink of despair, and four months ago, she couldn't imagine being strong enough to face her senior year. But thanks to a Faustian compact with the enigmatic Kian, she has the power to make the bullies pay. She's not supposed to think about Kian once the deal is done, but devastating pain burns behind his unearthly beauty, and he's impossible to forget.
In one short summer, her entire life changes, and she sweeps through Blackbriar, prepped to take the beautiful people down from the inside. A whisper here, a look there, and suddenly… bad things are happening. It's a heady rush, seeing her tormentors get what they deserve, but things that seem too good to be true usually are, and soon, the pranks and payback turns from delicious to deadly. Edie is alone in a world teeming with secrets and fiends lurking in the shadows. In this murky morass of devil's bargains, she isn't sure who—or what–she can trust. Not even her own mind…
About Ann
Ann Aguirre is a New York Times & USA Today bestselling author with a degree in English Literature; before she began writing full time, she was a clown, a clerk, a voice actress, and a savior of stray kittens, not necessarily in that order. She grew up in a yellow house across from a cornfield, but now she lives in sunny Mexico with her husband, children, and various pets. She likes all kinds of books, emo music, action movies and Doctor Who. She writes all kind of fiction in multiple genres, both YA and for adults.
Erin's Thoughts
My rating: 2.5-3 of 5 stars

Mortal Danger by Ann Aguirre is the first book in the Immortal Game series and as soon as I read the summary of this one I knew I wanted to read it. Also, this cover is just perfect. Aguirre pulled me into this story about an outcast girl who reaches her breaking point and is ultimately pulled back from the edge by a mysterious boy and a bit of magic.

Edie has always been the nerdy, outcast girl in school and because of that, she has always been teased and tormented by the "cool" kids. In her junior year, something happens that makes her decide she would rather die than continue to put up with the torture and just as she is about to jump off a bridge, Kian stops her and makes her an offer.

Kian works for Wedderburn, Mawer & Graf and knows exactly what Edie is going through. Not only because he has been through the same thing but also because he has been watching her for a while. See, his employer, Wedderburn, has had his eye on Edie for a while because she is what he calls a catalyst. If he can somehow get her indebted to him he pretty much owns her and her future. What Kian ends up offering her is three favors and once she uses them, she owes the firm and they really want her to owe them. This is where Edie decides she doesn't really have a choice and she takes the deal.

Edie was a solid character but I found her personality a bit at odds. As someone who was picked on constantly I found it interesting that she would immediately, upon her change, be as confident as she was. I really liked that she was smart and not ashamed of it either. Don't get me wrong, she didn't always do smart things but intellectually she was a bright girl and it helped her as she figured out what she was going to do about her situation.

Another thing that didn't add up for me was when she got back to school, she found herself spending time with the same people who tormented her. Even though she says she will never forgive them for what they did to her but she also starts to see them as more than just the people who made her life hell. Even if that is true, I find it hard to believe that after what they did to her and how she ultimately ended up on that bridge, she was able to spend time with that group.

Kian was interesting. I liked him but I thought he should have known more or been able to provide more information to Edie. At times he was able to provide her with guidance but I thought that there was so much he didn't know and ultimately it felt like the story stalled at times because we weren't able to get answers. In Kian's defense, he was a bit disconnected from everything until he met Edie and I appreciated the fact that he told her he thought more of her before she changed. Also, eventually he was willing to sacrifice everything for her which of course puts him into the swoony category. I thought Kian's story was interesting and added a layer to the story that helped move it forward. While Kian doesn't necessarily control his own destiny any longer, he is willing to do whatever he can to help Edie and maybe even get her out of the deal.

While Edie tries to figure out just what is going on, she learns that she is essentially a pawn in a battle for power between Wedderburn, Mawer & Graf and Dwyer & Fell. Both are players in this game and right now, she and Kian are aligned with Wedderburn. As she digs into what that means, she faces a number of threats and along the way; the people who she cares about are in danger. Through the entire story we are introduced to others who are either participating in this game or just enjoying watching what happens.

I have to admit, there were times where I wasn't really sure why some of the characters were introduced. I didn't understand Mr. Love's role in the story and Allison…I didn't understand that arc. I also wish we would have learned more about these "companies" and who they really were and what they were really after. There were hints to Edie's potential but things were a bit vague for me.

Overall this was an ok introduction to this new series. Aguirre has developed some solid characters and I look forward to learning more about what is really going on…the end of the book alludes to the fact that whatever it is, Edie is definitely facing something that will be dangerous. There is a definite darkness to this story and that is one of the things I love about Aguirre's books. While I admit I struggled a bit with the pacing of the book, I found myself pulled into the story wanting to know more.

Thank you to the publisher for the review copy.


Related Posts