MAGNOLIA
By: Kristi Cook
Publication Date: August 5, 2014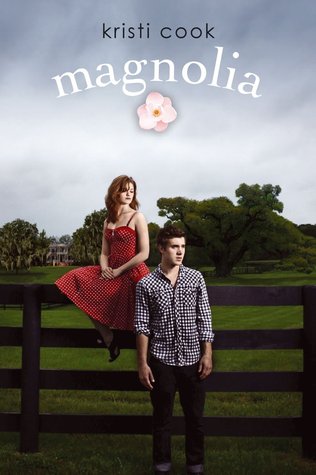 In Magnolia Branch, Mississippi, the Cafferty and Marsden families are southern royalty. Neighbors since the Civil War, the families have shared vacations, holidays, backyard barbecues, and the overwhelming desire to unite their two clans by marriage. So when a baby boy and girl were born to the families at the same time, the perfect opportunity seemed to have finally arrived.
Jemma Cafferty and Ryder Marsden have no intention of giving in to their parents' wishes. They're only seventeen, for goodness' sake, not to mention that one little problem: They hate each other! Jemma can't stand Ryder's nauseating golden-boy persona, and Ryder would like nothing better than to pretend stubborn Jemma doesn't exist.
But when a violent storm ravages Magnolia Branch, it unearths Jemma's and Ryder's true feelings for each other as the two discover that the line between love and hate may be thin enough to risk crossing over.
About Kristi
As a child, Kristi Cook took her nose out of a book only long enough to take a ballet class (or five) each week.  Not much has changed since then, except she's added motherhood to the mix and enjoys penning her own novels as much as reading everybody else's.  A transplanted southern gal, Kristi lives in New York City with her husband and two daughters.
Jaime's Thoughts 
4.5 Stars – So I basically loved everything about this.
In Magnolia Branch, Mississippi, the Cafferty's and the Marsden's have been friends since the Civil War. They do everything together and when a baby girl and a baby boy are born only months apart, the family thinks they've finally gotten their chance to be bound together for good. But Jemma and Ryder have no intention of fulfilling their parents' wishes. They don't even like each other, much less have any urge to date. But their parents have been preparing for their wedding since the day they were born and so they are constantly pushed together, barely tolerating each other. But it wasn't always that way!! Jemma and Ryder were best friends until the eighth grade, when things suddenly changed, and it's been that way ever since.
The arrival of a violent storm throws these two together and they find they can't quite resist figuring out what exactly went wrong and why they straddle that fine line between love and hate.
You guys!! Jemma is awesome. This girl can do it all – including shoot the head off a snake. Yup she's the best shot in the state and even though I'm not a gun person I found myself laughing that the dichotomy of this proper southern girl also being able to shoot better than all the boys she competes against. She's smart and she's sassy and just everything I really enjoy in a female character and she was easy to like! I loved seeing her relationship with her best friends – as I've said before I always love it when we get to see healthy, kind relationships develop and that's what you'll find here. No mean girl mentality – even with the girls that she wasn't best friends with.
I really liked Ryder too. He's the town golden-boy… sure to get a football scholarship to any school he wants and revered by everyone around. Just not Jemma, even if he proves to her time and time again that he's not the jerk she thinks he is.
But these two have a lot of expectation on their shoulders – they've had their whole lives planned out by their families and so there of course has to be a bit of rebellion…
Besides, he's not that bad of a boy. But he is the total opposite of Ryder, which means that going out with him is the complete opposite of what my family wants me to do. Maybe that's it, then—a minor rebellion on my part.
"My mom already controls enough in my life. What food I eat. What clothes I wear. Hell, even my underwear. You wouldn't believe the fight she put up a few years back when I wanted to switch to boxer briefs instead of regular boxers. Anyway, if my parents want it for me, it must be wrong. So I convinced myself…"
Once they're stuck together is when they start breaking down the walls between them… confiding in each other and sharing some of the stuff they don't share with anyone else, including the thing that happened that caused the rift between them. I loved the banter between these two, it was fun and sweet, but I also loved when we really got to know more about them through their deeper conversations. And the romance and swoon… you guys the extra tension because of the 'hate' adds so much to this story and I loved every second of it.
The characters here, for the most part, are wonderfully layered and really well done – I found myself invested in them quite early on. If I had to complain about anything though it might be that some of the other characters really weren't as fleshed out as I would have liked. (Specifically Jemma's sister since her storyline is a big part of this). But seriously just a minor issue in the whole of the story.
I have to say that I loved that this was set in a small southern Mississippi town as well – the relationships and friendships that have stood the test of time, the traditions and the atmosphere were just a perfect setting for this story.
Overall, this is a quick, sweet, lovely summer read and I highly suggest it if you're looking for something romantic and fun that won't kill you with the drama.
Thank you to Simon & Schuster for the advanced copy in exchange for my honest thoughts!

Magnolia by Kristi Cook was a nice little surprise. As most people who know what I like to read know, I don't typically lean toward the contemporary genre but there was so much about this book that made me want to pick it up.

As the story gets underway, we find out that Jem and Ryder live in a small Mississippi town and their families have been close friends forever. Their mothers have also been planning their lives out forever. I loved that this wasn't your typical friends to more story. As a matter of fact, to add a twist, the two main characters actually kind of disliked each other. Plus, knowing their mothers were pushing them to be together, there was no way Ryder and Jemma were going to be more than just friendly…or so they think.

Jemma was a great character. She excels at everything she tries – including shooting guns, cheerleading, and now, she wants to go to film school. She just has to get the courage to tell her parents what she wants. At the same time that she is asking her parents to let her consider going to NYU, she finds out her sister, Nan, is sick (brain tumor) and has to have brain surgery. This all sets the stage for the next part of the story which is where we a better idea of who Ryder is.

Now…Ryder appears to be perfect. I mean, let's start with how Jem describes him early on…

He's the star quarterback of our Division 1A state-championship football team. Top student in our class, and he doesn't even have to work at it. He plays the piano like some kind of freaking prodigy, and I would be surprised if he composed sonatas or something in his spare time. 

Oh, and did I mention that he's gorgeous? Of course he is. Six foot four, two hundred ten pounds of swoon-worthy good looks. Spiky dark hair, chocolate brown eyes, and full-on dimples.

Really…what more is there to say??? Nothing really. Other than he continues to try to be friendly with Jemma but she continues to push him away and he can't really figure out why. Despite that, he is always polite and seems to do the right thing.

I loved how Cook wrote this small Southern town and the people who lived there. The families who have known each other since the Civil War and the traditions they follow, and how everyone knows everyone else's business…it was all perfectly done in my opinion.

I also loved all of these characters. Trust me, there were times I wanted to shake Jemma and just tell her to talk to Ryder…don't assume he will figure it out. I also wanted her to realize she was smart and strong. One of the things I loved was how much Ryder and Nan opened her eyes to the idea that she should do what makes her happy. I also thought the relationship build between these two characters was believable.

If you're looking for a great contemporary, definitely check this one out. It was definitely what I was looking for. Something light and lovely with great characters and a fantastic story.

Thank you to Edelweiss and Simon Pulse for the review copy.
Related Posts