Publication Date: September 16, 2014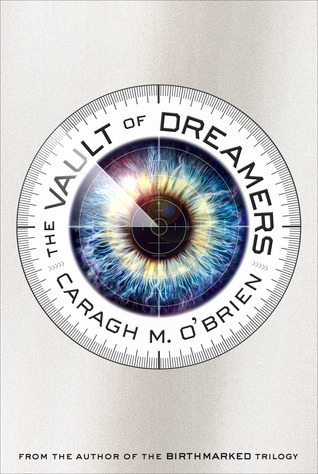 From the author of the Birthmarked trilogy comes a fast-paced, psychologically thrilling novel about what happens when your dreams are not your own.
The Forge School is the most prestigious arts school in the country. The secret to its success:  every moment of the students' lives is televised as part of the insanely popular Forge Show, and the students' schedule includes twelve hours of induced sleep meant to enhance creativity. But when first year student Rosie Sinclair skips her sleeping pill, she discovers there is something off about Forge. In fact, she suspects that there are sinister things going on deep below the reaches of the cameras in the school. What's worse is, she starts to notice that the edges of her consciousness do not feel quite right. And soon, she unearths the ghastly secret that the Forge School is hiding—and what it truly means to dream there.
About Caragh

Caragh M. O'Brien is the author of the BIRTHMARKED trilogy and THE VAULT OF DREAMERS, both from Macmillan/Roaring Brook Press. Born in St. Paul, Minnesota, Ms. O'Brien was educated at Williams College and earned her MA from Johns Hopkins University. She recently resigned from teaching high school English in order to write young adult novels. For more information, visit http://www.caraghobrien.com.
Erin's Thoughts
My rating: 4 of 5 stars

What the WHAT!

The Vault of Dreamers by Caragh O'Brien has a mix of everything. There is mystery blended with science fiction blended with a bit of romance and it all takes place in a story about teens going to school with a reality show twist. I enjoyed it and honestly couldn't stop turning the pages to see what was going to happen.

Rosie Sinclair made her way into The Forge School that was created to cater to students of the arts. It also has a bit of a twist in that all of the students are in a reality show situation. The students get to stay at The Forge School only if their blip rate is in the upper end and when the book starts, we find that Rosie isn't doing too well. Add to this the fact that Rosie comes from a financially struggling family and she is definitely motivated to make a change. The problem is, she isn't entirely sure how to make it happen. As luck would have it, she runs into one of the kitchen guys and he ends up giving her some guidance – it is essentially a popularity contest but includes a financial impact. As Rosie begins to interact with those students who are in the top end, she sees some changes and eventually finds that she has made the cut. This is when things start to get even more interesting.

Rosie is one of those characters that I just wanted to shake sometimes. She is smart but she doesn't always think about what she is doing. I get that she isn't really sure who to trust but as she starts to become closer to Linus I would have hoped she would have learned to lean on him more as he never really gave her a reason to doubt him. With all of that said, I know she is a teenager and expected to make mistakes. My issue is that they were pretty silly mistakes that if she had taken the time to think about things (because she really is smart) she may have had a different outcome.

I liked Linus – I just wanted to know more about him and what really happened to him at the end of the book. I don't want to give anything away here but I'm glad we learned a bit about his background along the way and I am very hopeful that the next book will provide some of the information I want (read: need) on him.

So, back to the story…As part of the contract with the school, the students are required to take a sleeping pill each night to ensure they sleep the required 12 hours determined by the school. Rosie decides to skip her pill a few nights and finds out that weird things are happening at the school at night. As she tries to dig into what is being done to the students while they sleep, she finds herself in some pretty dangerous situations and the man behind it all isn't willing to take any chances that Rosie will ruin things for him.

I can't say a lot more as I don't want to give anything away. I will tell you that this book definitely grabbed my attention and there was a part at the end that had me wondering what the heck is going to happen in book two. There is a bit of a cliffhanger here but take it in stride…I'm not sure how else O'Brien could have ended it without continuing on to the next book. I'm pretty sure my impatient nature is the problem, not the spot where O'Brien chose to end it. If you enjoy science fiction with a bit of a mystery, definitely check this one out.

Thank you to Netgalley and Macmillan for the review copy.


We had a chance to find out from Caragh, since her book is set in a boarding school, what some of her favorite 'Boarding School Books' are!  Check them out… 
Boarding schools show up regularly in novels for good reason.  The students are far from home, independent from their parents, and grappling with new routines.  Add a dose of trouble, injustice, or the supernatural, and the stakes quickly rise.  Readers will find a new twist on the boarding school in The Vault of Dreamers. The Forge School of the Arts doubles as the set of a unique reality TV show, where every student stars in his or her own feed.  Behind the cameras, the school hides another level of seriously evil secrets.
Collected here from the past and the future are five other novels that feature exceptional boarding schools.
The Harry Potter series by J.K. Rowling brings us Hogwarts School of Witchcraft and Wizardry, the famous school unlike any other.  On a personal note, I had the delight of discovering these magical books along with my kids, who grew up with Harry, book by book.
Jane Eyre by Charlotte Bronte is a moody classic.  Lowood Institution, where Jane spends much of her childhood, is a place of grim privation and brutal discipline. Even so, Jane appreciates the exacting education, and the harshness does nothing to quell her fierce determination and innate kindness.
A Separate Peace by John Knowles features The Devon School, a prestigious, New England boys' school during World War II.  Gene and Finny have a fraught relationship, and Finny's charisma is no match for the brooding evil that lurks in Gene. 
Wuthering High by Cara Lockwood takes us to Bard Academy where troubled teens discover that their teachers have surprisingly ghost-like tendencies.  The blatant, tongue-in-cheek play on Emily Bronte's Wuthering Heights is fun to follow.
Belzhar by Meg Wolitzer is set at "The Wooden Barn, a therapeutic boarding school in rural Vermont," according to its description.  I'm anticipating good things from this novel, which includes a dead boyfriend and journal writing.  Wolitzer's YA debut is due to be released at the end of September.
Thanks Caragh – I'm definitely going to be checking a few of these out that I haven't had the chance to read yet!! 
US/CA ONLY 
Our amazing friends at Macmillan have offered a finished copy to one of our lucky followers!! Make sure you get your entries in today!! 
Related Posts