FIREBUG (FIREBUG #1)
By: Lish McBride
Publication Date: September 23, 2014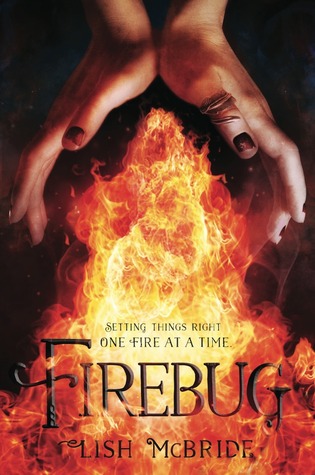 Ava can start fires with her mind . . . but is it a blessing or a curse?
Ava is a firebug—she can start fires with her mind. Which would all be well and good if she weren't caught in a deadly contract with the Coterie, a magical mafia. She's one of their main hit men . . . and she doesn't like it one bit. Not least because her mother's death was ordered by Venus—who is now her boss.
When Venus asks Ava to kill a family friend, Ava rebels. She knows very well that you can't say no to the Coterie and expect to get away with it, though, so she and her friends hit the road, trying desperately to think of a way out of the mess they find themselves in. Preferably keeping the murder to a minimum.
About Lish
Lish McBride was raised by wolves in the Pacific Northwest. It rains a lot there, but she likes it anyway. She spent three years away while she got her MFA in fiction from the University of New Orleans, and she liked that too, although the hurricane did leave much of her stuff underwater. She enjoys reading, having geek-laden conversations about movies, comics, and zombies with her friends, and of course trying to wear pajamas as much as humanly possible. Currently, Lish lives happily in Seattle where the weather never actually tries to kill you, with her family, two cats, and one very put-upon Chihuahua. She is slowly building her garden gnome army.
Erin's Thoughts
My rating: 3 of 5 stars

Firebug was a solid start to a new series by Lish McBride. I may be in the minority with my rating as I didn't absolutely love this but I will say that while that might be true, I found myself enjoying the characters and the overall story.

Ava is a firebug and lives in a paranormal world where it isn't uncommon to be friends with a guy who talks to trees, turns into a fox, or even someone who carves figures out of wood which he can then make them real. The challenge for Ava is that her power (the ability to control fire) is rare and due to circumstances outside of her control, she doesn't lead a normal life…no matter how much she would like to.

I liked Ava. She is sarcastic and loyal…two things I think are important in people and I enjoyed the banter she had with Lock and Ezra. She also had a really solid relationship with Cade (her guardian) and while they didn't always see eye to eye on things, he respected Ava's decisions and treated her like an adult and she respected him back.

Another thing I liked about this book was the friendship McBride created between Ava, Lock, and Ezra. There is a bit of sexual tension between Ava and Lock but regardless of anything else going on with them, they were always friends first. Along with Ezra, they supported each other even if they didn't agree with their decisions and they always protected each other. I think the friendship between these characters was my favorite part of this entire book.

As Ava digs into her background and finds out more about her mother we also end up finding out more about Ava. She is currently in a situation where she, Lock, and Ezra are enforcers for a vampire named Venus. Venus runs the group called the Coterie. This is the same group that is responsible for killing Ava's mother (actually Venus was behind that too) and now Venus has asked Ava to take a contract that involves taking out a friend of the family. When Ava says no…which she very obviously shouldn't have done…Venus comes after her with all the firepower she has.

Now, you're probably reading my review wondering "This sounds fantastic, why only three stars Erin?" Well, I found that there were times the story dragged for me. All the reminders that Cade was only human but was super important to Ava only led to me mumbling "Yeah, I get it." And I didn't need all the flashbacks and detail around the past events. I really just wanted to know why her mom was killed and why Ava was stuck in this blood pact.

With that said, I did enjoy this story and look forward to the next book as I'm curious to see what happens next for this group. There was plenty of action and snarky banter to keep me turning the pages and I love the paranormal world these characters inhabit. If you are looking for a new paranormal series, consider checking this one out.

Thank you to Macmillan for the review copy.
Related Posts