EXTRACTION (EXTRACTION #1)
By: Stephanie Diaz
Publication Date: July 22, 2014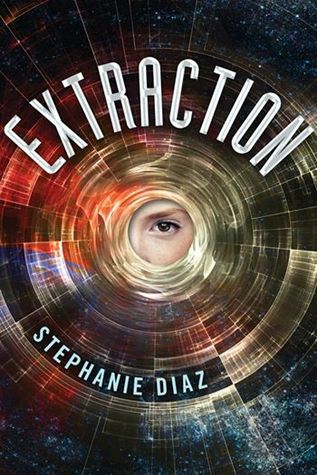 "Welcome to Extraction testing."
Clementine has spent her whole life preparing for her sixteenth birthday, when she'll be tested for Extraction in the hopes of being sent from the planet Kiel's toxic Surface to the much safer Core, where people live without fear or starvation. When she proves promising enough to be "Extracted," she must leave without Logan, the boy she loves. Torn apart from her only sense of family, Clem promises to come back and save him from brutal Surface life.
What she finds initially in the Core is a utopia compared to the Surface—it's free of hard labor, gun-wielding officials, and the moon's lethal acid. But life is anything but safe, and Clementine learns that the planet's leaders are planning to exterminate Surface dwellers—and that means Logan, too. 
Trapped by the steel walls of the underground and the lies that keep her safe, Clementine must find a way to escape and rescue Logan and the rest of the planet. But the planet leaders don't want her running—they want her subdued.
With intense action scenes and a cast of unforgettable characters,Extraction is a page-turning, gripping read, sure to entertain lovers of Hunger Games and Ender's Game and leave them breathless for more.
About Stephanie
Stephanie Diaz is 21. She grew up in sunny San Diego, wishing for rain. She studied film production in college. When she isn't lost in other worlds, she can be found singing, marveling at the night sky, or fangirling over television shows.
Her work is represented by Alison Fargis of Stonesong. The first book in her debut YA sci-fi EXTRACTION trilogy will be published by St. Martin's Griffin, an imprint of Macmillan, in July 2014.
Erin's Thoughts
My rating: 4 of 5 stars

Extraction by Stephanie Diaz is a book I have had my eye on for a little while. Not only is the cover interesting, the story intrigued me.

Clementine is the main character and she has been preparing for Extraction testing her whole life. As someone who lives on the surface of the planet Kiel, she knows that her only chance to survive is to be one of the kids chosen for extraction. Unfortunately, only ten kids are chosen each year so the odds are tough. As you can probably guess, Clementine is chosen and immediately taken to the Core.

One of the drawbacks to Clementine being chosen is that she is forced to leave Logan, the boy she loves. I really liked his character. They met by chance but they developed this close relationship and it was clear he only wanted what was best for Clementine. Although he was sad to see her go, he knew she would have a better (and longer) life if she were chosen.

I thought Diaz did a great job of creating the world these characters lived in. The descriptions of the different layers (Surface, Crust, Mantle, Lower, and Core) as well as the way things were for the people living on the different layers pulled me right into the story and had me wondering what was really going on. The idea that the moon has a toxic acid that, if Kiel did not have a shield to protect it, would destroy the Surface and the people living there is very interesting.

The children living on the Surface, have grown up with a fear not only of the moon and what could happen to them if they didn't have the shield, but also of not being chosen for extraction. Not being chosen means they are stuck working the fields and barely surviving. It also means that they may also be forced to procreate to replace themselves. Otherwise, they are only kept around until the age of 20 and then taken away.

As Clem is taken to the Core, she finds out that it isn't everything she hoped it would be. First, Sam is one of those characters that I hated pretty much as soon as he was introduced. I'm not going to give anything away but he has a black, black soul. As Clementine continues to show him up and prove that brute force isn't everything (it does pay to use your brain) he sees her as a target and looks for ways to make her life hell.

As the story continues, Clem also finds out that the Developers (really Commander Charlie) are planning to exterminate the people living on the surface….which means Logan is in danger. Commander Charlie is also planning war and hasn't really told anyone outside of the Army and the Developers.

Along the way, Clem also meets Beechy, who happens to be married to Commander Charlie's daughter. He also has a pretty big secret. I can't say what it is as I don't want to give anything away here but he plays a pretty critical role in this story and I thought he added an interesting layer as I wasn't really sure where he stood based on who he is.

This was a great introduction to the world that Stephanie Diaz has created. It is filled with action and Diaz has created a fascinating world for these characters. I will definitely be checking out the next book in the series and if you like Science Fiction/Dystopian stories, I recommend you check this one out when you can.

Thank you to Netgalley & St. Martin's Press for the review copy.
Related Posts