DELIVERANCE (COURIER'S DAUGHTER/DEFIANCE, #3)
By: C.J. Redwine
Publication Date: August 26, 2014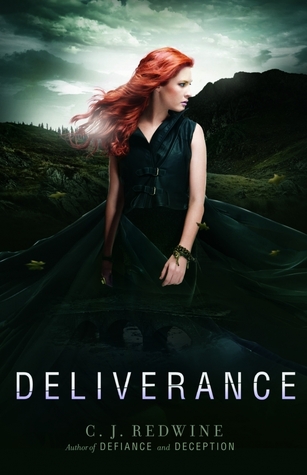 Everything hangs in the balance, and nothing is certain: Rachel has been kidnapped by enemy forces and is being taken to Rowansmark while Logan, imprisoned and awaiting trial, is unable to leave Lankenshire. Separated from each other and their Baalboden comrades, each must find a way to achieve what they desperately want: to rid their world once and for all of the Commander and the tech that controls the deadly Cursed One.
Fighting through her pain and embracing the warrior she's become, Rachel will do whatever it takes to escape her enemies' clutches and join Logan in his fight. But when she learns a secret that changes everything, she realizes that escaping Ian and his tracker friends is no longer an option if she wants to save the people she loves. Instead, she'll have to destroy Rowansmark from the inside out—if she can survive the journey through the Wasteland.
Logan needs allies if he wants to thwart Rowansmark's power grab and rescue Rachel. But securing allies will mean betraying his beliefs and enlisting the help of the man he hates more than anyone: Commander Jason Chase. Driven by his fierce love for Rachel and his determination to make their world safe, Logan may be just the weapon the city-states need to defeat the Cursed One.
But as Rowansmark bears down and uneasy alliances are tested, will Rachel and Logan's love for each other be enough to surmount the unbelievable odds against them?
About C.J.
C.J. Redwine loves fairy tales, Harry Potter, and any movie starring Johnny Depp. She is the author of the Defiance trilogy, a post-apocalyptic fantasy from Balzer + Bray. C.J. lives in Nashville with her husband and children. If the novel writing gig ever falls through, she'll join the Avengers and wear a cape to work every day.
Erin's Thoughts
My rating: 4 of 5 stars

Deliverance is the third and final book in the Courier's Daughter/Defiance trilogy by C.J. Redwine and I have to say I enjoyed how Redwine wrapped this series up. There is quite a bit of action, a heck of a lot of danger, and some swoons. If you enjoyed the first two books in this series, definitely check this one out when you can. Warning: I will do my best to not give anything away here but I can't guarantee this so be warned if you continue reading…

This book picks up shortly after book two ends with Rachel on her way to Rowansmark with Ian and Logan trapped at Lankenshire. The book alternates every few chapters so that we can see what is going on with Rachel and her journey as well as what is happening with Logan. I was happy to see this because with them separated, I wanted to know all the things that were happening with both.

I absolutely love Rachel. She doesn't take anyone's crap and ever since she found out who Ian is and what his purpose was, she has been a thorn in his side. She definitely isn't a meek prisoner on this journey with Ian and his tracker companions. As they make their way to Rowansmark, Rachel is also aware of the fact that she isn't on her own. She knows that Quinn is out there somewhere just waiting for a chance to help her. As part of her journey, Rachel makes the decision to send Quinn away because she knows that in order to save and protect Logan (due to things she finds out along the way) she has to get into Rowansmark.

Once there, Rachel finds out what she expected. James Rowan rules with fear. If he doesn't get the outcome he desires/expects, he does what he feels is necessary to punish the offenders. In the case of Rachel, she definitely doesn't respect him or fall into line and because of this, she is whipped. She is also thrown into a dungeon where she comes across someone unexpected….(sorry – I can't say who – you need to read to find out more).

While all of this is happening with Rachel, Logan is also on a journey. Once he is freed from the prison in Lankenshire, he develops sort of a truce (but not really) with the commander. They make a plan to travel to the other city states to request support to build an army so that they can fight Rowansmark. As they get closer and closer to their goal, Logan knows and expects the commander to go against their agreement and betray him so he makes other plans.

Logan has always been a planner and he definitely is still doing it but he is also pretty worried about Rachel and is willing to risk everything to find her and protect her – even though he knows she is perfectly capable of protecting herself. I love this about him and there was a section in the book that I thought explained/described it perfectly.

"Saying that I feel worry for you when you're in danger is like saying a starving man feels like having a snack. I don't worry, Rachel. I'm consumed. You're in every breath I take and so I don't worry. I agonize. I plan. I reassure myself. And then I plan some more, because I'm not going to stand idly by while men who've been corrupted by their fears or their greed destroy the only family I have left."


Although these two characters were on very different paths throughout the majority of the book, I still loved the story. Don't get me wrong, I always want more swoony bits…especially with these two, but I thought Redwine did a great job keeping me engaged in this book even though they weren't together most of the time.

Additionally, I thought the secondary characters were great…as usual. Quinn is traveling with Rachel. Willow is traveling with Logan as is Aaron. He also has Drake, Nola, Smithson, Jodi, Peter, Frankie, and a new character – Connor. Conner was actually one of my favorite new characters. He is smart and not afraid to use his knowledge/smarts to influence things.

On the flip side of this, you have Ian. I know he feels he has a valid reason for the actions he took but I can't agree and although Rachel continues to fight him and show him how wrong he is that he thinks he did the right thing to a bunch of innocent people, I felt like she was just beating her head against a wall. Ian wasn't going to hear it and no matter how good he was before his father's death, he can't make up for the actions he took that resulted in a number of deaths. Add to that the way he treats Rachel on the way to Rowansmark and I can honestly say…I'm not a fan.



As I mentioned, Rachel and Logan spend most of their time apart but when they finally do come back together I was happy. I mean, there was so much swoon in those chapters that all I can say is all that time apart is definitely made up for in the remaining book when they come back together.

So there you have it. This was a great series that has fantastic characters, lots of action, and a story that kept me turning the pages to see what was going to happen next. Redwine did a wonderful job of wrapping of this series and I will definitely be checking out whatever she decides to write next.

Thank you to @book_junkee (Stacee) for the loan!!


Related Posts