Compulsion (The Heirs of Watson Island #1)
By: Martina Boone
Publication Date: October 28, 2014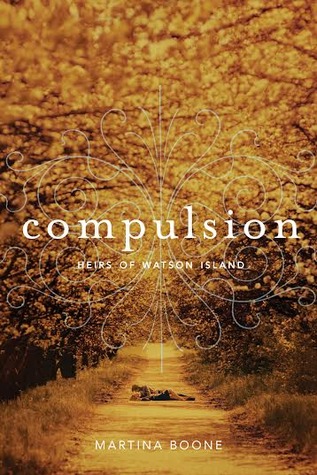 Three plantations. Two wishes. One ancient curse.
All her life, Barrie Watson has been a virtual prisoner in the house where she lives with her shut-in mother. When her mother dies, Barrie promises to put some mileage on her stiletto heels. But she finds a new kind of prison at her aunt's South Carolina plantation instead–a prison guarded by an ancient spirit who long ago cursed one of the three founding families of Watson Island and gave the others magical gifts that became compulsions.
Stuck with the ghosts of a generations-old feud and hunted by forces she cannot see, Barrie must find a way to break free of the family legacy. With the help of sun-kissed Eight Beaufort, who knows what Barrie wants before she knows herself, the last Watson heir starts to unravel her family's twisted secrets. What she finds is dangerous: a love she never expected, a river that turns to fire at midnight, a gorgeous cousin who isn't what she seems, and very real enemies who want both Eight and Barrie dead.
About Martina
Martina Boone was born in Prague and spoke several languages before learning English. Her first teacher in the U.S. made fun of her for not pronouncing the "wh" sound right, so she set out to master "all the words"—she's still working on that! In the meantime she's writing contemporary fantasy set in the kinds of magical places she'd love to visit.
If you like romance steeped in mystery, mayhem, Spanish moss, and a bit of magic, she hopes you'll look forward to meeting Barrie, Eight, Cassie, Pru, Seven and the other characters of Watson Island.
Erin's Thoughts

Compulsion by Martina Boone
My rating: 4 of 5 stars

I was lucky enough to get a copy of Compulsion by Martina Boone at BEA this year and it has been on my stack of books to read since then. I have to admit…it was taunting me (I love a good Southern Gothic) because I really wanted to read it but I knew it didn't come out until October and I forced myself to wait. As I worked my way toward it in the pile, I was so happy to see it getting closer and closer to the top and FINALLY! I could read it and I loved it!

Barrie hasn't had an easy life and when her mother dies, she is sent to live with her aunt in South Carolina. Immediately things begin to get stranger for Barrie as she feels a strange pull toward the plantation her family owns. On top of that, her normal ability to find lost things begins to pull her to areas of the house that she isn't necessarily ready to explore.

While Barrie is learning about her family, she is also learning more about the other two founding families and how they are all tied to the curse that impacts one of the families. There are quite a few secrets floating around this island and I found myself turning the pages to find out what they were and how they would impact Barrie.

I loved the world that Boone created in this book and can't wait to read more about it in the rest of the series. Choosing to set this in the South and incorporate a family feud alongside the secrets these families have was perfect for this story. The magical aspect of the island only added to the rest of the story. As Barrie finds out more about her family and everyone else around her, she is drawn into a bigger mystery. Part of which includes why her mother ended up leaving Watson Island and never coming back.

I also thought Boone did a wonderful job of developing these characters. Eight Beaufort is the swoony boy and although Barrie was wishy washy with him, I think he was a perfect balance for her. He didn't shove his gift down Barrie's throat but he pushed her to think about what she wanted and forced her to look at more than just the surface of things.

Cassie was an interesting character and I hope we get to see more of her…despite how things ended in this book. I also hope we get to know more about Eight. I thought we got a nice little glimpse into both of these characters but I am greedy…I want more. I also found Barrie's Aunt Pru to be a great character as well and hope we see more of her in the future books of this series.

This was a great introduction to these families and the stories that make up their history and impact the futures of the main characters. Hopefully this review doesn't come off as too vague but I apologize if it does…kind of. I really don't want to ruin anything for you. With that said, I can't wait to see what comes next in this series and if you like books that have an interesting story/characters, a bit of mystery, and some romance, definitely check this one out when you can.


Related Posts