Publication Date: April 28, 2015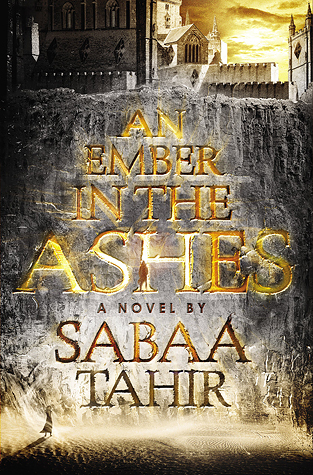 Set in a terrifyingly brutal Rome-like world, An Ember in the Ashes is an epic fantasy debut about an orphan fighting for her family and a soldier fighting for his freedom. It's a story that's literally burning to be told.
LAIA is a Scholar living under the iron-fisted rule of the Martial Empire. When her brother is arrested for treason, Laia goes undercover as a slave at the empire's greatest military academy in exchange for assistance from rebel Scholars who claim that they will help to save her brother from execution.
ELIAS is the academy's finest soldier—and secretly, its most unwilling. Elias is considering deserting the military, but before he can, he's ordered to participate in a ruthless contest to choose the next Martial emperor.
When Laia and Elias's paths cross at the academy, they find that their destinies are more intertwined than either could have imagined and that their choices will change the future of the empire itself.
ABOUT SABAA
Sabaa Tahir grew up in California's Mojave Desert at her family's 18-room motel. There, she spent her time devouring fantasy novels, raiding her brother's comic book stash and playing guitar badly. She began writing An Ember in the Ashes while working nights as a newspaper editor. She likes thunderous indie rock, garish socks and all things nerd. Sabaa currently lives in the San Francisco Bay Area with her family.
My rating: 5 of 5 stars

It was sooooo good you guys!!!

Let me start by saying that everyone who loves Fantasy should read An Ember in the Ashes by Sabaa Tahir. I have been sitting on writing this review for about a month now and I still don't know how to write something that will do this story justice so apologies in advance if my review is a rambling mess.

Laia is a scholar and when her brother is arrested for treason, she goes undercover as a slave for one of the most brutal people in the empire in exchange for help from the rebels. Elias is one of the best soldiers at the Blackcliff Military Academy and he is looking for a way out. As their worlds crash into each other, they are both forced to do things they never thought they would have to do.

I saw so much growth and change in Laia throughout the whole book. At first she was so afraid of everything and as she steps into a life that forces her to face her fear head on, she has to figure out how to survive. Trust me, there were times that I wasn't really sure whether she would make it or not…she has a really tough time considering she is a slave to the Commandant of the Academy who just happens to be ruthless and looking for a reason to make everyone afraid of her.

Another piece of the story I thought was well done was the friendship between Elias and Helene. It was clear (to me) that there was more than a friend relationship between them and although their feelings for each other evolved, I thought Elias did the right thing in how he handled things. As they work their way through the nightmare of the trials, things shift for these two and they figure out where they really stand with each other.

The world building in this story is incredibly done. I know I say this a lot for Fantasy books but I honestly have no idea how authors think up the worlds and settings for their stories. Tahir has created this world that is harsh and divided but also interjects some light into a story which gives me some hope.

I really don't want to say a whole lot about the story because I don't want to give anything away. I will say, if you are looking for a book with action (violent, bloody action), great characters, and a fantastic story that will have you wondering what will happen on the next page, you should absolutely check this one out. I can't wait to see what Tahir gives us next and am excited to see where this story goes. Now…is it too soon for me to beg for a copy of the next book?

Thank you to Penguin for the review copy!
Related Posts